Local freeskiers dominate at WMR's first-ever IFSA junior competition
by
Whitefish Pilot
|
January 18, 2023 1:00 AM
More than 100 young athletes from across the region competed in the first International Freeskiers and Snowboarders Association (IFSA) Junior Regional event held at Whitefish Mountain Resort over the weekend of Jan. 6-8.
Members of the Flathead Freeride Club and the Whitefish Mountain Resort Freestyle Team dominated the skiing portion of the competition. Teams from Missoula, Big Sky, Grand Targhee and Jackson Hole, all of which belong to the IFSA's Northern Region, competed in the event alongside local skiers and riders.
Kyle Taylor, the head coach and visionary of the Flathead Freeride Club, a part of the Flathead Valley Ski Education Foundation, was thrilled to be able to host an IFSA Junior competition in just the second year of the club's founding.
"I want to thank Whitefish Mountain Resort for seeing the potential of freeride on the mountain and the benefit to our community of hosting over 100 athletes with their families and coaches," Taylor said. "This was a great event that will hopefully be the foundation for delivering higher level competitions in the future."
Athletes were excited to showcase their freeride skills and their training progress in an organized local competition.
"Whitefish Mountain Resort has some amazing freeride terrain and we were stoked to see an event happen here," said Connie Parks, head coach of the Whitefish Freestyle Team. "Eight of our athletes competed, including three who took home podium spots. We are so thankful to everyone who made the event happen and look forward to it returning here in the future."
After a foggy Friday course inspection, the clouds lifted and spectators enjoyed clear views of the athletes descending cliffs and steeps on the eastern flank of Big Mountain. Qualifying runs took place Saturday, Jan. 7, in the Haskill Slide area. Finals were held Sunday, Jan. 8, on the East Rim.
Flathead Freeride Club (FFC) members took four of the top five places in the most competitive bracket, the 15- to 18-year-old boys. Townsend Reed won the event, with Anders Soyland placing second, Owen Croskey fourth and Kane Nissen fifth. In the 15- to 18-year-old girls' event, Amelia Mason (FFC) took the win with Raiya McCutcheon (FFC) in second place and Signe Ebbett (FFC) in fourth.
In the 12- to 14-year-old age classes, Metta Campbell (FFC) took third for the girls while Harrison Trufant (FFC) placed second among the boys. Whitefish Freestyle Team (WFT) member Shilo Johns took second in the 12- to 14-year-old boys snowboarding group. In the under-12 skiing age class, Pia Sarraille (WFT) and Peyton Wilson (WFT) went 1-2 for the girls, while Landon Campbell (FFC) was third and Zion Brown (WFT) fifth for the boys.
"We host events for just about every kind of skier and rider, but the freeride community has long been underrepresented," said Josh Knight, the resort's events manager. "We are delighted to offer an event for those skiers and riders while highlighting many of our young local athletes and some of the best terrain this mountain has to offer."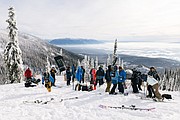 Recent Headlines
---