Whitefish football falls to Hamilton in season opener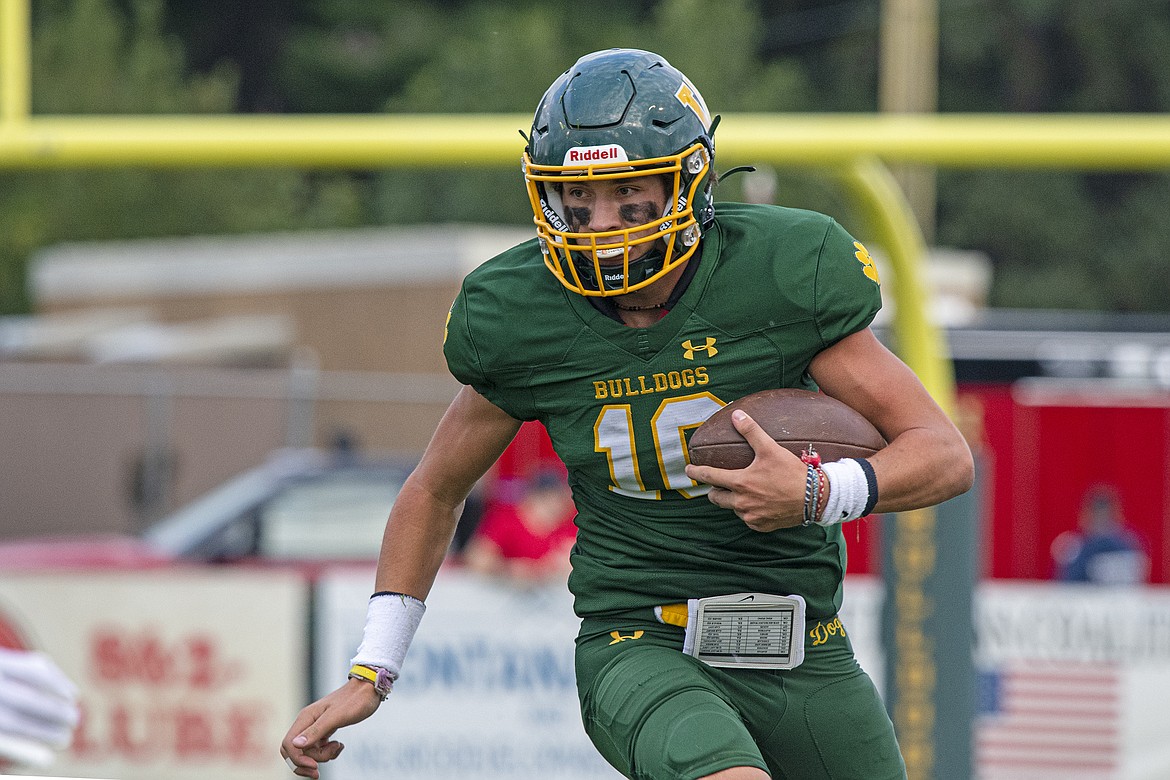 Whitefish quarterback Mason Kelch runs the ball in the Bulldogs' first game of the season against Hamilton at Whitefish on Friday, Aug. 25. The Bulldogs lost the game 7-21. (Avery Howe/Hungry Horse News)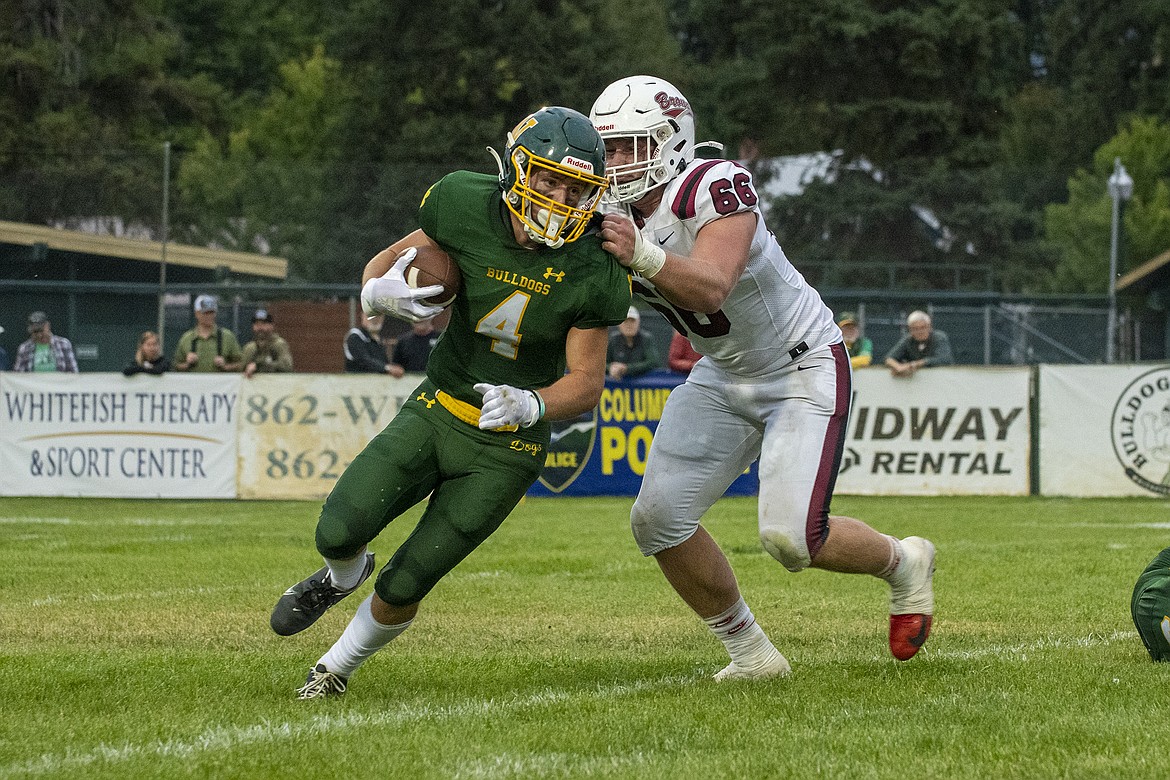 Whitefish's Dane Hunt faces a tackle from Andrew Burrows in the Bulldogs' first game of the season against Hamilton at Whitefish on Friday, Aug. 25. (Avery Howe/Hungry Horse News)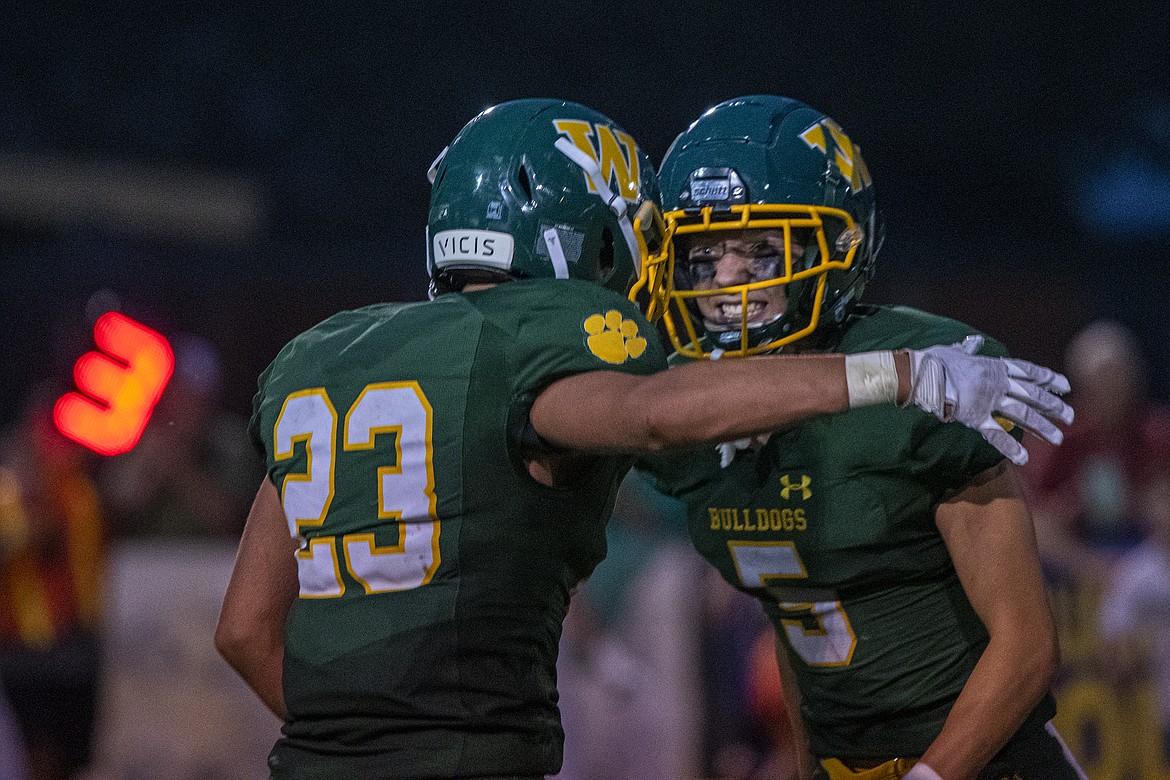 Cole Moses and Jesse Burrough celebrate a play in the Bulldogs' first game of the season against Hamilton at Whitefish on Friday, Aug. 25. (Avery Howe/Hungry Horse News)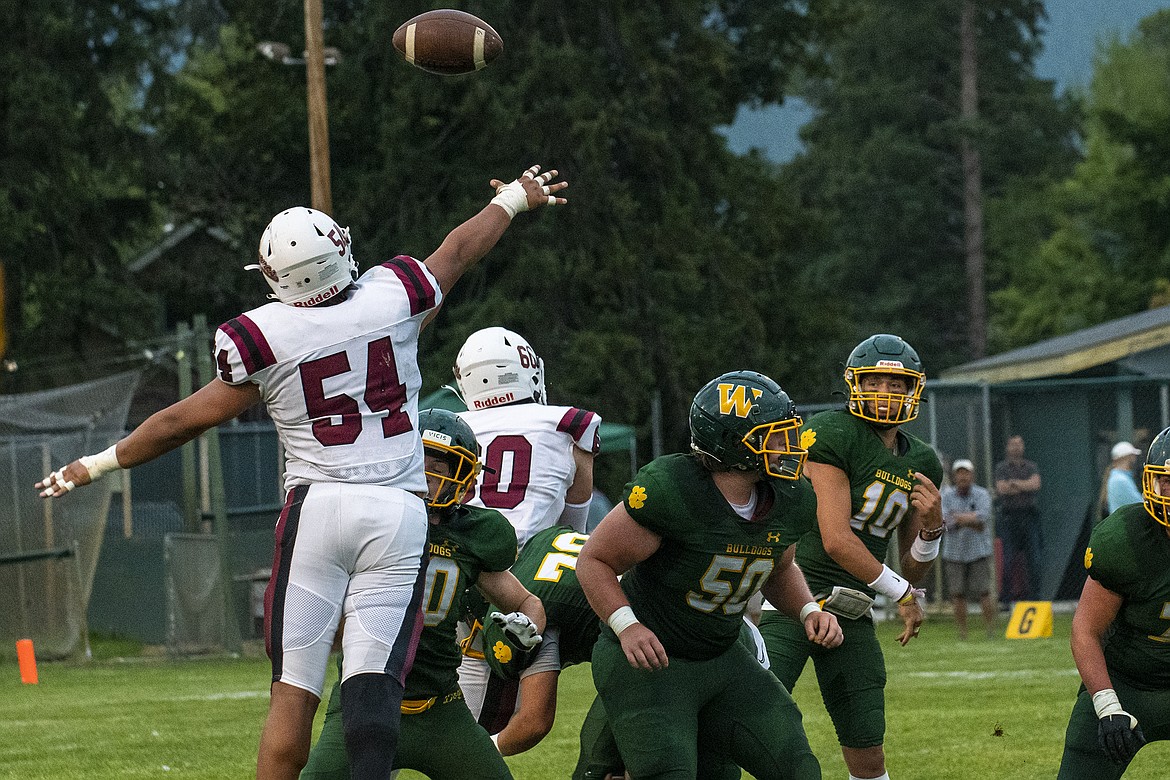 Bronc Trevor Lewis jumps to interfere with Bulldog quarterback Mason Kelch's pass in Whitefish's first game of the season against Hamilton at the Dog Pound on Friday, Aug. 25. (Avery Howe/Hungry Horse News)
Previous
Next
Whitefish had a challenging opponent for their first game of the season, taking on a Hamilton team that had defeated them last year in the State Class A Football playoffs.
While the Bulldogs ultimately fell 21-7 on Friday, August 25, Head Coach Brett Bollweg liked how much his players didn't back down.
"There are a lot of positives we can take from this game," Bollweg said. "Mostly, it is a chance for us to grow. We can identify the things we need to improve on and really focus on those going into this week of practice. We played a really good football team very tough. I'm proud of the heart that our guys put out there on the field. They showed a lot about who they are on Friday."
Hamilton took an early 14-0 lead in the first quarter, as Lucas Lant had a 5-yard touchdown run and then another from 10 yards out.
The Bulldog defense kept their opponent off the scoreboard for the next two quarters before Andrew Frederick found paydirt from 15 yards out for the 21-0 lead in the fourth quarter.
"Overall, our defense tackled fairly well and worked to the ball well," Bollweg said. "Hamilton has a really impressive offensive line. Hats off to them on a good game plan and utilizing what they have. Our defense didn't back down, and that was the most encouraging thing I saw from our team at this point in the season."
Whitefish didn't back down and instead scored a touchdown as new quarterback Mason Kelch threw a 19-yard pass to CJ Thew in the fourth quarter. Kelch finished the game 18-of-43 passing for 166 yards.
"I thought Dane Hunt and Jesse Burroughs did a really nice job with the football in their hands," Bollweg said. "We will continue to try and get them the ball often. Scotty Dalen and Morgan Kyle did a really good job at defensive end. They played some of the best lineman in the state and were able to do some things in a really effective way."
Whitefish takes on Eureka at home on Friday night.
HAMILTON 21, WHITEFISH 7
Hamilton - 14 - 0 - 0 - 7 = 21
Whitefish - 0 - 0 - 0 - 7 - 7
Scoring Summary
H — Lucas Lant 5 run (Andrew Frederick good)
H — Lant 10 run (Frederick kick)
H — Frederick 15 run (Frederick kick)
W — CJ Thew 19 pass from Mason Kelch (Ryder Barinowski kick)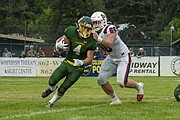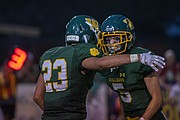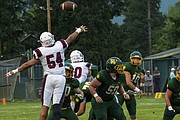 Recent Headlines
---