Bulldog golf competes in Missoula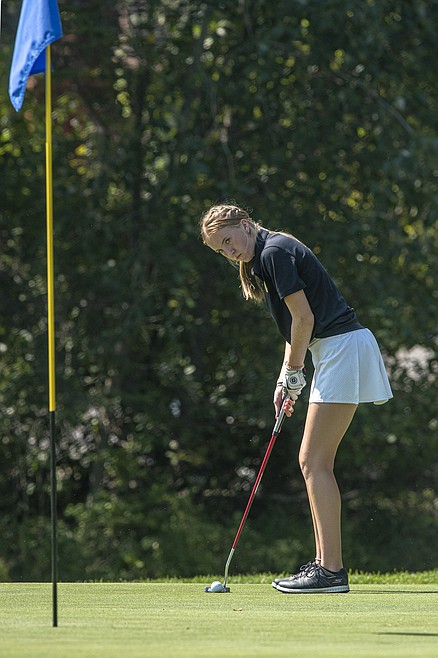 Ava Zignego lines up her putt at the Columbia Falls Invitational at Meadow Lake Golf Course on Monday, Aug. 28. (Avery Howe/Hungry Horse News)
by
JULIE ENGLER
Whitefish Pilot
|
August 30, 2023 1:00 AM
The varsity Bulldog golf teams competed in the two-day Corvallis Invitational. The first day was held at the Missoula Country Club and the Double Arrow at Seeley Lake hosted day two.
Coach Tait Rocksund called the courses two of the nicest ones in the state.
"We played in tough conditions on day one at Missoula Country Club with rain and lots of standing water on the course," Rocksund said. "Day two was at Double Arrow at Seeley Lake. There are a few blind tee shots and Double Arrow really is a 'target' golf course. You have to keep your ball in position or you are bringing in a big number into play."

Polson took top honors with Corvallis in second and Hamilton in third. The Whitefish team finished in fourth place.
"This tournament was humbling for our boy's team and hopefully it will motivate us to clean up our putting and short game," Rocksund said.
Riley Brown finished in 13th place with a score of 173 while Christian Schwaderer and Otto Klein tied in the 17th spot.
Whitefish's girls team also finished in fourth place as Polson finished first, Hamilton second and Frenchtown third.
"We fielded a full girl's team for the event," Rocksund said. "I believe our girl's team will keep getting better throughout the season and have a chance to compete for a state berth later this year."
"Ryhlee Scott and Karlee Brown are freshmen varsity golfers for us and they will continue to improve with more tournament reps," he added.
Freshmans Scott and Brown shot 101 and 117, respectively.
The boys junior varsity team traveled to Ronan last Thursday for the Ronan Invite at the Mission Mountain Golf Club.
The Bulldogs played in the Columbia Falls Invite on Aug. 28 and on Aug. 29 hosted the Western A Kickoff at Whitefish Lake Golf Club.
Results:
Boys Teams: Polson 28, Corvallis 38, Hamilton 44, Whitefish 79, Frenchtown 80, Ronan 87, Dillon 90, LIbby 125
Whitefish Boys: 13. Riley Brown 173, 17. Christian Schwaderer 187, 17. Otto Klein 187, 25. Aiden Rickels 201, 26. Elijah Adams-Griffin 225,
Girls Teams: Polson 154, Hamilton 179, Frenchtown 300, Whitefish 301
Whitefish Girls: 8. Ryhlee Scott 101, 12. Leia Brennan 108, 14. Ava Zignego 111, 15. Karlee Brown 117
Recent Headlines
---