Mandatory evacuation ordered near Olney amid red flag warning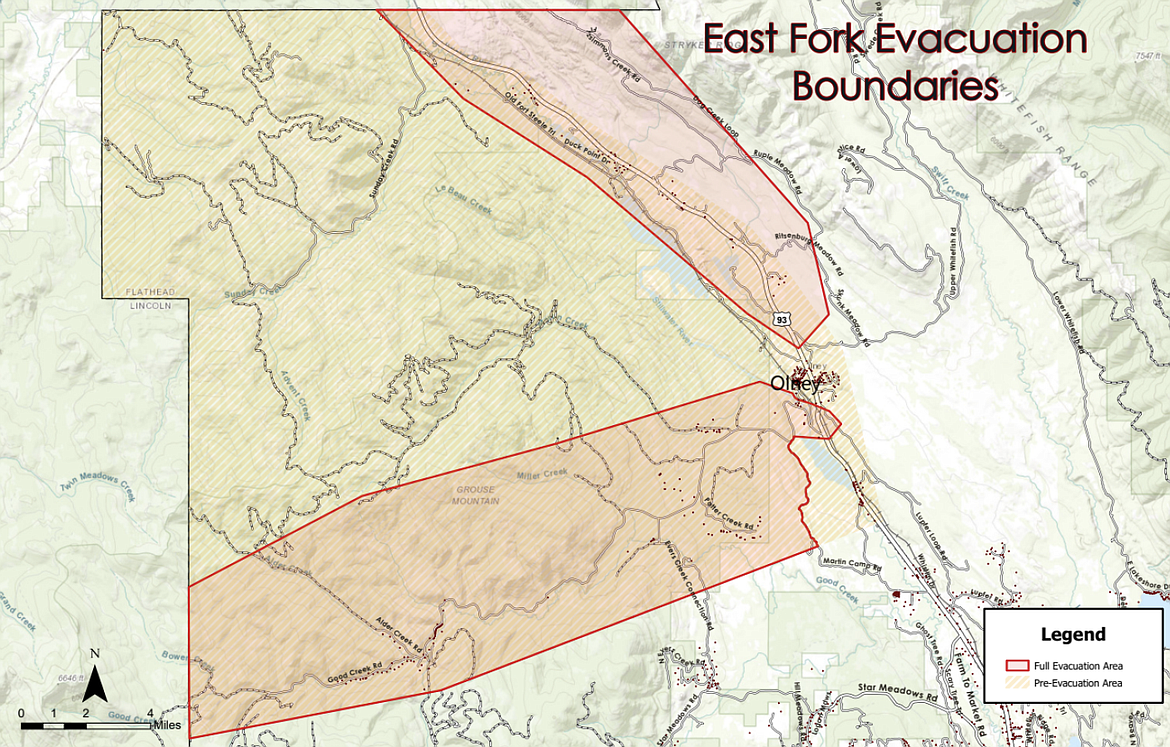 A wildfire west of Olney expanded its footprint Friday as authorities warned nearby residents to leave the area as critical weather conditions threatened to further fan the flames.
The East Fork Fire was sized at 3,000 acres with containment reduced to 20%. The lightning-caused wildfire is south of Stryker and west of Olney on the Kootenai and Flathead forests. It was burning in heavy timber and difficult terrain.
Flathead County Sheriff Brian Heino on Friday afternoon issued a mandatory evacuation for residences north of mile-marker 142 on U.S. 93 to mile marker 157.9 at the Lincoln and Flathead county line. Residents of Good Creek Road, and those who access Good Creek west to the Lincoln County line were also under the mandatory evacuation notice.
Critical fire weather was expected to affect the area through Friday night with gusty winds and low humidity.
A mandatory evacuation means there is a strong probability of wildfire moving into the targeted area. Ash and fire debris are likely and can spread with the high winds expected later today, Heino warned.
"Residents and visitors in the area should respond quickly and determine steps to secure your home, pets, livestock and family," Heino said in a media release.
He advised residents, landlords, hotels and businesses in the area to have a plan in place to evacuate.
Sheriff's Office personnel planned to notify residents by going door to door on Friday. The Flathead County Office of Emergency Services can be reached at 406-758-2111.
A shelter at the Columbia Falls Junior High School is available for people affected by the evacuation. The Red Cross can be reached at 1-800-733-2767.
Fire managers said Flathead and Lincoln counties, the Montana Department of Natural Resources, Bonneville Power, Montana Department of Transportation and BNSF Railway are cooperating to provide information, help with structure protection and any necessary public safety needs.
Fire managers requested a complex incident management team to support firefighting efforts with a surge of additional resources.
ON THE west side Hungry Horse Reservoir, the Doris Point Fire was downsized to 597 acres after more accurate mapping was conducted Friday. Protection measures such as sprinklers were in place at nearby campgrounds and boat docks. No infrastructure had been destroyed.
On the east side of the reservoir, the Ridge Fire was estimated at 3,474 acres with 20% containment. Firefighters were mopping up the western and northern flanks, while other crews conducted a direct attack on the active east side.
The California Interagency Incident Management Team 4 assumed command of the Tin Soldier Fire on Friday, which expanded to nearly 6,000 acres Friday. It is on the Flathead Forest about 17 miles west of Swan Lake.
Public access to Hungry Horse Reservoir remained closed on the east and west sides.
A SMALL fire erupted along Montana 200 near the town of Paradise in Sanders County on Friday afternoon, reportedly the result of sparks from a passing train that was about to cross the Clark Fork River just east of town.
A thick, brown column of smoke reached skyward from the railroad bridge just south and east of Paradise and spread quickly, buffeted by gusty winds that were in the 40-50 mph range.
Firefighters from throughout the area converged on the scene and began attacking the fire soon after it was reported, aided by a large helicopter with a dangling water bucket that arrived quickly and joined the fight.
Traffic along the highway was slowed to a crawl and officials were posted along the entrance to River Road East where it connects to Montana 200.
MOISTURE FROM Hurricane Hilary off the coast of California was anticipated to be drawn up into the Northern Rockies by the weekend. Heavy rainfall Sunday through Tuesday is probable across the region.
According to the National Weather Service in Missoula, the heaviest rainfall is expected to occur in west-central and southwest Montana, and north-central Idaho.
Localized rainfall rates in excess of 2 to 3 inches per hour is possible in some locations.
Recent Headlines
---