Local hockey player to play top Junior A level in Canada
by
JULIE ENGLER
Whitefish Pilot
|
August 2, 2023 1:00 AM
The future of ice hockey is bright, thanks in part to the Glacier Hockey Association turning out stellar young players. One of the most recent elite hockey players to come out of the Stumptown Ice Den is Jack Muhlfeld.
The 16-year-old Whitefish center is heading to the prestigious British Columbia Hockey League (BCHL) this September to play Junior A level hockey. He will be playing for the Cowichan Capitals.
The BCHL is Canada's top Junior A league and is considered by most hockey enthusiasts to be the top Junior A program. It's a pipeline to Division 1 college hockey and many of its players have gone on to play in the NHL.
"I went to this identification camp and usually these camps don't work out for players, but I guess I just played really well and I got a spot for training camp and on the team," Muhlfeld said. "It just doesn't happen a lot."
It is such a rare accomplishment that he is the first player from Whitefish to play his entire youth, through Bantams, with the Glacier Hockey Association and make it to the BCHL.
He is in the weight room five times a week and tries to hit the track once or twice a week for cardio, agility, footwork and sprints to improve his explosive power. In addition to physical strength and ability honed by hours on the ice, Muhlfeld has grit and discipline.
"Waking up at 6 a.m. is hard for skates, definitely," he said. "Putting in the work and seeing it pay off is just so cool, it feels so good. Working so hard for just one thing and setting goals for yourself and climbing the tiers."
He said it is difficult to miss out on other things while he hits the gym but he knows that is what is necessary to improve. He is willing to make sacrifices for the game of hockey.
"Jack's very dedicated, focused. It's all about his commitment, hard work ethic and love of the game," said Clint Muhlfeld, Jack's father. "We'll get him there but at this point, it's all self-driven."
The elder Muhlfeld coached Jack and his teammates when they were much younger. He said they were "a pretty special group of kids."
"Both my parents are super supportive and they push me," Muhlfeld said. "I moved out of the house my freshman year. It's hard on my parents but, I mean, they know it's the right thing for me and they know I have a dream to chase."
Another source of support for the young athlete is his sister, Maddie Muhlfeld. She is proud of her little brother, who she describes as super goal-oriented. The two have always been close despite geographical distances.
WHEN HE was in the eighth grade, Muhlfeld traveled from Whitefish to Wenatchee, Washington, each weekend to play. The following year, he moved to Wenatchee to play on their U16 team.
He spent his second U16 year in Monument, Colorado, with the Rampage AAA program, a very competitive league. Muhlfeld was a captain, the starting center and finished the season with 31 points, the second-highest total on the team.
"They push you really hard but it definitely pays off," he said of the Colorado Rampage. "My skills and my IQ have changed so much since I've been there and I think the coaching staff has really changed me as a player."
The head coach of the Colorado Rampage U16 team, Pat Bingham, wrote that Muhlfeld is "an outstanding individual who is self-motivated, talented, highly enthusiastic and well-liked by his teammates and coaching staff."
Muhlfeld is looking forward to playing in the BCHL and knows that with each level up, the game gets harder.
"When you go up to the higher levels, all those guys want it even more than you and want to take your spot on that team," he said. "It's really cool to play against really good players and… work your hardest."
MUHLFELD STARTED skating when he was five years old and worked his way up through the U.S. Hockey levels at the Stumptown Ice Den. Mites, Squirts, Peewees and Bantams are the steps for kids from age 7 to 14.
When he was 10 years old, he played AAA in Lethbridge, Alberta, for a season. He also played for several years with Team Montana, which is made up of players from across the state. Additionally, Muhlfeld and his teammates won four Montana State A titles for the Glacier Hockey Association.
Though Muhlfeld is the first of the local hockey group of kids born in 2006 to move on to the Junior A level, he will not be the last. It is likely that several of his teammates will move on to Tier 1 or Junior A hockey.
"There are four or five guys out of Whitefish that play the same exact level as me – Cody Polumbus, Finn Safir, Darby McCarthy, Finley McCarthy, Aven Ames," he said. "I could name a few more but all those guys are just so good and it's so cool to train with them and watch them grow as players, too.
"They're going to really high levels, too," he added. "Fin [McCarthy] just committed to Wisconsin."
Fellow Whitefish player, Finley McCarthy, was born late in 2005 and last August, she signed on to play Division 1 hockey at the University of Wisconsin.
While it might be easy for some to be carried away by dreams of the NHL, Muhlfeld is more grounded.
"I think my goal right now is just to be a top player in the BCHL, but my long-term goal is D1, obviously," he said. "And I think after I make that level, we'll just see how it goes after that."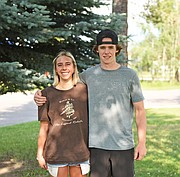 Recent Headlines
---