12U baseball team heads on trip of a lifetime to Cooperstown Dreams Park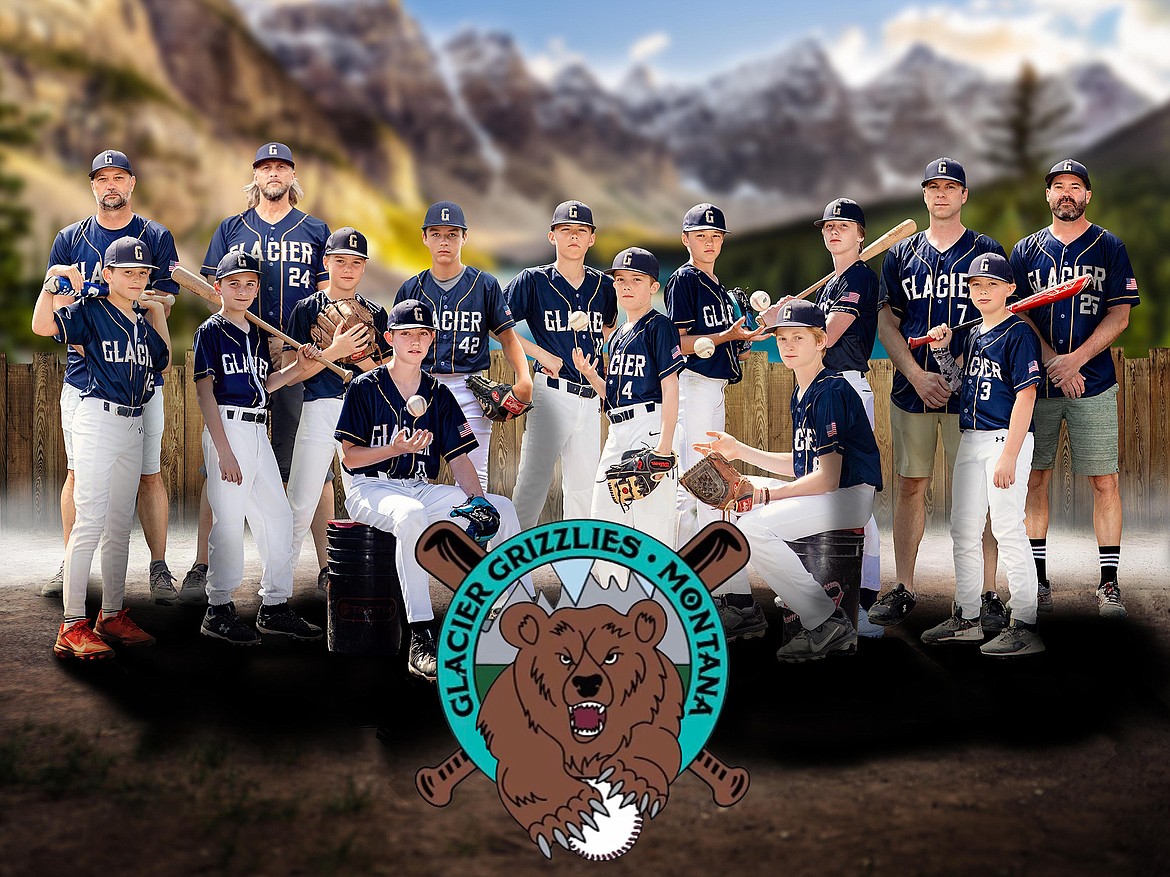 The Glacier Grizzlies 12U baseball team. (Provided photo)
After beginning playing together in 2020 when the world of sports was temporarily stalled by the pandemic, a 12U baseball team out of Whitefish has experienced much success.
The team will now get to make a memorable trip to the iconic Cooperstown Dreams Park in Cooperstown, New York to participate in a tournament with over 90 teams from across the country over one week. The team, with 11 players from Whitefish and Kalispell, will play from Aug. 2-8 and are guaranteed at least six games but could play up to 13 depending on their success in the tournament.
Heading to the Cooperstown tournament was a far-off thought from the team's coach Zachary Pitts. But it was a thought that several players and their families held onto to make it a reality. Pitts knew that with his coaching and personal and family life he didn't have the bandwidth to take on organizing the trip, so a group of parents came together to handle the registration, fundraising and other logistics.
Cooperstown Dreams Park is located next to the Cooperstown Baseball Hall of Fame. The park runs a new tournament each week during the summer and during the week there are also individual and team skills competitions. Mike Trout, Bryce Harper and Chris Sale are a few of the many current Major League Baseball players who played in Cooperstown.
Any team can sign up for a tournament in Cooperstown, so that brings a mix of some of the most competitive teams across the country and some that are just excited to play ball in another state.
"They've had a lot of current and former professional athletes that played in this tournament as kids…" Pitts said. "I think generally they're going to be at least competent teams, but with that many teams, you'll probably get all shapes and sizes… Teams from Whitefish, Montana to teams that probably pull kids from multiple states."
For the team, playing in this huge tournament is not necessarily about winning but more about exposure, and having an experience of a lifetime. Pitts, who is born and raised here, says that although he loves Montana for so many reasons, there's not a lot of opportunity for kids to see what else is out there and all the possibilities for different paths in life. Getting out of Montana and playing against kids from all different states will act as an opportunity to change some kids perspectives on what really is possible.
"What does it mean for them? It's obviously going to be a memorable experience but I hope that it helps them to dream bigger and broaden the possibility of what they could accomplish in their life," Pitts said.
He added, "My 12-year-old son Talis (who is on the team), he's said multiple times, 'Dad, I can't believe we're actually going, I never thought we would be able to do something like this.'"
Pitts says that the team is also appreciative of the community for support as several local businesses helped the team's fundraising efforts to make this trip possible.
THE TEAM that is heading to Cooperstown is mainly compiled of players from the Glacier Grizzlies team out of Whitefish, with an additional player from Kalispell who joined when some of the Grizzlies' players couldn't make the trip. The Grizzlies had much success in their season that recently ended and took second place in the 12U state tournament. They also won the Firecracker Tournament hosted by the Kalispell Babe Ruth league over the Fourth of July weekend and narrowly lost in the semifinals at the Father's Day Tournament.
Pitts said when the team came together in 2020 they played some scrimmages against Kalispell teams since the local league was shut down due to Covid-19 precautions. Every year since the Grizzlies have continued to improve; when they were 10-year-olds they averaged about .500 season and in the last couple of years they have won about 80% of their games. They practice indoors starting in January, then play the local league competing against teams from Columbia Falls and Bigfork and also have an All-Star team that travels to tournaments in Montana, Idaho and Washington.
To compound on all the success the Glacier Grizzlies have had, the team hopes to take their players' growth to the next level by putting in an extra month of work in the summer that culminates in a lifetime experience — traveling to play at Cooperstown Dreams Park.
The team traveling to Cooperstown consists of Talis Pitts, Kaleb Stevens, Brody Forthofer, Devin Meuter, Hank Hoppes, Brady Lewellen, Mason Muller, Jett Ellingson, Jack Anderes, Dylan Jackson and Liam Krezowski.
Recent Headlines
---