William Eric Kuehn, 91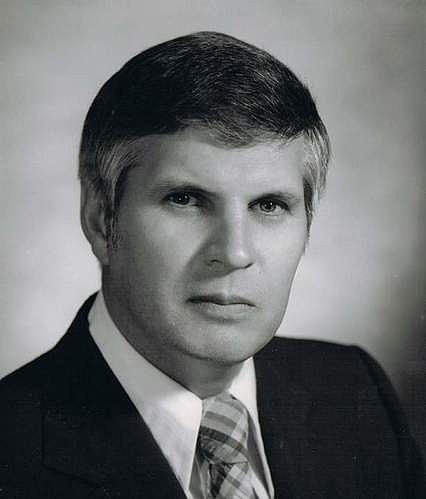 William Eric Kuehn, known to his loved ones as Bill, passed away on April 11, 2023, in Sandy, Utah, at the age of 91. Bill was born on Aug. 12, 1931, in Ishpeming, Michigan, Marquette County. He was a beloved husband to Carole, wife of 68 years, and a devoted father to his children Mark Kuehn, wife Beth, Scott Kuehn, wife Joan, and Laurie Cullen, husband Tom. He was also a cherished grandfather to Dax Kuehn, wife Jennifer, Brant Kuehn, wife Alice, Dillon Kuehn, wife Pilar, Tyner Kuehn, Rye Cech, husband Ryan, Holly Burns, husband Joshua, and McCara Cullen, and great-grandfather to Summit, Aquinnah, Sofia, Hewitt, Atlas, Porter, Carlota, Asher and Olivia.
Bill was a man of many interests and talents. He was a graduate of Gwinn High School in Gwinn, Michigan, and received a basketball scholarship to attend University of Mount Union in Alliance, Ohio. After college, he taught and coached high school in Ohio before embarking on a successful career in business. He began working for Montgomery Wards and Company before moving on to Hollister Incorporated, where he started as the assistant to the president and worked his way up to vice president of operations and eventually president. Under his leadership, Hollister became an international company and invented several important medical products, including the Ident-A-Band, the umbilical cord clamp, and the Colostomy bag. Bill believed that people were the most important factor in a business and always put his employees first.
In addition to his professional achievements, Bill was a man who loved his family, his community and his country. He served in the Army in 1955 and spent a year in Germany. He was named Volunteer of the Year by The United Way for his many contributions to his community. He was also an active member of the Whitefish Presbyterian Church and never took anything for granted in his life. He felt truly grateful and blessed for every aspect of his life and bowed his head in thanks for every sustenance, whether it was a soda or an entire meal.
Bill had many hobbies and interests, including playing basketball, skiing, fishing, and playing solitaire on the computer. Cats were a deep passion for Bill, from his first as a youth, Snowball, to the six he rescued and gave a wonderful life to with enormous love. For 30 years Bill enjoyed going to lunch on Fridays with his friend Jerry Hanson, jokingly said they solved all the world's problems during their Dairy Queen lunches. Bill had an entrepreneurial spirit. He started restaurants in Montana and assisted others with inventions/patents. Bill never met a stranger, he always enjoyed meeting people, telling stories and a joke for every occasion. He was a man who loved life and lived it to the fullest.
The family would like to thank the Enhabit Hospice team for their dedicated loving care.
No services are planned at this time.
In lieu of flowers, the family requests that memorials be made to the University of Mount Union, 1972 Clark Ave, Alliance, OH 44601. Bill will be deeply missed by all who knew him, but his legacy of kindness, generosity and hard work will live on.
Recent Headlines
---