Parker Kelly, 88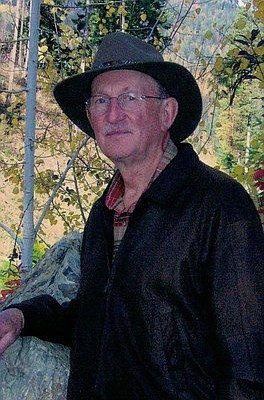 Parker Kelly, 88 passed away at home on April 5, 2023.
I grew up in northern New Jersey, driving cattle into the high country for spring and summer grazing and back to the lowlands ahead of the winter ice storms. I had a horse, old Lightning Strike, and a herd of 400 or 500 head to drive each year. Weather was a problem, but wolves were a bigger problem; we must have shot or stomped at least 250 of them over the years. Traveling light, LS and I had to live off the land. I couldn't carry much of anything, like not much ammunition, so I had to make every shot with my Sharps repeater a good one, which I did. I could make a fire in hard rain, and lived on wolf steaks served up with wild prickle berry and prairie grass. LS and I enjoyed the country and each other's company and would have kept at it but the sod busters showed up and ruined everything with their fences, cows, and all-around dumbness. Even the wolves left, and so, a teenager at last, I headed south to Virginia where I learned to read and write, and that there was more to life than what I had been doing. Beer and girls, for example.
Still, I always wanted to go drivin' cattle again, and killin' wolves, so I planned to go to San Francisco. Eventually, though, when I finally got there I was disappointed. SF is a good place for drivin' cattle, but all the wolves had gone to Montana, I found out, in search of bright lights and haute cuisine, so I had to settle for sod buster steaks. Worse, LS found a filly and settled down to a life of regular meals and stompin' rattlesnakes, but we parted BFF.
In between Virginia and San Francisco, I was in the Air Force for three years and, over Germany, I learned to do loops, barrel rolls and spins in a DC-3. Next was a year in New York City and then on to SF where, in between cattle drives, I finished up law school in a couple years and started practicing. That was when I discovered the most dangerous wolves of all, the ones that had Esq. after their names. It was dog-eat-dog, or I should I say wolf-eat-wolf.
Also in SF, something special happened: I found a wife, and we've stuck it out for all these years. We had kids, one of each, and dogs, lots of 'em. Even though we lived in cattle country south of SF and I was a range rider at heart, I had to adopt the ways of the Esquire wolves: clean shirt, tie, shiny shoes, briefcase; object to everything, agree to nothing; get paid upfront. Before long I fit right in.
I worked a long time trying to keep criminals on the street but at last, I discovered that in the law business wearing the white hat is way better, and easier, than wearing the black one, so I became one tough-ass prosecutor. Anyway, I preferred that view of myself, even if I wasn't.
Over time the wife and I tired of life around SF and decided to seek a sophisticated, big city setting with cultural advantages not available in cattle country. Whitefish, Montana was our first choice, of course, and that's where we are proud to be to this very day. Perhaps best of all, I have become a great golfer; no man can ask for more.
No services are held at this time. Austin Funeral & Cremation Services is caring for Parker's family.
Recent Headlines
---