Alyce Streich, 73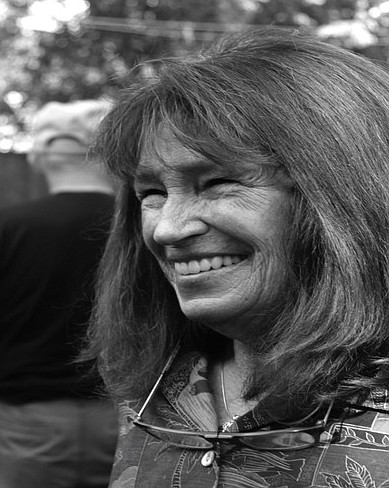 On April 7, 2023, Good Friday, Alyce Marie Streich, surrounded by the love of her family and held by the strength and grace of her youngest daughter, entered the light dancing in her husband's arms, and returned home. The heroine of her own myth, she taught us all how to live.
Born to James and Alyce (Gleeson) Hickey in Rockville Centre, New York, on Sept. 25, 1949 (according to the New York DMV 1948) she began a 73-year-long adventure that packed several lifetimes into just one and left an indelible impact on those lucky enough to know her fearlessness, biting sharp sense of humor, spunk, tasteful "tacky classy" sense of style, and the profound wisdom of her fiercely independent, private vibrant old soul.
As the third of six children, Alyce filled her childhood home with laughter, and practical jokes, and served as the instigator, guide, sibling mentor and protector, and was the focal point of many family dinner conversations. She forged her own reverent path through adolescence and an education knuckle-marked by St. Dominic's nuns, and lengthy false confessional stall visits that eventually led her to apply her linguistic talents and make a convincing argument for a "west of the fertile crescent of education" refinement at Carrol College and into adulthood under the wide-open spaces of Montana.
Montana knew her soul. The Montana of the '70s, and her never-ending zest for adventure, ultimately led Alyce to the love of her life, a smoke-jumping ski patrolman, Eldon Streich. She somehow understood the Mumble King, and he somehow knew just how to keep pace with her playful, fearless style. Together they created a life, and three children joined them.
Their love was more than enough to carry Alyce, not by choice, but by sheer tenacity, determination, perseverance, and grit through a solo-handed adventure where she carried their family alone, through the next phases of her life. Alyce encouraged her children to follow their own wandering stars, while also fulfilling her own passion by becoming a BSN, RN. Nursing was her calling, and she was a beloved nurse, volunteering her time frequently.
Of all her many adventures, and roles, one of her greatest was that of "Mingo" to her grandchildren. It was Mingo who taught us who we are, and opened our souls to believe in the whom we have yet to become. To dance in the rain, and sing as loud as we can, to speak up for what we believe, to chase wonder, to stay up late looking for northern lights, and shooting stars, to seek out the best of life moments, and to forgive when we fall to our own humanity. She will be deeply missed by many, and we are all better humans for having known her.
She is survived by her three children: Erica Mortensen, Christopher Streich, and Jenny Streich. Their spouses: Ian Mortensen, Cheryl Benedict, and Jason Roberton. Her Grandchildren: Zoe, Izaak, Kate, and Emily. Her beloved siblings: James Hickey, Terrence Hickey, and Maureen Shannon. She is now with: Eldon Streich (husband), Alyce Hickey (mother), James Hickey (father), Michael Hickey (brother), and Sharon Streich (sister-in-law).
Please join us as we celebrate her life on Saturday, April 22 in Columbia Falls, Montana.
Catholic Mass: 10 a.m. – 11 a.m., St. Richards Catholic Church, 1210 9th St. W., Columbia Falls, Montana.
Celebration of Life: 1 p.m. to 5 p.m. (doors open at noon), Cedar Creek Lodge & Convention Center, 930 2nd Ave. W., Columbia Falls, Montana.
Donations may be made in remembrance to: Shepard's Hand Free Clinic, 5150 River Lakes Parkway, Whitefish, MT 59937.
To send online condolences, please visit www.columbiamorturary.com.
Recent Headlines
---