Early detection helps efforts to thwart invasive species infestations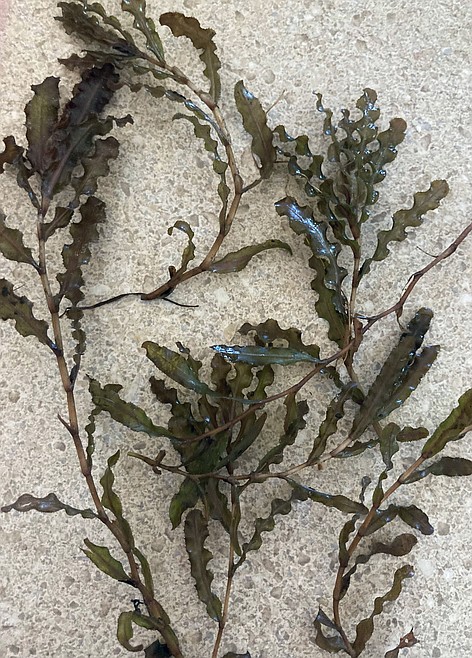 The invasive species, curly-leaf pondweed was found in Haskill Creek along Mongan Road. (Photo provided)
by
JULIE ENGLER
Whitefish Pilot
|
September 21, 2022 1:00 AM
The Whitefish Lake Institute identifies aquatic invasive species growing in water bodies near Whitefish and early detection has helped to stop infestations.
Curly leaf pondweed (CLP) was first identified in Haskill Creek at the Monegan Road culvert on Aug. 17 by Cynthia Ingelfinger of the Whitefish Lake Institute (WLI). WLI and Montana Fish, Wildlife and Parks staff conducted a survey and a pull effort. The impacted area appears to be confined between Voerman Road to the north and Monegan Road to the south.
"It appears that we've caught this infestation before downstream drift has conveyed the plant to the Whitefish River and points beyond,'' said WIL Executive Director Mike Koopal. "We've surveyed Monegan Road to the Whitefish River twice and found no plants."
Koopal says Whitefish is at the top of the Columbia River Basin and it's important to attempt to control this infestation to safeguard our aquatic resources and to protect water bodies downstream.
Curly-leaf pondweed is typically the first plant to grow in late spring or early summer. WLI plans to target that time of year to pull the weed, when temperatures and daylight length promote growth. Curly-leaf pondweed also spreads via root networks and to a lesser extent by seed.
"If I were to make an educated guess, the source of the infestation could have been waterfowl that ingested seeds from an infected waterbody and traveled to our area," said Koopal. "The wetland complex near Haskill Drive appears to be the upstream extent of the infestation and waterfowl commonly use that area."
Once in a waterbody, the most common means of dispersal for CLP is via plant buds called turions. Turions break off the plant and root late in the year.
"We'll be conducting surveys and pull efforts for multiple years to assess our effectiveness in controlling the spread of this invasive species," Koopal said. "It's hard to miss — the leaves look like skinny lasagna noodles."
One problem is that CLP is often interspersed with other plant species that can be in high densities. Additionally, it can grow in deep water causing poor visibility for pull efforts.
Another invasive species, Eurasian watermilfoil (EWM), was found in Beaver Lake in 2011 by the Montana Department of Natural Resources and Conservation staff. Eurasian watermilfoil is an aquatic invasive species that grows in still or slow-moving water.
Several organizations have been working since then to control the spread of the invasive plant.
The Beaver Lake EWM control/eradication effort began in 2012 as a multi-agency cooperative effort by deploying bottom barriers near the boat ramp. The bottom barriers were successful in suppressing the largest population patches of the infestation.
After the bottom barrier effort, WLI and the City of Whitefish began suction dredge operations via a contractor to control and eradicate isolated patches of the EWM. Suction dredging involves a diver identifying single plants or plant communities and suction dredging the plants from the roots to prevent fragmentation.
In 2019, FWP assumed management of the Beaver Lake EWM issue with support of the Whitefish Lake Institute. FWP divers annually dive and pull the remaining plants. FWP also maintains bottom barriers near the boat ramp.
"WLI continues to maintain a sediment curtain near the lake outlet to Beaver Creek to minimize the potential for downstream drift of plant fragments to Beaver Creek and Whitefish Lake," said Koopal. "Fortunately, this infestation was caught early, allowing management efforts to be successful."
Koopal noted that this issue requires continued work to ensure the watermilfoil in Beaver Lake doesn't spread, as the lake is hydrologically connected to Whitefish Lake.
Left untreated, EWM can form dense vegetation mats on the water, which can threaten the health of the affected water body and interfere with recreational activities like fishing, swimming and boating.
Recent Headlines
---