Cross country has solid showing at huge regional race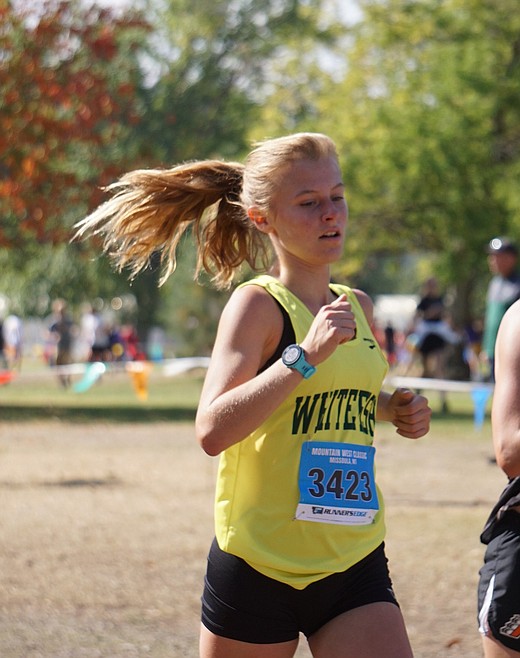 Whitefish junior Morgan Grube leads the Lady Bulldogs with a finishing time of 21:11 on Saturday. (Matt Weller photo)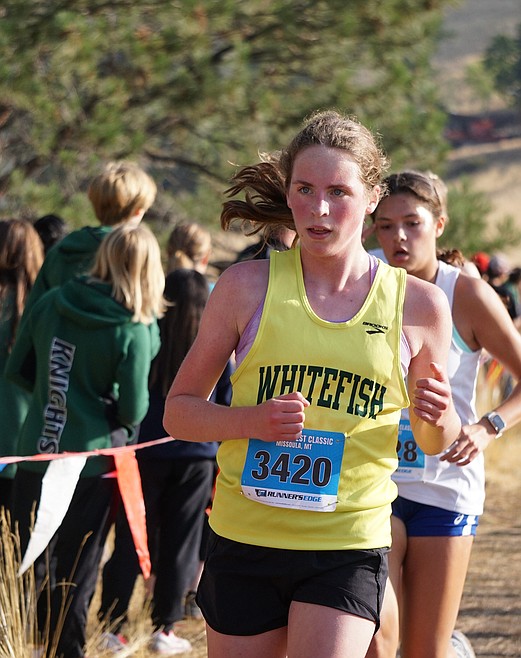 Bulldog freshman Lillian Nelson runs at the Mountain West Classic on Saturday. (Matt Weller photo)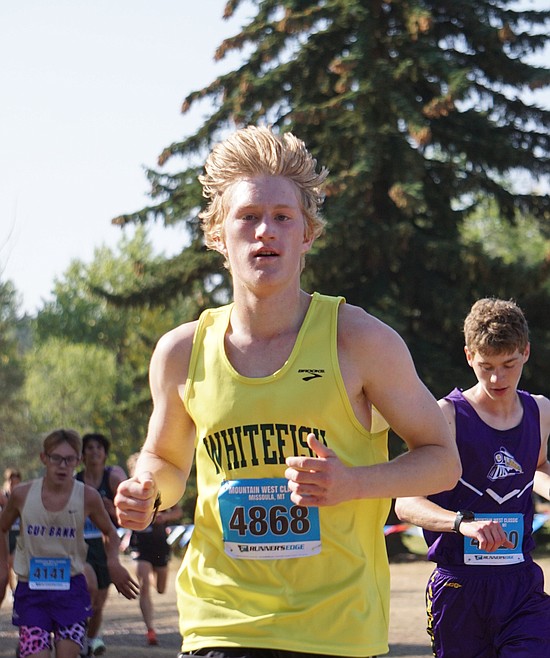 Whitefish junior Azure Stolte sprints towards the finish in Missoula on Saturday. (Matt Weller photo)
Previous
Next
by
JULIE ENGLER
Whitefish Pilot
|
September 21, 2022 1:00 AM
The Bulldog cross country team competed in the Mountain West Invite in Missoula on Saturday. It was a massive race with over 750 runners competing at the varsity level, representing over 100 schools.
"When I look at only Class A team results we are in great shape with less than five weeks until the State Championships on that same course," said Coach Richard Menicke. "This was our state preview and the kids have this experience to reflect on and consider how they can better execute in late October."
Bozeman and Hardin topped the girls team standings, followed by Hellgate, Mead and Flathead; Whitefish finished at No. 31 but was in front of most Class A schools. Individually, Annastasia Peters of Post Falls won with a time of 17:47. Lilli Rumsey Eash of Flathead finished in fourth place in 18:54.
Coach Menicke said Morgan Grube led the Whitefish varsity girls with a time of 21:11. Maggie Pulsifer, Hazel Gawe and Maeve Ingelfinger ran as a solid pack with only 15 seconds separating their times.
The boys team winner was Sentinel, with Coeur D'Alene in second and Lewis and Clark in third. The Whitefish boys team finished eighth, at the top of schools out of Class A.
"The boys varsity ran very well — eighth place overall as a team… kind of a big deal at this massive regional race," said Menicke. "They packed up in groups of two and three, to have a gap of less than one minute from our number one to our number five finishers."
Bulldog Deneb Linton's time was 16:59, which placed him at No. 34 out of over 400 runners. Mason Genovese, Nate Inglefinger, Ruedi Steiner finished in quick succession followed by Ethan Amick in 17:54.
"Deneb and Mason led the boys, with very solid efforts from Nate and Reudi. Ethan Amick debuted at varsity and produced a great race as our number five," Menicke said. "Our six and seven guys (Azurek Stolte and Zachary Chiarito) ran well and their role remains critical to supporting our success."
The Whitefish cross country teams will run Tuesday, Sept. 20 in Thompson Falls and the Whitefish Invitational is Tuesday, Sept. 27 on the north course at the Whitefish Lake Golf Club beginning at 3 p.m.
Results of the Mountain West Invite:
Girls Team: 1. Bozeman 149, 2. Hardin 149, 3. Hellgate 165, 4. Mead 205, 5. Flathead 219.
Whitefish Girls: 83. Morgan Grube, 21:11. 170. Maggie Pulsifer, 22:45. 174. Hazel Gawe, 22:50. 179. Maeve Ingelfinger, 23:00. 266. Kellie Klepper, 25:13.
Boys Team: 1. Sentinel 102, 2. Coeur D'Alene 131, 3. Lewis and Clark 137, 4. Bozeman 145, 5. Great Falls 170.
Whitefish Boys: 34. Deneb Linton, 16:59. 36. Mason Genovese, 16:59. 72. Nate Ingelfinger, 17:35. 94. Ruedi Steiner, 17:50. 102 Ethan AMick, 17:54. 262. Azure Stolte, 19:30. 300. Zachary Chiarito, 19:58.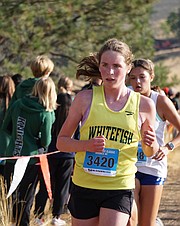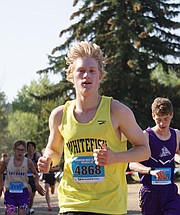 Recent Headlines
---