Undefeated Bulldogs prepare to face rival Wildcats this week
by
WHITNEY ENGLAND
Whitefish Pilot
|
September 14, 2022 1:00 AM
Over two games last week, Whitefish again dominated play on the field against two Northwest A conference foes.
The Bulldogs took down the Libby Loggers on Thursday in a 9-0 blowout win and on Saturday defeated Polson 3-0. The two wins improve Whitefish's record to 6-0 with just one goal allowed against thus far in the season.
Against Libby, the Bulldogs didn't waste any time finding the back of the net with junior Collin Lyman scoring in the first minute of play. Eight different Bulldogs scored in the game with Lyman getting another in the 12th minute to lead the team in scoring. Whitefish's Logan Bingham notched three assists while Ryder Elliott, Kane Nissen, Adam Healy, Henry Barbieri, Sam Dow, Owen Erickson and Preston McPherson all scored one goal each.
Starting goalkeeper Ethan Schott and backup keep Charlie Dow combined for two saves to keep the clean sheet.
"It was great to get a lot of guys in, we care about trying to build everybody up and playing a certain kind of way," Bulldog coach John Lacey said. "...There were periods where we looked really, really sharp. So I was pleased to see that."
In Polson, the score was much closer but that didn't reflect the high level of play from the Bulldogs. The score remained 0-0 almost until midway through the second half when finally Lyman netted one off an assist by Chris Noone to put Whitefish on the scoreboard.
Within a six-minute span, Whitefish scored two more goals to go up 3-0 and the Dogs would hold onto that lead for the remainder of the game. Noone scored in the 60th minute while Lyman had another goal in the 63rd. Ryder Elliot and Elija Adams-Griffin each had an assist.
In the game, the Bulldogs struggled to finish in front of the net — racking up 19 shots to Polson's 0. The Bulldogs also had 14 corner kicks and its defense kept the Pirates from challenging Schott in the net.
"We had lots and lots of chances, just weren't very good in front of net," Lacey recalled. "But when we broke through it was kind of three quick ones... the boys played well even if they didn't score well."
Whitefish now prepares for its most significant game of the season yet — a home match with crosstown rival Columbia Falls.
The Wildcats are also undefeated entering the game with a 5-0 record.
"I certainly expect it is going to be our biggest test of the season. Any time we play CFalls and get in these rivalry matches it brings out the best in everybody — the ball will be moving a little faster, the hitting will be harder, there will certainly be a little more emotion in the air for everybody — and that's a good thing," Lacey said.
This will be the first time the two teams have seen each other since the Class A State Championship game last Halloween when the two teams fought to the end with Whitefish narrowly taking the win 3-2 with a last-second PK save.
Lacey expects the Wildcats to be hungry for a win and both teams will need to bring their best.
"We're confident going in, we have a lot of history here to rely upon, but we're also very aware that CFalls is playing well and they're bringing a really strong squad over."
The big rivalry game between the Bulldogs and Wildcats is scheduled for Thursday at Smith Fields. Kick-off at 5 p.m.
Libby 0 0 - 0
Whitefish 5 4 - 9
WF - Collin Lyman 1:00
WF - Ryder Elliott (Logan Bingham) 3:00
WF - Kane Nissen (Bingham) 6:00
WF - Adam Healy 9:00
WF - Lyman (Griffin Gunlikson) 12:00
WF - Henry Barbieri (Bingham) 58:00
WF - Sam Dow 64:00
WF - Owen Erickson 74:00
WF - Preston McPherson 80:00
Shots - Libby 2, Whitefish 20; Goalie saves - Libby 11, Whitefish 2 (Ethan Schott, Charlie Dow); Corner kicks - Libby 2, Whitefish 4; Fouls - Libby 5, Whitefish 5.
Whitefish 0 3 - 3
Polson 0 0 - 0
WF - Collin Lyman (Chris Noone) 57:00
WF - Noone (Ryder Elliott) 60:00
WF - Lyman (Elijah Adams-Griffin) 63:00
Shots - Whitefish 19, Polson 0; Goalie saves - Whitefish 0 (Ethan Schott), Polon 16 (Maddox Bird); Corner kicks - Whitefish 14, Polson 0; Fouls - Whitefish 8, Polson 3; Cards - Whitefish 1 yellow.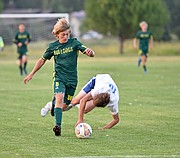 Recent Headlines
---