Cross country runners post PRs at Rebecca Farm
by
JULIE ENGLER
Whitefish Pilot
|
September 14, 2022 1:00 AM
The Bulldog cross country teams ran in the Flathead Invitational at Rebecca Farm in Kalispell on Friday.
"A great day for the athletes with near perfect conditions for racing — we had our full team eligible and competing for the first time," said Whitefish coach Richard Menicke. "This race was very competitive with four AA teams and the Bitterroot Class A powerhouses, Corvallis and Hamilton."
Sentinel won with 31 points. St. Ignatius, with 93 was second, Whitefish took third with 124, and Flathead and Big Sky rounded out the top-five teams.
Andrew Rush of St. Ignatius won the varsity race in a time of 15:58:39. Mason Genovese of Whitefish took seventh place with 16:49:17. Whitefish's Deneb Linton came in 12th place, Nate Ingelfinger was 15th, and Reudi Steiner finished in 25th place.
"The boys varsity placed third overall and were the top Class A team in a tough boys race, led by Mason Genovese and Deneb Linton," said Menicke. "The big gain for the boys from this race is our number three and four runners, Nate Ingelfinger and Reudi Steiner had big personal records and really stepped it up."
Additionally, Zach Chiarito and Azure Stolte each ran personal records in the race and the coach said they are critical to the team success and showed nice improvement in Libby.
Whitefish sophomore Ethan Amick ran a 17:40:88 for fifth place in junior varsity in his first race of the season.
"Ethan solidified his place on the top 5 of our varsity with his sub-18-minute effort today," said Menicke.
Flathead took the girls team title with 54 points while the individual varsity winner was Lilli Rumsey Eash with a time of 18:51:71. All four Whitefish runners posted lifetime best or season-best times. Morgan Grube ran a PR of 20:56:97, and Maeve Ingelfinger ran a solid 22:42:68.
"Ingelfinger had a great finish and pulled our next two finishers, Maggie Pulsifer and Hazel Gawe, to finish within 5 seconds of her," Menicke said.
On the junior varsity team, the Whitefish girls finished second, led by newcomers Maci Brennan who finished 12th and Kellie Klepper in 17th.
"These girls will race varsity going forward, they will see continued gains by racing in a stronger field," said Menicke.
The next cross country race is the Mountain West Classic in Missoula on Sept. 20
Results from Rebecca Farms
Boys Team: Sentinel 31, St. Ignatius 93, Whitefish 124, Flathead 125, Big Sky 144
Boys Individual: Andrew Rush, St. Ignatius 15:58. Callum Coots, Sentinel 16:20. Quinn Newman, Sentinel 16:25. Keagen Crosby, Sentinel 16:33. Robbie Nuila, St. Ignatius 16:34.
Girls Team: Flathead 54, Corvallis 65, Columbia Falls 67, Glacier 95, Hamilton 127
Girls Individual: Lilli Rumsey Eash, Flathead 18:51. Malia Bradford, Sentinel 19:09. Siri Erickson, Columbia Falls 19:51. Violet Jessop, Corvallis 20:04. Madelaine Jellison, Flathead 20:18.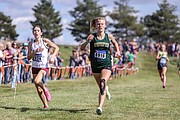 Recent Headlines
---