Over 100 cats removed from animal-hoarding property on Edgewood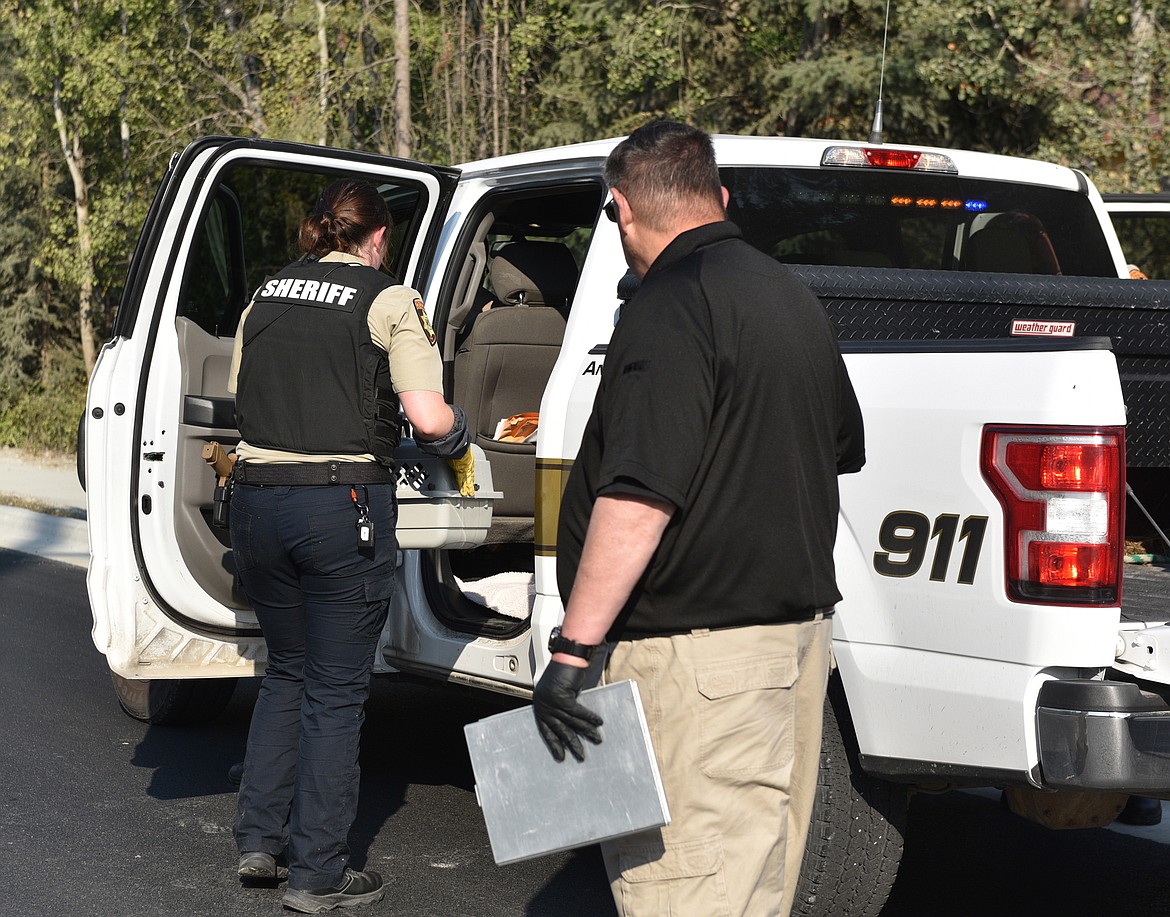 Authorities load several crates of cats during the initial effort to gather the animals last month on East Edgewood Drive. (Julie Engler/Whitefish Pilot)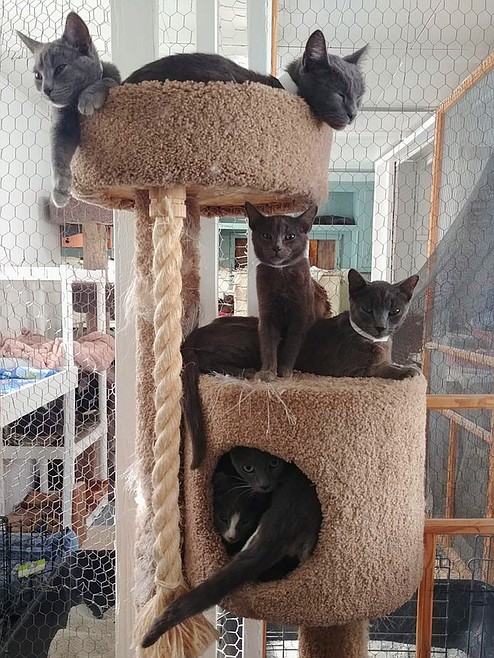 Cats enjoy safety at the Flathead Spay and Neuter Task Force after being removed from a hoarding situation a month ago. (Beadles photo)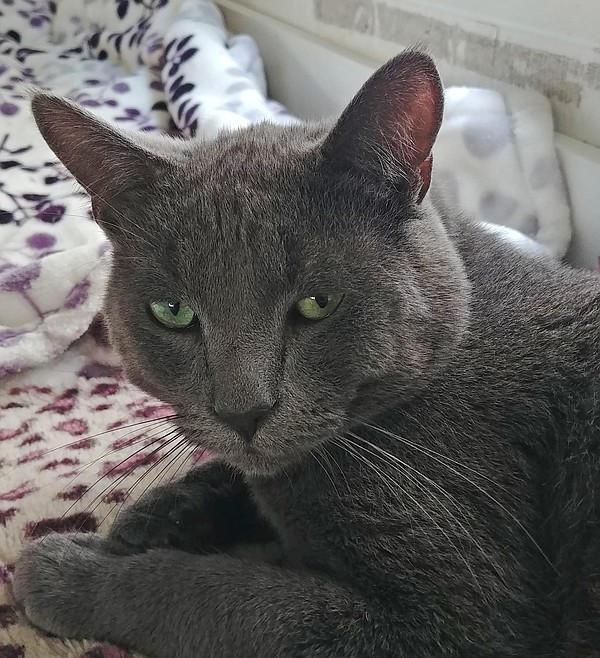 One of the steel gray cats available for adoption this weekend at the Spay and Neuter Task Force. (Beadles photo)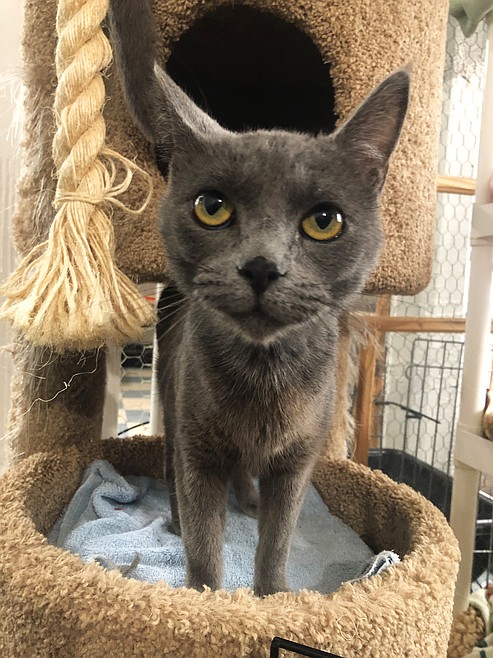 One of the over 130 cats that were removed from a hoarding situation last month. (Julie Engler/Whitefish Pilot)
Previous
Next
by
JULIE ENGLER
Whitefish Pilot
|
October 5, 2022 1:00 AM
In early September, authorities and a handful of volunteers collected a large number of malnourished and neglected cats that were suffering with flea infestations and illnesses from a property in Whitefish.
The Whitefish Police Department, Flathead Sheriff's Office and the County Animal Control executed a search warrant at a house on East Edgewood Drive on Sept. 7 and initiated the removal of over 130 cats and two dogs, all of whom were in bad condition.
Currently, the Flathead Spay and Neuter Task Force is caring for 93 of the cats, KittyMOM's Rescue Organization has 28 and the county shelter is housing six cats and two dogs. The owner signed a letter relinquishing the animals.
Several of the cats who have been restored to good health, through the hard work of animal organizations and volunteers, will be up for adoption this weekend at the Flathead Spay and Neuter Task Force in Columbia Falls.
Charges have not yet been filed but the case has been referred to the Flathead County Attorney for review, according to Whitefish Chief of Police Bridger Kelch.
The Flathead Valley has not seen such a grievous case of animal hoarding since the Criswell case 12 years ago when 120 cats were seized from a trailer in Marion.
PRIOR TO authorities collecting the animals in early September, Chelsea Hilbun contacted multiple agencies for help with the growing problem. Hilbun's father lives next door to the property that was infested with cats for nearly four years, and she described the deplorable conditions.
Her best guess is there were litters being born every two weeks at the house on East Edgewood Drive. She took in a five-week-old and a seven-week-old kitten and bathed them multiple times to remove fleas.
She has also buried young kittens more than once and said the cats were not dewormed, never received checkups and were hardly fed. She and her children saw horribly injured animals, at least one case of cannibalism among the cats and other nightmarish scenes.
"I was walking in the woods and I saw this kitten playing with something and I thought it was a dead mouse," Hilbun recalled. "It was a dead kitten."
The numbers are astonishing. Female cats are able to reproduce when they are about five months old and without spaying and neutering, can have three litters a year. At last count, 143 cats had been removed from the property.
"In the evening when it's been warm out… you can walk up into that field and find (several) piles of five to ten cats," Hilbun said.
She said they were all over the driveway, on the porch, under all the vehicles, in the woods. Once, when she stood on the property line and sprinkled food on the ground, over 30 cats emerged from all over to eat the food.
"I was shocked. I know there's a lot of cats there, but to see that many cats coming out, it was absolutely insane," she said.
The yard provided several places for cats to nest. Hilbun describes the property as having a mattress sitting flat atop a "bunch of junk," an overturned hot tub and another large pile of garbage, wood and maybe furniture, all of which the cats used for shelter.
Many of the cats are hit by cars driving on East Edgewood Drive and oftentimes, several can be seen in the ditch. Hilbun said many of the dead get tossed into the woods by her dad's house.
"You can't stand on this part of the property most days because it absolutely reeks of death — it smells so bad," she said.
DARCY ALBERT, founder of KittyMOM's Rescue Organization, said when officials travel to a reported location and see a bit of food and some water in the vicinity, their hands are tied. They cannot do anything about it unless they can prove cruelty or neglect.
"When Chelsea called (in late August) and said she was burying kittens and they were coated with fleas," Albert recalled. "That's when I said, that is direct evidence and you need to call animal control and dig in your heels. This is a public safety hazard. None of them have had rabies vaccines. It's animal cruelty and neglect and it needs to be addressed."
Once the Flathead Spay and Neuter Task Force agreed to take in the cats, the wait for the warrant was short. After removal from the property, the animals were shuttled to the Task Force where the organization's Executive Director Mimi Beadles and her team weighed, vaccinated, sorted by sex and photographed the cats. They treated the cats for fleas, mites and worms and spayed or neutered each one.
Beadles said it took days before the animals realized what cat food was and that nearly all the cats are underweight. The Task Force's cat veterinarian, Dr. Kristin Hollemans, found that all the cats have adult teeth, an indicator that they are all over five months old.
In general, cats should weigh a pound per month of age up to about six months but many of these cats are so small, they were mistaken for very young kittens before they were examined, Beadles said.
"Most of the kittens never survived," Beadles explained. "They were all infested with fleas."
Every cat has been tested for FIV (feline immunodeficiency virus) and four were found to be positive for feline leukemia. The national average for FIV is less than 4% of all cats but almost half the cats from the Edgewood property tested positive for FIV.

"Their life expectancy should still be almost that of a regular cat, about 10 years," Beadles said. "It's just keeping them healthy and away from other cats."
The Spay and Neuter Task Force is holding an adoption event this weekend and will be offering a special price for adoptions of pairs, since these cats have lived, thus far, as a group.
"The thing that would help these cats the most right now is to get them adopted," said Beadles.
The county shelter has provided much of the supplies to the Spay and Neuter Task Force so the only thing they need now is more more clumping litter.
"The litter is number one and cash donations would be awesome," Beadles said, and added that they would also appreciate help scooping out litter pans.
The cats appear to be mostly Russian Blue, a breed known for their steel gray coats and green eyes. Beadles describes them as "magnificent" and they are all exceptionally friendly. They are so sweet, she has chosen one to take home and another is slated to be adopted by Task Force and KittyMOM's volunteer, Bonnie Hodges, who spent over 100 hours trapping cats at the property.
KittyMOM's has adopted out 11 of the cats already.
"We're hoping the community will step up and do adoptions," Albert said. "We're looking for good, responsible homeowners who can afford vet care and keep them inside. They've had their fill of trying to survive outside."
HILBUN STATED that every officer in Whitefish and most of the Sheriff's Department along with every rescue organization and humane society were aware of this house.
"The police have been there on several occasions," said Hilbun. "My dad has tried to get something to happen. This has been going on for three to four years."
While law enforcement agencies and animal advocates may have known about this property for years, lack of manpower, lack of space for the animals, and lack of other support systems in the Flathead Valley caused action to be slow in this case.
The excessive amount of time it took to successfully obtain and carry out the search warrant is also a source of frustration for everyone involved.
"It just makes me mad that this has taken so long, because 30 cats went into the shelter a year ago from that place," Beadles said, gesturing to the dozens of cats currently under her care. "None of these cats should have been born."
Albert added, "There are no ordinances, no law enforcement for cats. Every time someone calls animal control, their answer is 'we don't respond to cat calls.'"
Though there are no cat ordinances, Beadles pointed out there are Montana statutes for how both dogs and cats are to be cared for. She said the local shelters take in both animals, per their mission statements, and that taxpayers pay for them to take care of both dogs and cats.
"People need to be accountable for these cats," Beadles said. "We've had discussions with dispatch, the Sheriff's Department and even the shelter about (the attitude), 'Oh, they're free spirits.' No. No, they are not."
Chief Kelch said the resources needed to tackle this situation continuously fall through due, in part, to the increased demand for services and the lack of resources to keep up with the demand.
"I'm going to… have a post-op discussion, with the right partners throughout the county, (and) social services. Why does this take so long? This is ridiculous," said Chief Kelch. "We can't continue down the route we've been going… this is just, (it's) been too long."

For more information on the organizations involved or to donate visit http://flatheadspayneuter.org or https://kittymomsrescue.org/
Flathead Spay and Neuter Task Force will hold an adoption event Saturday and Sunday, Oct. 8-9, from noon to 4 p.m. each day. The Task Force is at 3491 Trumble Creek Road in Columbia Falls.
The adoption fee is $50 and new adopters need to bring a carrier.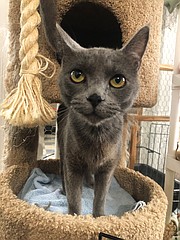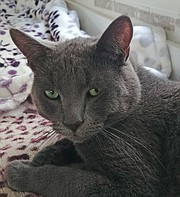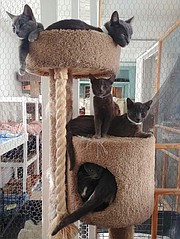 Recent Headlines
---