Whitefish boys basketball tip-off season with strong group, new head coach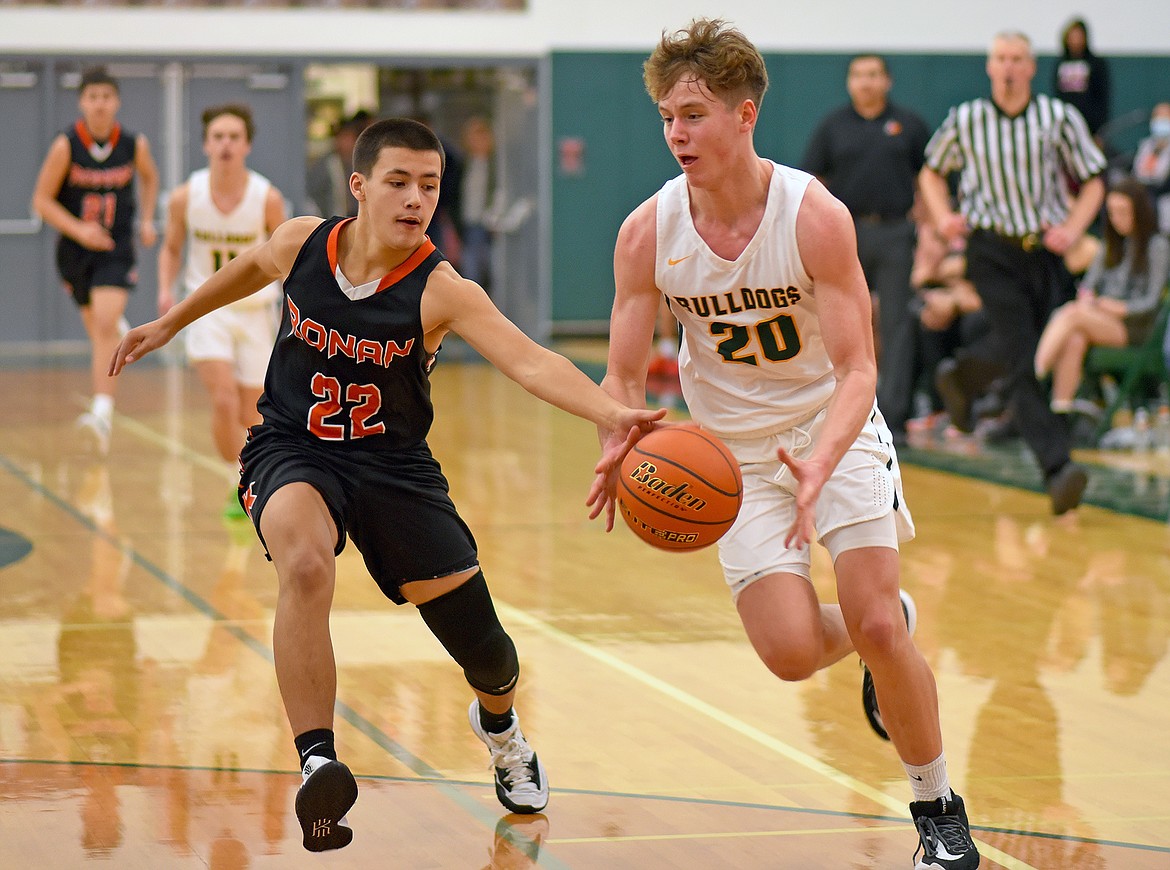 Ronan's DaVonne Curley attempts to knock the ball away from Whitefish's Jack Sears on a fast break on Friday night in Whitefish. (Whitney England/Whitefish Pilot)
by
WHITNEY ENGLAND
Whitefish Pilot
|
November 30, 2022 1:00 AM
The Bulldogs return a core group of players despite graduating quite a few seniors last year which helps in preparing for the new season. Whitefish is also welcoming a new head coach, Alex Gonzalez, to lead the program.
Gonzalez says the team has a group of athletes that have all played together before and know each other's style of play — something that makes his job as the new head coach a little easier.
"We're just kind of laying the foundation and building from there. But the kids are amazing," Gonzalez said. "We've got a core group of maybe eight kids that are returners that played together last year and years before. Which that helps a lot because we can grow from there."
Some of the key returners the coach believes will lead the team are seniors Josh Downie, Daniel To and Jack Sears, and juniors Dane Hunt, Mason Kelch, Mason Genovese and Ryder Barinowski. Things will of course change as the team prepares for different opponents, but Gonzalez likes the look of his lineup so far.
Gonzalez takes over for Scott Smith who resigned after last season. He joins assistant coach Willie Roche and brings a significant amount of playing and coaching experience to the Whitefish program.
He is originally from Las Vegas and played in high school as well as college, including two walk-on seasons at UNLV. Gonzalez more recently was coaching an elite travel basketball program called Vegas Elite where he focused a lot on player development.
After retiring from his 22-year career in law enforcement with the Las Vegas Metropolitan Police Department, Gonzalez and his wife and son traveled in an RV beginning in 2020. They lived in several states, but enjoyed Montana the most and put down roots in the Flathead Valley in August.
News travels fast in Whitefish and before long Gonzalez had several people, local and from back home, encouraging him to apply for the Whitefish basketball coaching position. It took a while to decide, but after the seed was planted Gonzalez kept thinking about the kids that didn't have a coach, and eventually, with support from his family, he took the job.
Gonzalez is working on strategies and ways of strengthening the program now while still keeping the sport enjoyable.
"I'm trying to look outside the box and make it challenging but at the same time fun, where these kids can grow and see where basketball can take them," Gonzalez said.
The coach is thinking about the games and helping the players develop as athletes, but says it's even more important to him that they grow as people.
"Most importantly, they are great kids. That to me matters more in developing them into great young men," Gonzalez said. "I told them my philosophy and I want them to shine whether its in football or its in basketball… I believe in being comfortable in an uncomfortable situation."
The team has a goal of doing the little things that will matter in the end such as winning 50-50 balls, hustling and playing strong defense.
"For us, our goal is going to be defense… I want them to take pride in defense because defense wins and the little things end up being the big things that win the ball games. So that's kind of been our motto," he said.
Last season Whitefish finished 7-11 overall and missed qualifying for the Western A Divisional Tournament. Although postseason play is still important to the team, the goal is to take it one game at a time and focus on the opponent in front of them.
"Right now my mindset is on Eureka, that's our first game," Gonzalez said. "(We're) treating every game as if it's the first-place team."
Whitefish will host Eureka to begin the season on Friday at 7:30 p.m. immediately following the girls varsity game.
Recent Headlines
---