Whitefish senior Ty Schwaiger signs with Washington State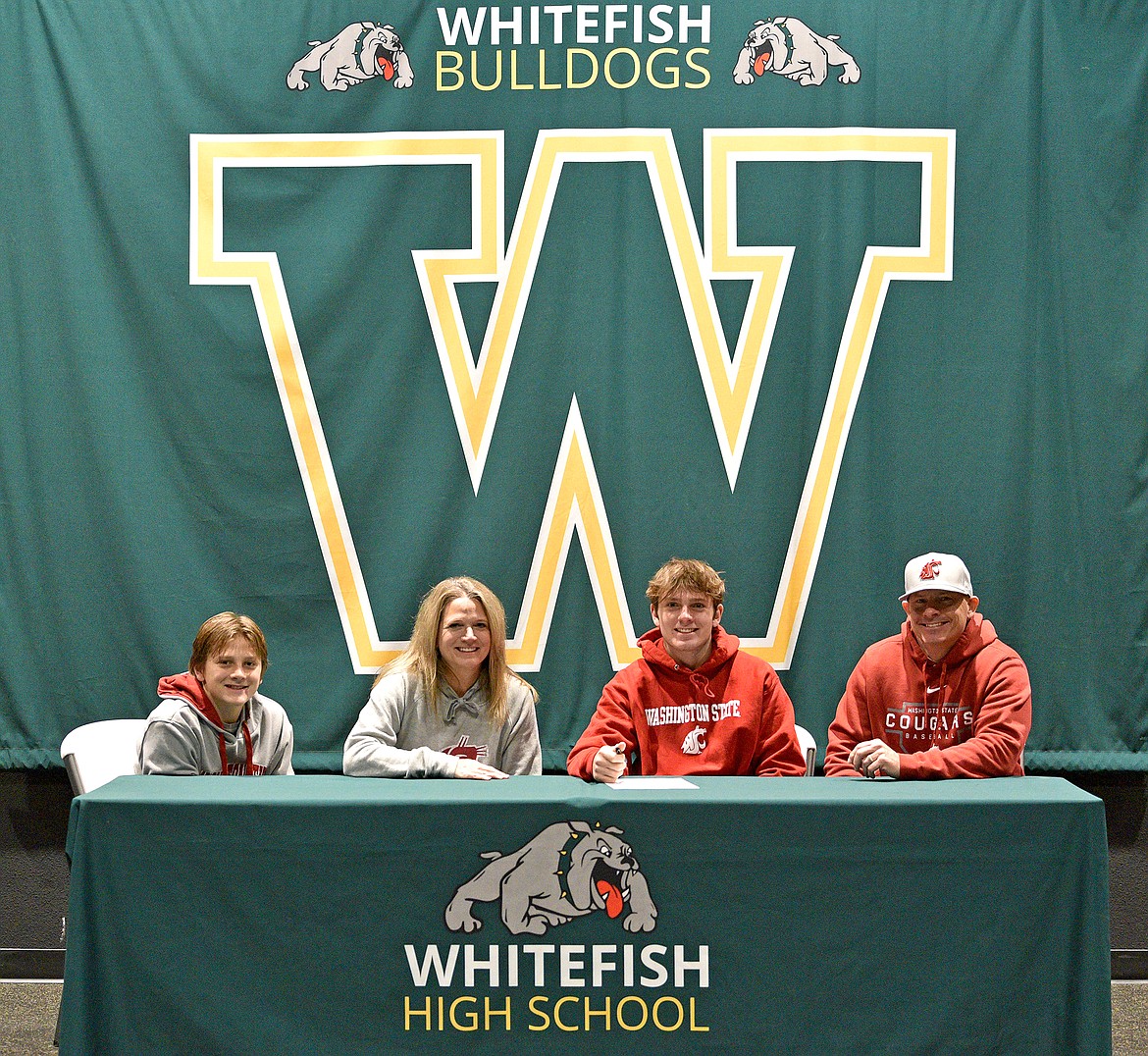 Whitefish senior Ty Schwaiger signs a letter of intent to play baseball at Washington State University. His family and friends were at Whitefish High School last week to support him. Pictured are his brother Vance, mom Brigetta, Ty, and dad Jason Schwaiger. (Whitney England/Whitefish Pilot)
by
WHITNEY ENGLAND
Whitefish Pilot
|
November 23, 2022 1:00 AM
Whitefish senior Ty Schwaiger will get to fulfill a longtime goal of competing in collegiate baseball next school year.
Last week Schwaiger signed a letter of intent to play baseball for Washington State University.
The Bulldog senior, who is a top pitcher and player for the NW Premier Baseball Club out of Post Falls, Idaho, and also a leading running back and linebacker for Whitefish football, is excited to play at the next level.
He said a couple of years ago Washington State became his dream school and he had hoped to get an offer from them. He was in talks with other schools, but when WSU offered he accepted right away. Schwaiger says WSU, being a Pac-12 school and not too far from Whitefish, made it a great choice.
"It's kind of perfect because it's only four and a half hours away, and they have a football program, its Pac-12, my family can come and watch me — it just felt like home there," he said.
Schwaiger is a skilled right-handed baseball pitcher and is consistently throwing in the low 90s. Though he enjoys success on the football field as well, around the time of his sophomore year of high school he decided to focus his collegiate pursuits on baseball.
"Baseball kind of separated when I started getting good at it and I realized I could go to college for it," Schwaiger said. "Then I started focusing on baseball and football was kind of a side thing I did."
Throughout his life, Schwaiger says his dad has been his baseball and pitching coach. His dad figured out how to be a pitching coach and has helped him along the way. Schwaiger added that he's thrilled to get a full-time pitching coach at Washington State, but thinks his dad did a great job in the meantime.
"My dad's been my pitching coach and my baseball coach my whole life… He's worked really hard at trying to figure out how to become a pitching coach, I think he's done a good job at it," he expressed.
Schwaiger says he's most excited about playing highly competitive baseball and getting to face schools like UCLA and USC, ones he grew up watching.
"I always thought I'd get to this level, but it's kind of surreal now, and I'm just really excited to go play high-competition baseball," he said.
In his senior year, he will also get the opportunity to play baseball for Whitefish High School — an experience he hasn't had yet. This spring is the inaugural year for high school baseball in Montana, and it's a great way to end senior year for Schwaiger.
"It's crazy because we have a chance of winning the first state championship in Montana history and I'm excited to be a part of that team," he said. "Hopefully I can help out a lot with it."
Recent Headlines
---