Northwest Ballet Company presents "The Nutcracker"
|
November 16, 2022 1:00 AM
This Thanksgiving weekend the Northwest Ballet Company will be back in Bigfork for their 34th production of the holiday tradition. Fritz and his feistiness, Drosselmier and his dancing dolls, saluting soldiers and mischievous mice, sparkling snowflakes soaring across the stage, and the beloved Sugar Plum Fairy with her entourage in the land of the sweets will grace the stage for a not-to-be-missed weekend of performances.

Northwest Ballet Company Director Marisa Roth is ecstatic to head into the theater with her dancers and guest artists.
"We did a 'cliff note' version of "The Nutcracker" last season, but we're full force this year and so excited to kick off the Christmas season in the Flathead Valley!" Roth said.
Northwest Ballet Company Principal and Flathead High School senior Joelle Folkman will perform as the Snow Queen and is excited for her last production of "The Nutcracker" with the Company, calling it bittersweet.
"Participating in "The Nutcracker" since the age of nine has been an amazing journey. It was where I first learned to dream big and work hard for my goals," said Northwest Ballet Company Principal and Flathead High School senior Joelle Folkman. "It is a beautiful and rewarding tradition that has given me so many experiences that I will carry with me. I am so grateful for Miss Marisa and how "The Nutcracker" taught me to love dance."
Reserved tickets for the Northwest Ballet Company's event are available on-line at their website, www.northwestballet.com or their Facebook page, www.facebook.com/NWB.Co.

Performances are Saturday, Nov. 26, at 2 and 8 p.m., and Sunday, Nov. 27, at 4 p.m.. The ever-popular Sugar Plum Fairy Parade will follow the 2 p.m. matinee on Saturday. Ticket prices are $23 for adults, $20 for seniors (65 and older), and $15 for children (12 and under). On show days, tickets will be available at the Bigfork Center's box office, 526 Electric Avenue, Bigfork, one hour before the performances start.

For more information, please call the Northwest Ballet at (406)755-0760, e-mail them at info@northwestballet.com, or visit their website at www.northwestballet.com.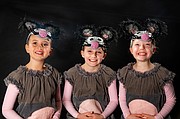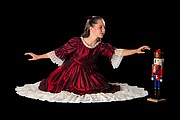 Recent Headlines
---