Whitefish football's comeback stopped by Hamilton in state quarterfinal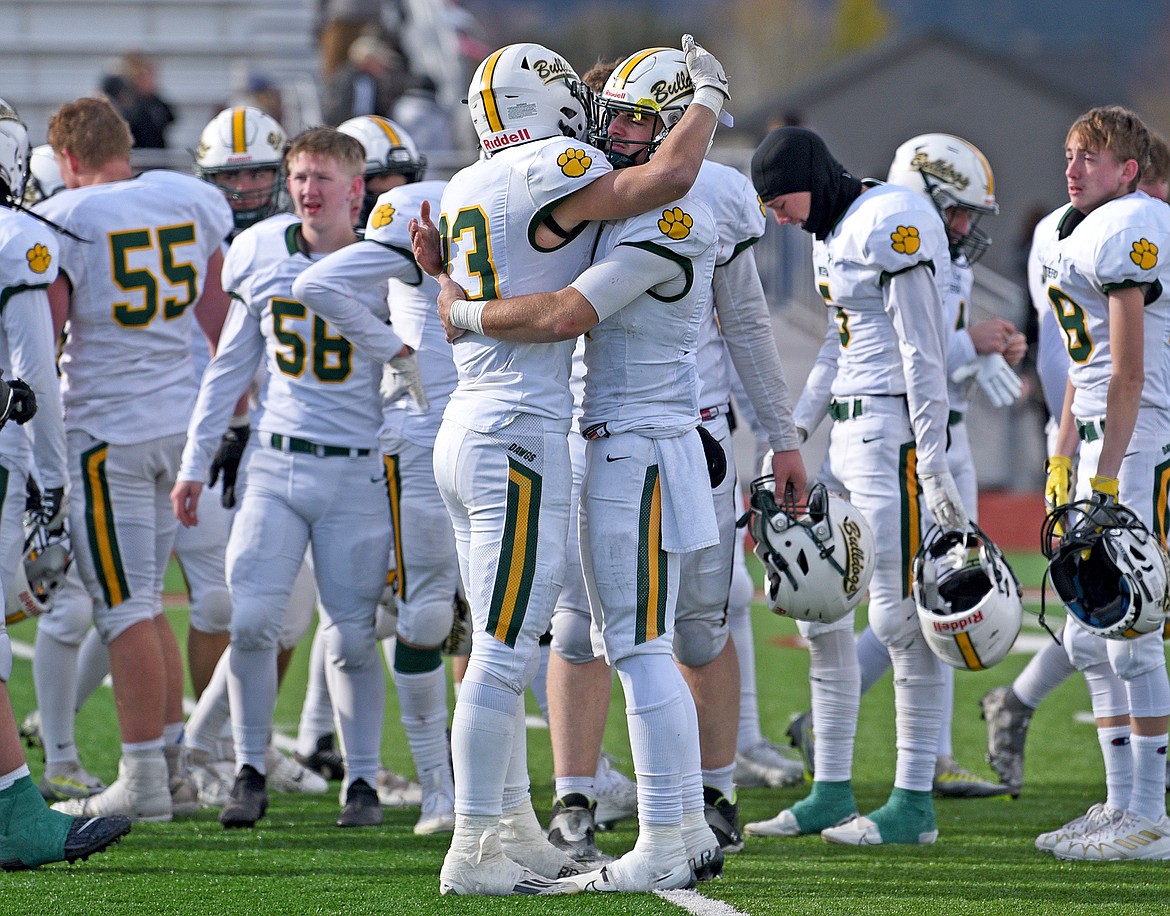 Whitefish seniors Ty Schwaiger and Fynn Ridgeway hug after the Bulldogs lost to Hamilton in the State A quarterfinal game on Saturday in Hamilton. (Whitney England/Whitefish Pilot)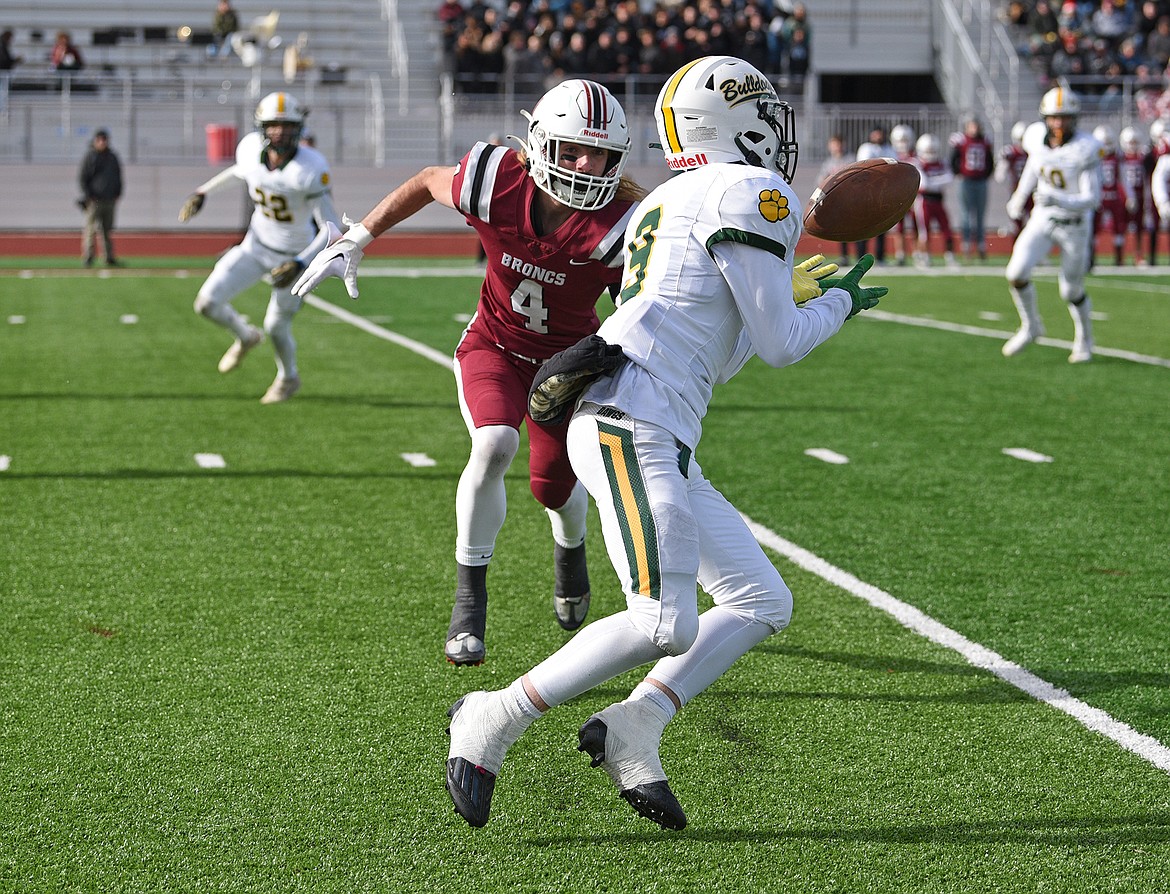 Whitefish's Clayton Godsey makes a catch during a quarterfinal playoff game against Hamilton Saturday. (Whitney England/Whitefish Pilot)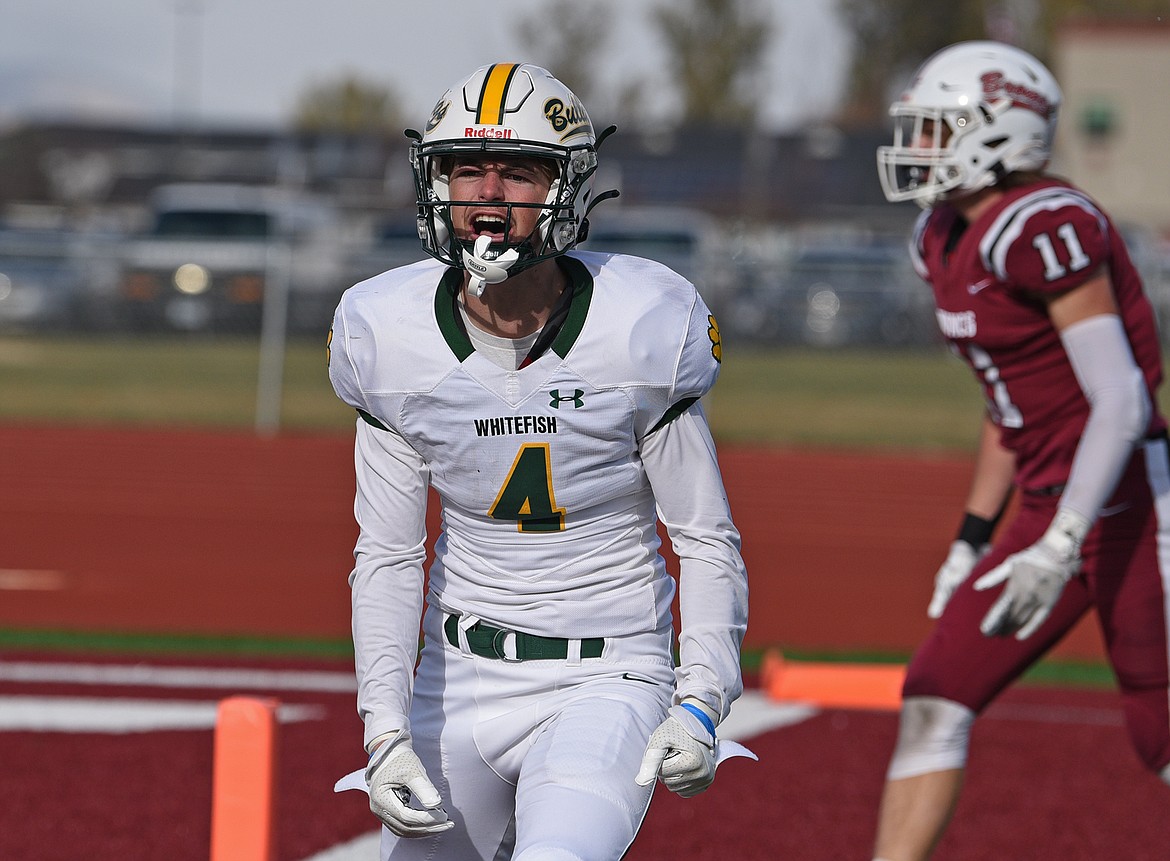 Whitefish's Dane Hunt celebrates after making a big catch in the red zone during a quarterfinal playoff game against Hamilton Saturday. (Whitney England/Whitefish Pilot)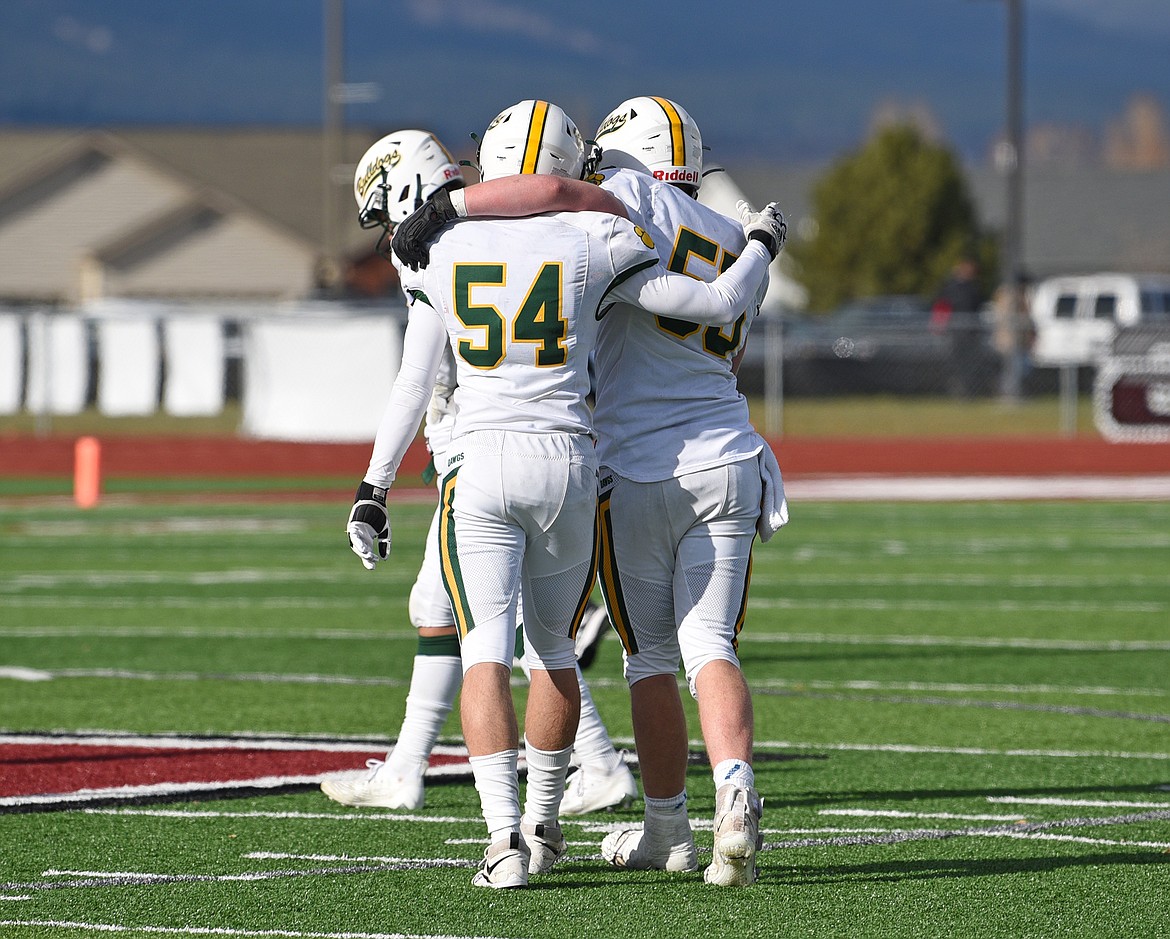 Whitefish football players support each other after falling to Hamilton in a quarterfinal playoff game on Saturday. (Whitney England/Whitefish Pilot)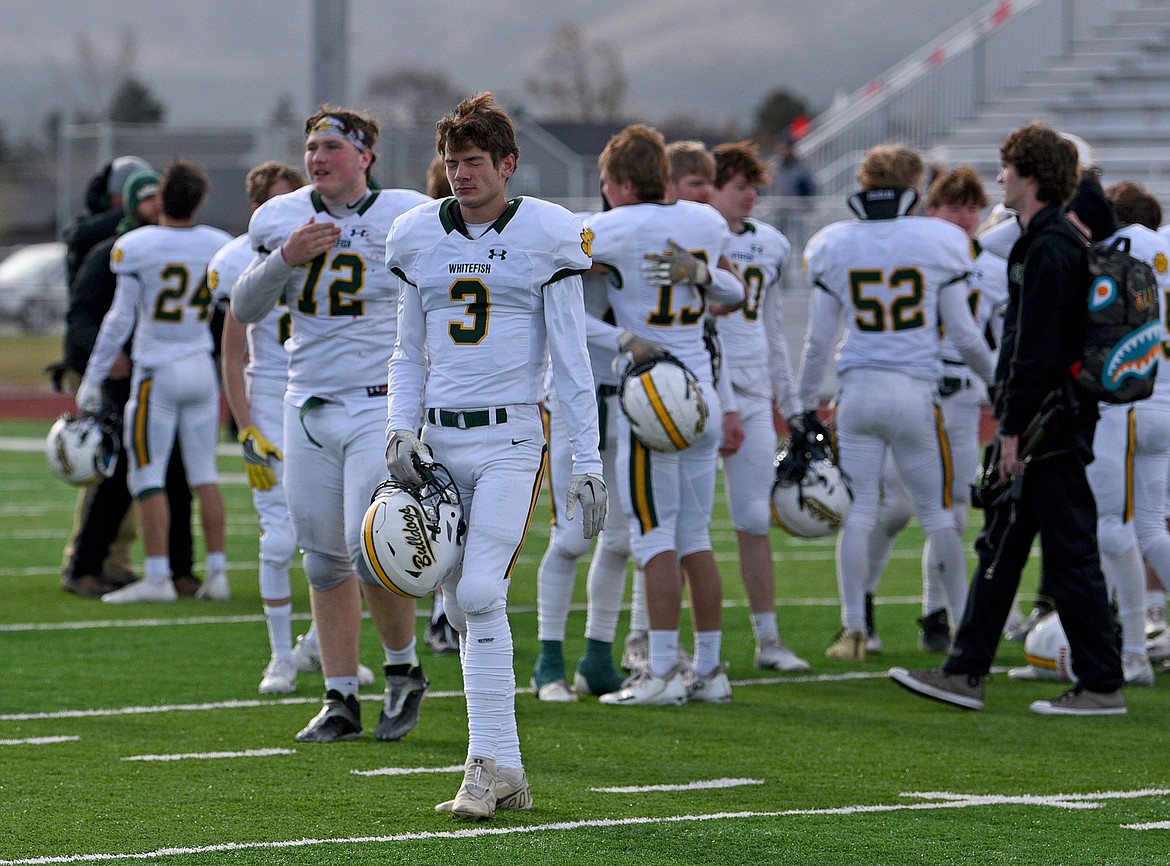 Bulldog players disappointed after falling to the Broncs in a quarterfinal playoff game against Hamilton Saturday. (Whitney England/Whitefish Pilot)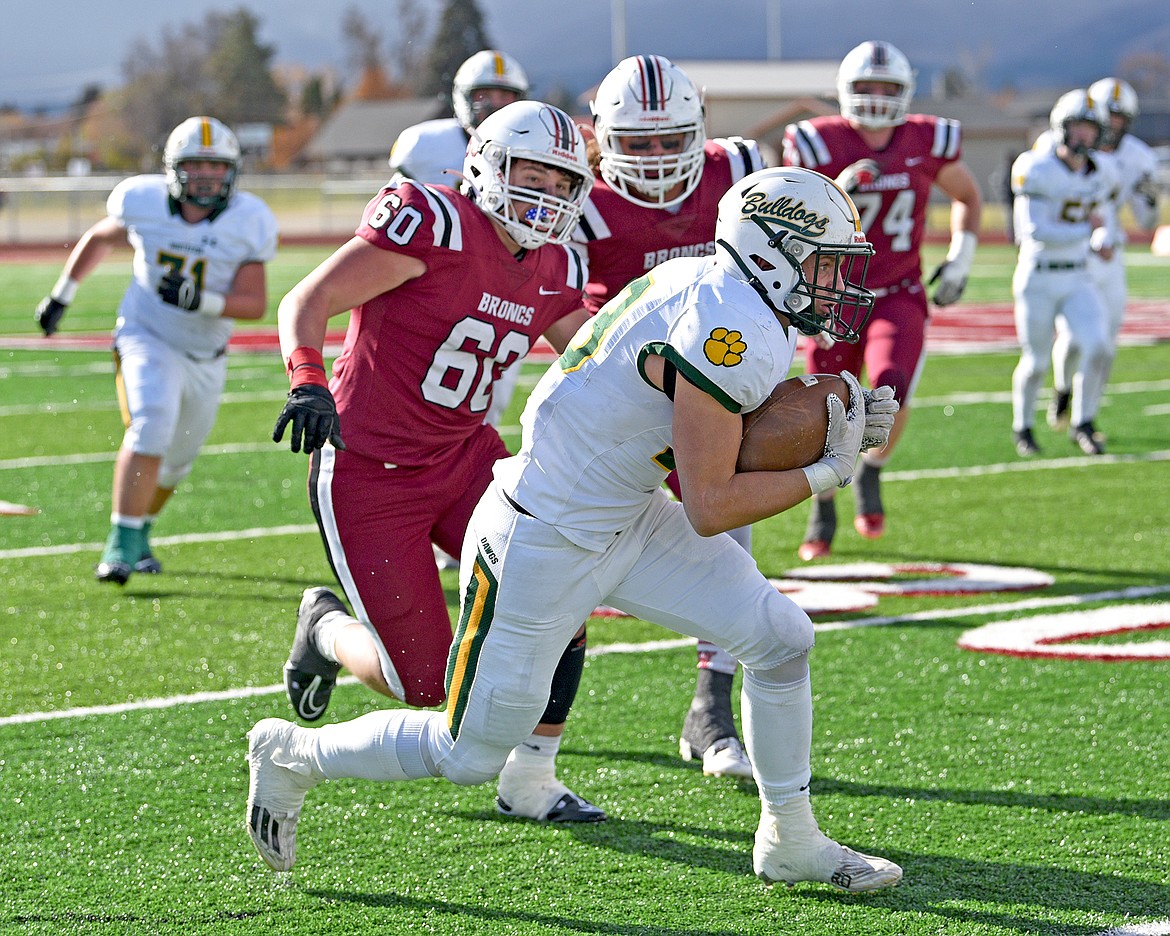 Whitefish's Ty Schwaiger runs the ball down the sideline in the Class A state quarterfinal game against Hamilton on Saturday in Hamilton. (Whitney England/Whitefish Pilot)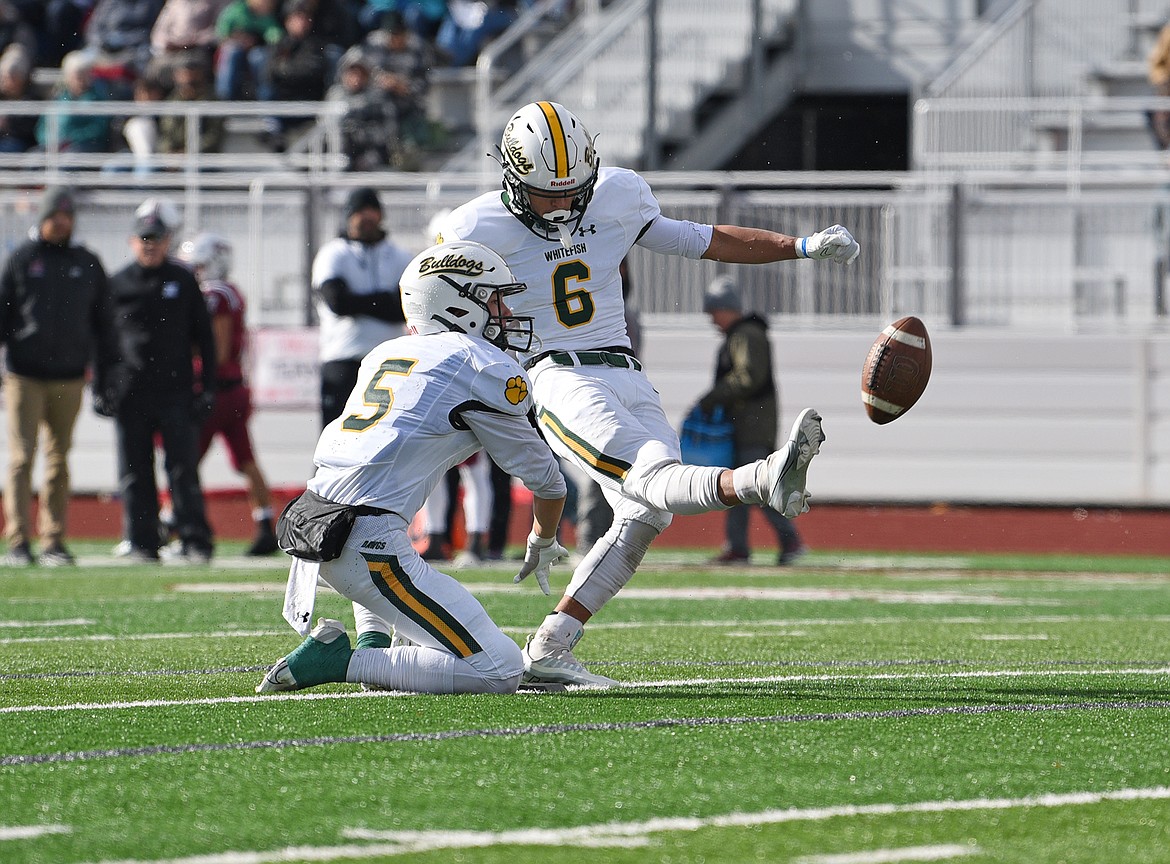 Bulldog Ryder Barinowski kicks a PAT during a quarterfinal playoff game against Hamilton Saturday. (Whitney England/Whitefish Pilot)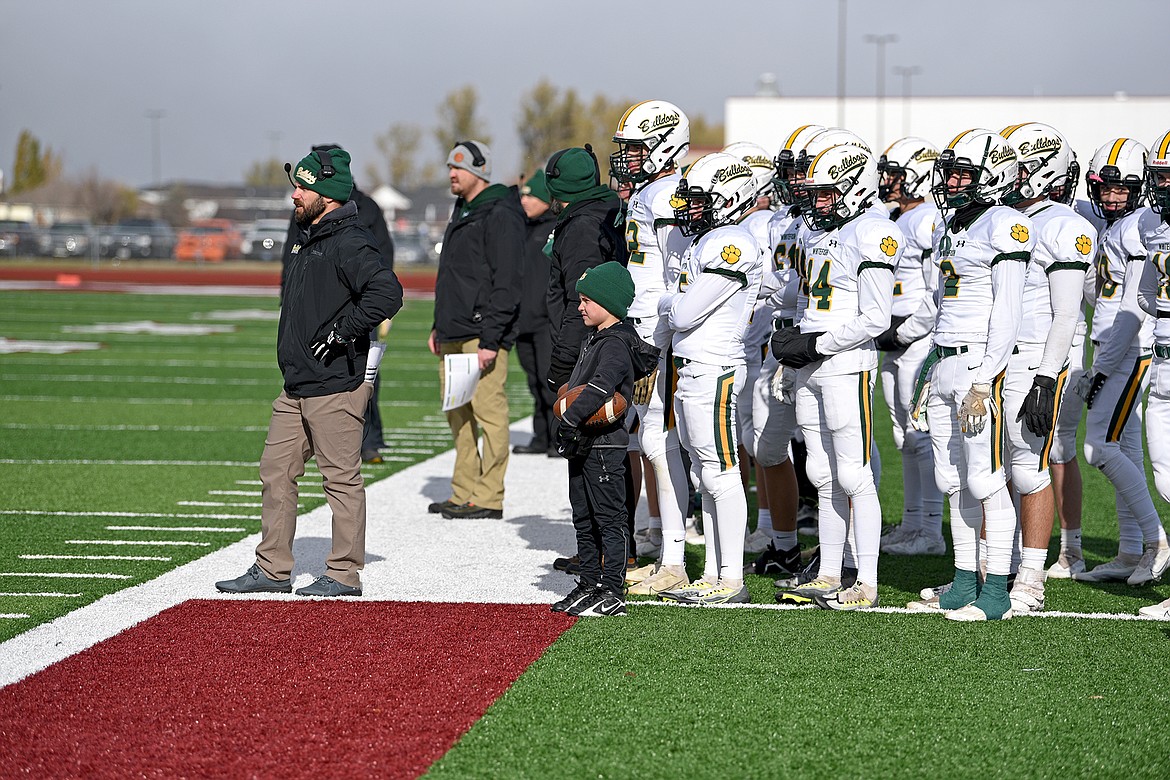 The Whitefish football sideline during a quarterfinal playoff game against Hamilton Saturday. (Whitney England/Whitefish Pilot)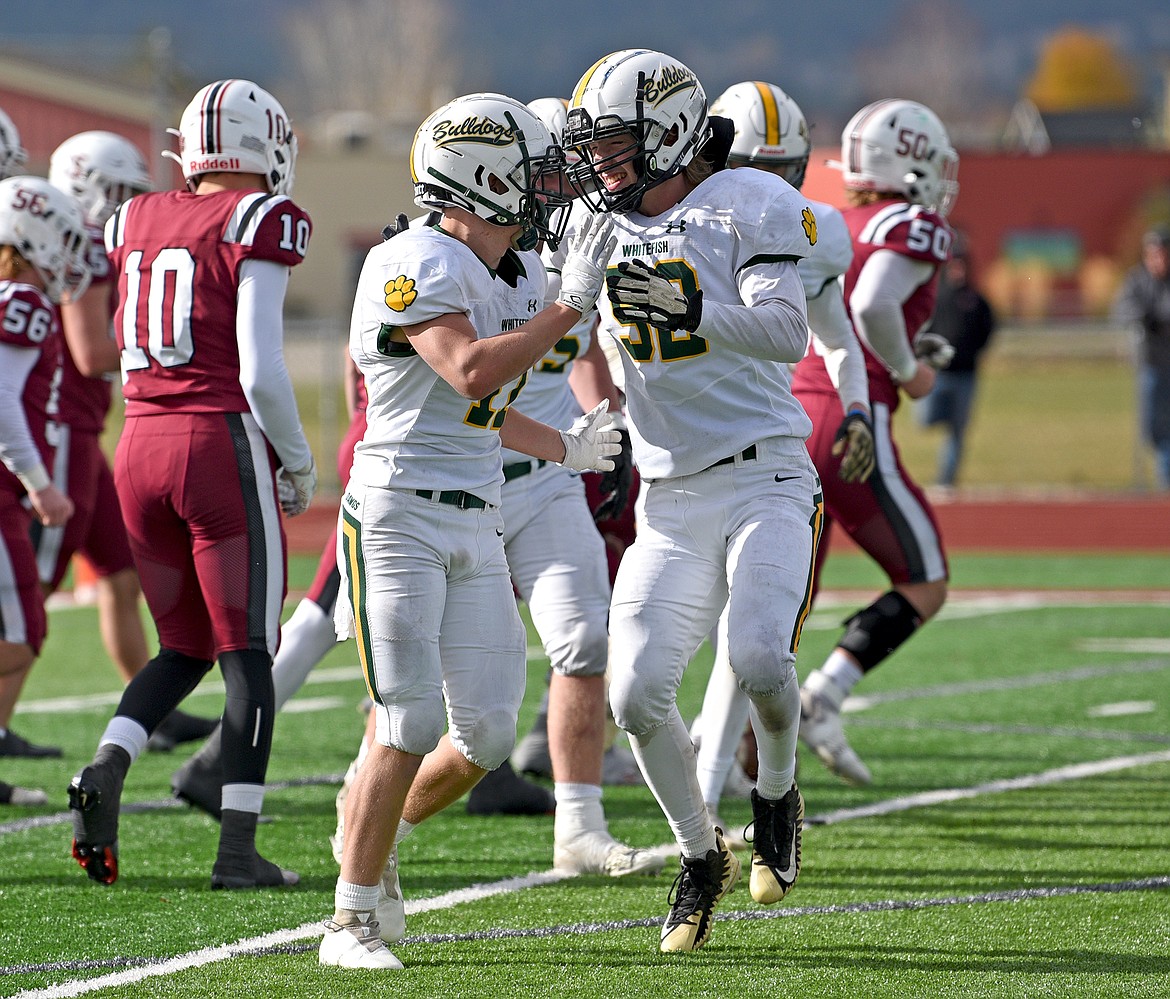 Bulldogs celebrate making a big play during a quarterfinal playoff game against Hamilton Saturday. (Whitney England/Whitefish Pilot)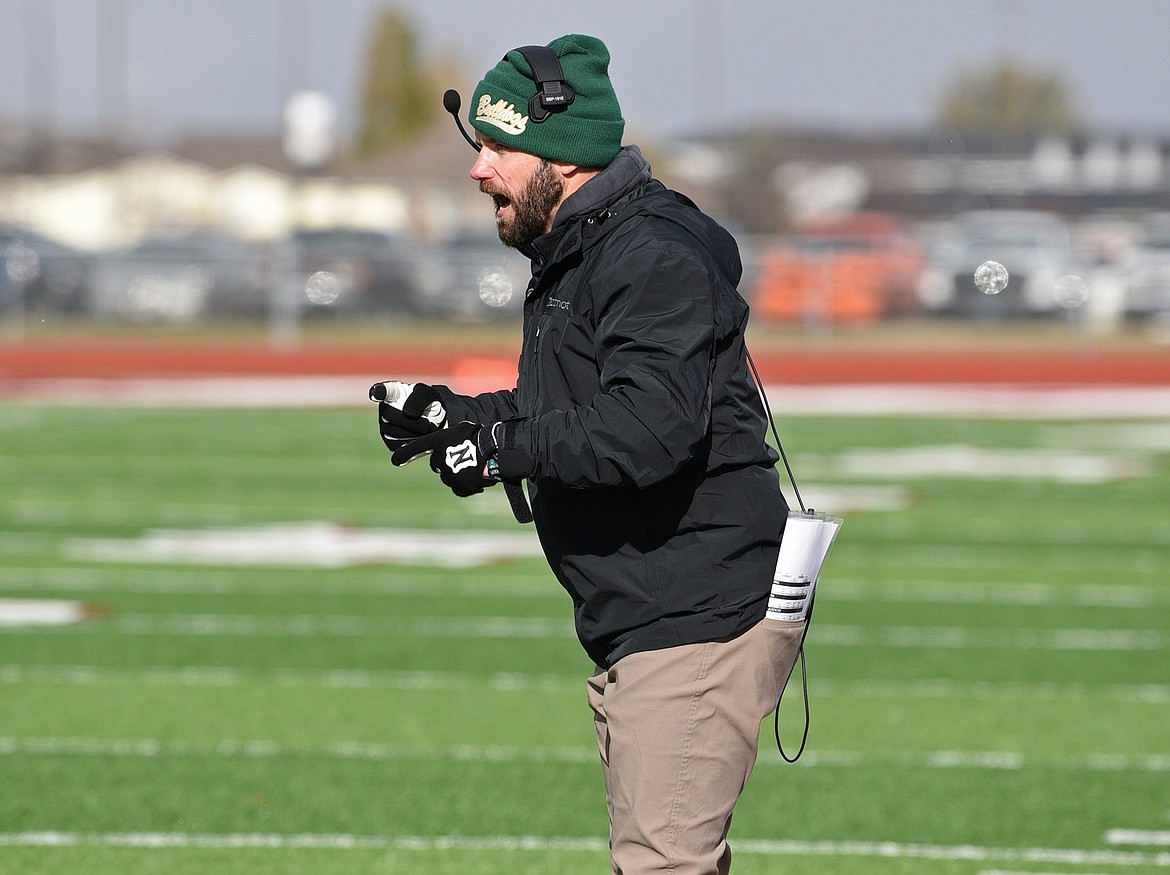 Whitefish head coach Brett Bollweg yells out a play call during a quarterfinal playoff game against Hamilton Saturday. (Whitney England/Whitefish Pilot)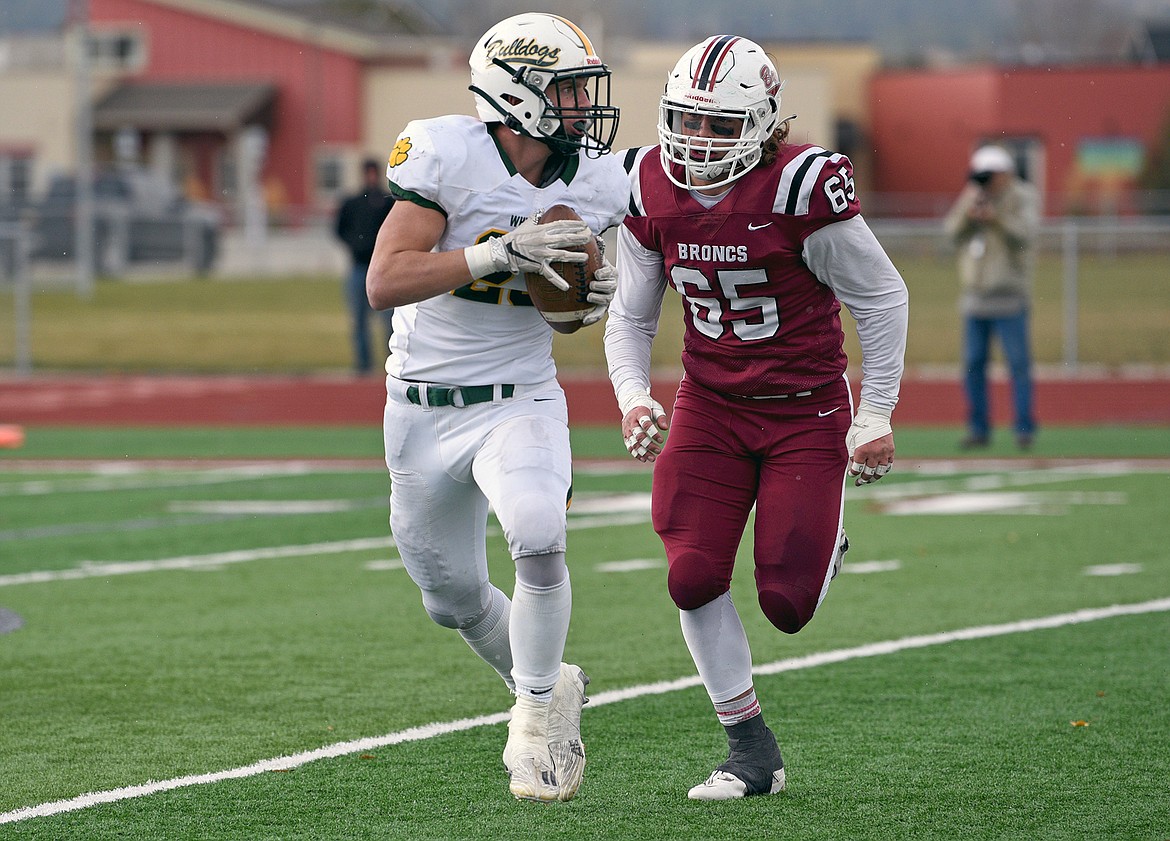 Bulldog Ty Schwaiger looks to throw the ball in a quarterfinal playoff game against Hamilton Saturday. (Whitney England/Whitefish Pilot)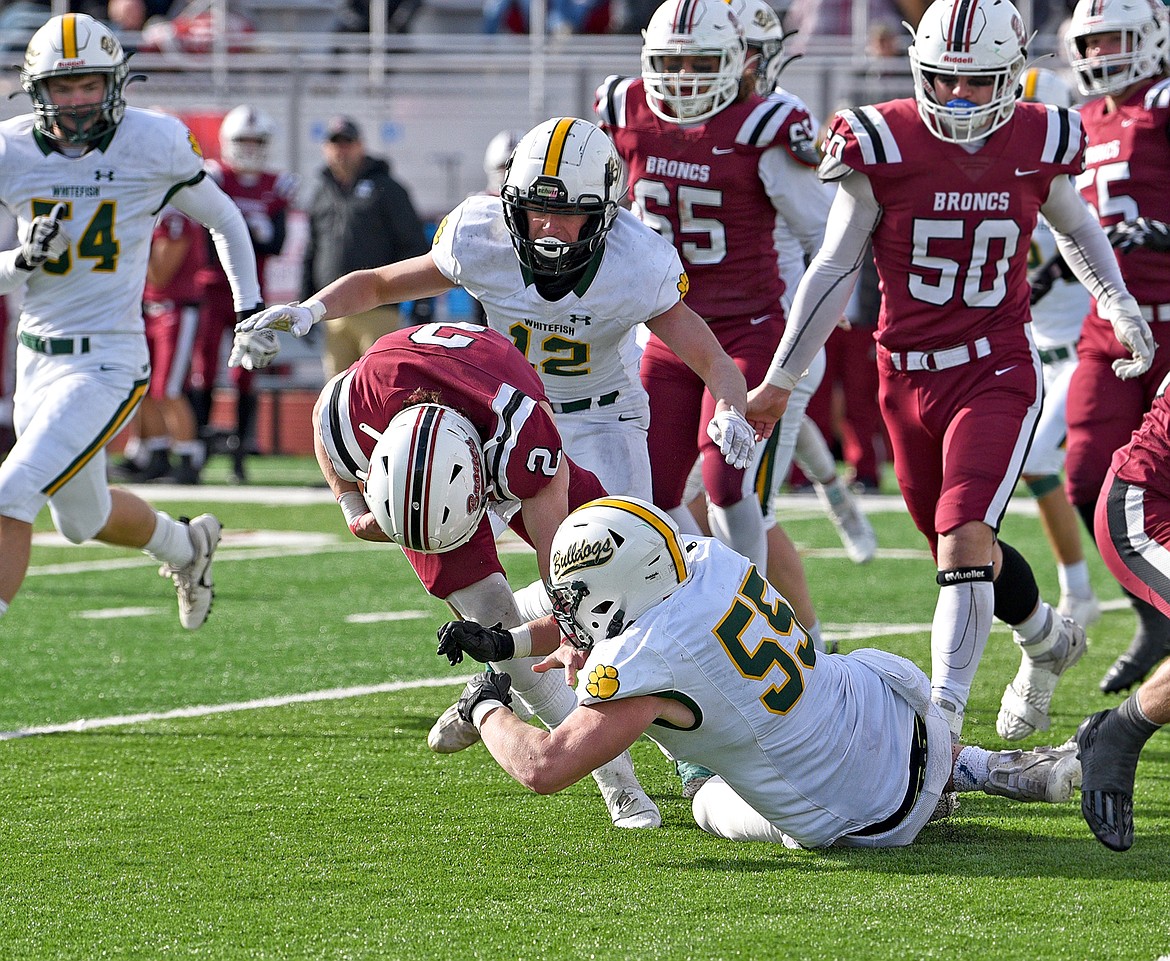 Whitefish's Kai Nash (55) and Luke Moses (12) combine for a tackle against Hamilton's Tyson Bauder in the State A quarterfinal game on Saturday in Hamilton. (Whitney England/Whitefish Pilot)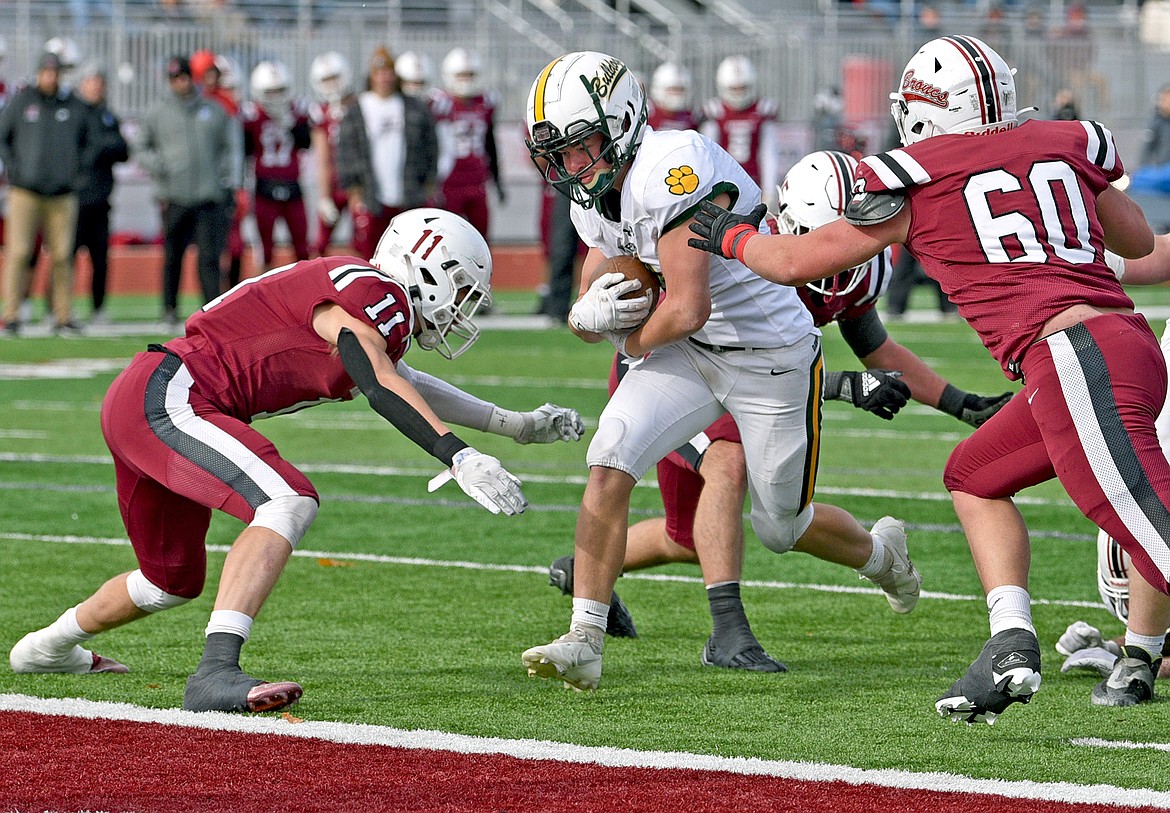 Whitefish's Decker Wold runs into the end zone for a touchdown during the Class A state quarterfinal game on Saturday in Hamilton. (Whitney England/Whitefish Pilot)
Whitefish quarterback Fynn Ridgeway makes a pass during the Class A state quarterfinal game against Hamilton on Saturday in Hamilton. (Whitney England/Whitefish Pilot)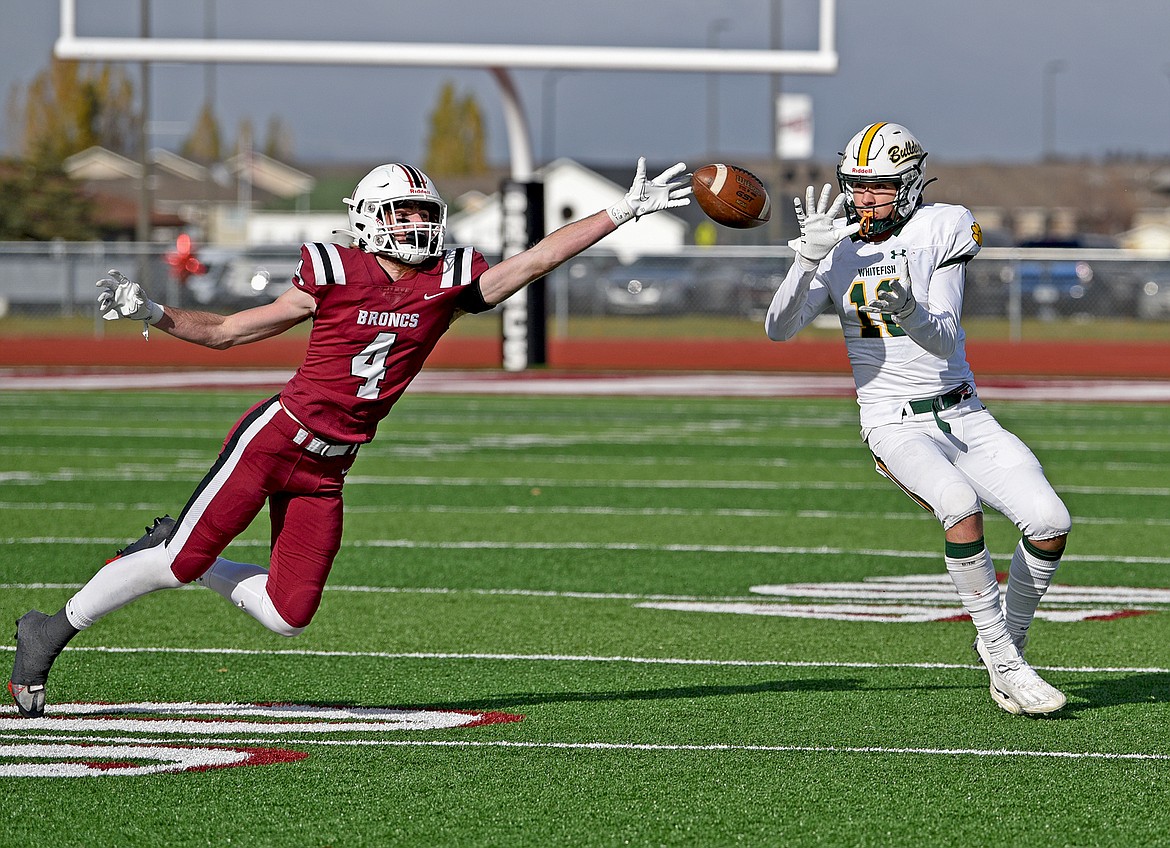 Bulldog Mason Kelch makes a catch just past the outstretched arm of Broncs' Hunter Stewart in the Class A state quarterfinal game on Saturday in Hamilton. (Whitney England/Whitefish Pilot)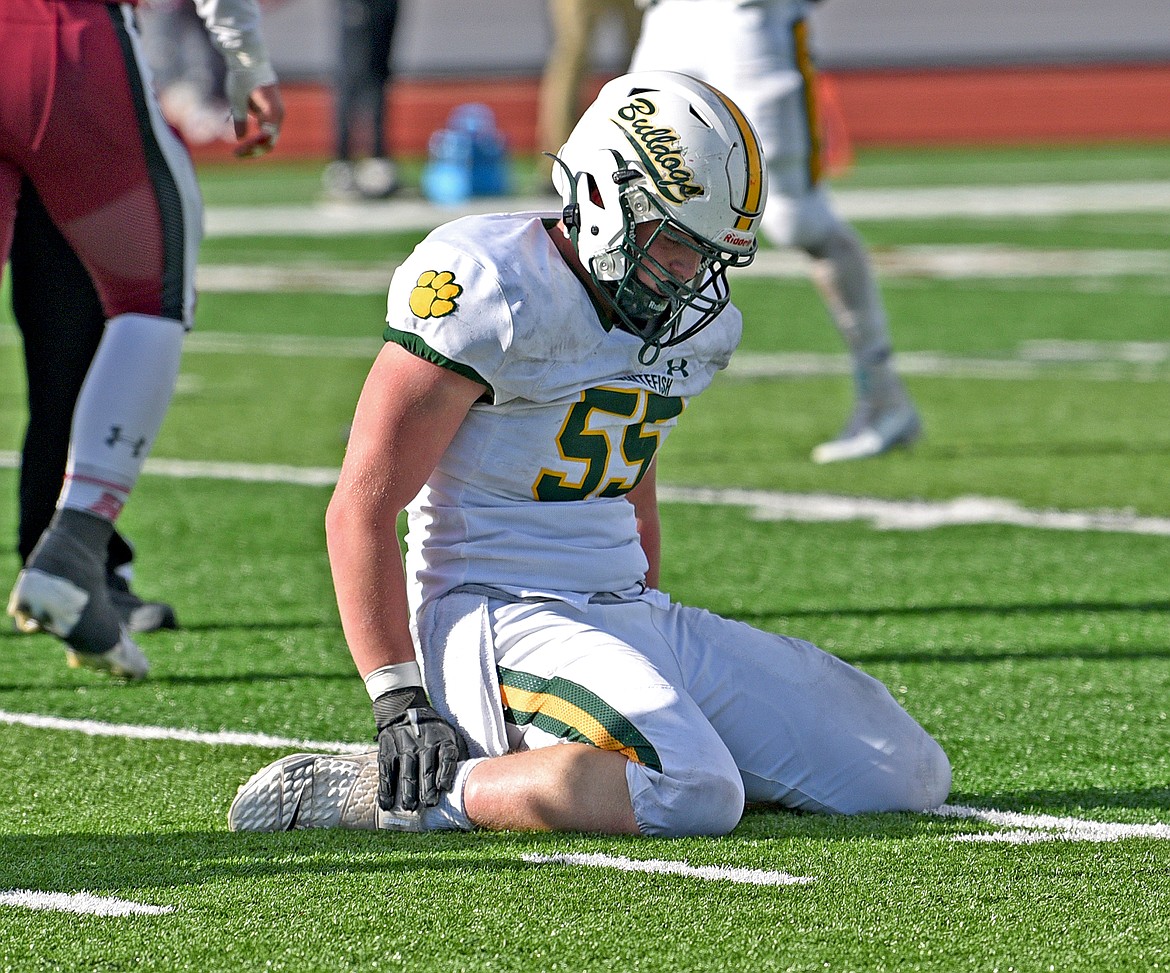 Bulldog senior lineman Kai Nash shows his frustration as Whitefish sees the game slip away in the State A quarterfinal against Hamilton on Saturday in Hamilton. (Whitney England/Whitefish Pilot)
Previous
Next
by
WHITNEY ENGLAND
Whitefish Pilot
|
November 9, 2022 1:05 AM
In football, a matter of a couple yards can make a world of difference.
The Whitefish football team felt that firsthand when the Bulldogs went for it on fourth down and 10 yards to go on Hamilton's 25-yard line on Saturday. The pass was complete, but just a couple of yards shy of the first down — a moment that made continuing their comeback almost impossible.
Hamilton took their time putting together a scoring drive that left just two minutes on the clock by the time Whitefish got the ball back. The Broncs' final score by running back Andrew Frederick was enough to seal the 34-20 win over Whitefish in the Class A state quarterfinal, bringing the Bulldogs' season to an end.
Though it wasn't the ending the team was aiming for, Whitefish head coach Brett Bollweg says his players gave it everything they had which is all the coaches asked of them.
"I'm just really proud of our guys, really proud of the effort and what they put into this whole season," Bollweg expressed. "We asked them to leave it all out on the field and they certainly did. I couldn't be more impressed with the way they battled and fought."
To start the game, Hamilton quickly marched the field twice to end up in the red zone. On the first drive, the Broncs scored on a short run by quarterback Tyson Bauder. Whitefish's Jesse Burrough came up with the pick in the end zone on Hamilton's second drive.
The big defensive stop helped increase Whitefish's confidence and on their next possession, the Bulldogs tied the score at 6-6 with a 1-yard rushing touchdown by quarterback Fynn Ridgeway.
The rest of the second half was all Hamilton, who scored two more times to take a 20-6 advantage into the break.
In the third quarter, Whitefish began mounting a comeback. Bulldog Decker Wold got the call on the 4-yard line and punched through for the touchdown. Whitefish had cut the lead to just 7 points and late in the third, Henry Bennetts came up with a fumble recovery when Hamilton was nearing another score.
Whitefish fumbled on the next play and to start the final quarter Hamilton's Bauder ran for another TD. Whitefish would respond on the next drive with a touchdown catch by Clayton Godsey which cut the Broncs' lead to just 6 points.
After Hamilton lost 27 yards on a bad snap and then had a 7-yard punt, Whitefish had good field position and an opportunity to finally take the lead with 7:06 left in the game. That's when Ridgeway went down momentarily during a play on third down and Mason Kelch had to sub in for the fourth-down play. Kelch completed the pass, but it was just two yards shy of the first down.
"We have all the confidence in the world in Mason. When Fynn went down temporarily we didn't flinch, we didn't panic because we know Mason is a kid we can count on to step in and do just about anything on the football field…" Bollweg said. "We did seemingly everything right except for 1 yard, they made the play and hats off to them."
Hamilton put up a long string of running plays to drain the clock and the TD in the end secured the win for the home team Hamilton, who are also the defending State A champions.
"Our kids believed that they could win. Even when we went down early they believed we were going to put ourselves in a position to win the game — and we did," Bollweg said. "Credit to Hamilton, they did a really nice job of being able to execute when they needed to. They made a few more plays than us, it was a great football game between two really good teams.
"It was an enjoyable one for the fans, and a heartbreaker for us," he added. "But at the end of the day our kids gave everything they had and I'm really pleased with their effort."
For Hamilton, Frederick ran for 154 yards and two touchdowns and Bauder had 137 yards on the ground and 50 yards in the air; he ran for three TDs.
Whitefish's Ridgeway was 14 of 23 passing for 173 yards, and ran 15 times for 48 yards. He ended the season with 1,259 yards and 17 touchdowns on the ground, and 1,684 passing yards.
Dane Hunt caught four passes for 53 yards Saturday for Whitefish. Godsey had five catches for 44 yards.
"Our seniors really took the lead this year and they took us where we got to…" Bollweg said. "Really happy for them and the success they've had. We're going to miss those guys a ton, their presence is significant and they've set such a good example for the younger guys."
Whitefish ended the season 7-4 overall and a major highlight of the season was last week's first-round playoff win against Havre, the team's first postseason win in seven years.
Hamilton (10-0) will take on Billings Central in the semifinals Saturday.
Whitefish 0 6 7 7 - 20
Hamilton 6 14 6 8 - 34
H — Tyson Bauder 1 run (kick failed)
W — Fynn Ridgeway 1 run (kick failed)
H — Andrew Frederick 1 run (kick)
H — Bauder 1 run (kick)
W — Decker Wold 4 run (Ryder Barinowski kick)
H — Bauder 4 run (kick failed)
W — Clayton Godsey 7 pass from Ridgeway (Barinowski kick)
H — Frederick 16 run (Bauder run)
Individual Statistics
RUSHING: Whitefish (25-84) — Wold 4-28, Ridgeway 15-48, Ty Schwaiger 6-8.
Hamilton (54-358) — Frederick 20-154, Bauder 24-137, Jesse Anson 8-38, Eli Taylor 1-25, Liam O'Connell 1-4.
PASSING: Whitefish — Ridgeway 14-23-0 for 173 yards, Mason Kelch 1-1-0 for 8 yards, Schwaiger 1-1-0 for 6 yards. Hamilton — Bauder 3-6-1 for 50 yards;
RECEIVING: Whitefish — Dane Hunt 4-53, Godsey 5-44, Carson Krack 2-42, Kelch 2-36, Schwaiger 2-11, Jesse Burrough 1-6. Hamilton — Isaiah Van de Baan 1-30, O'Connell 2-20.
Recent Headlines
---