Carolyn "Carlie" Kuhr Rhodes, 101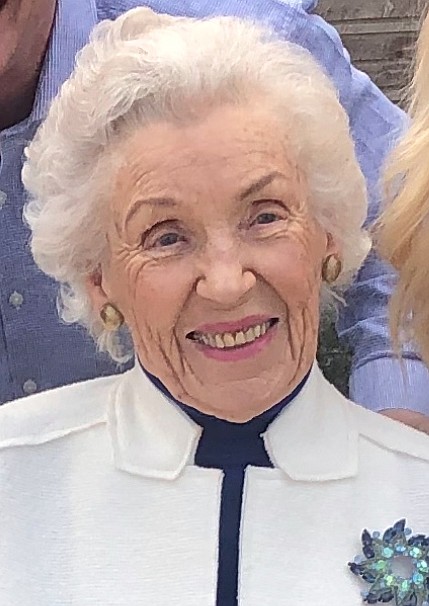 Carolyn "Carlie" Kuhr Rhodes
|
November 2, 2022 1:00 AM
Carolyn was born on July 4, 1921 in Havre, Montana, a few minutes after her twin sister Kathlyn arrived. The fireworks, of course, were for them, and she always thought of herself as a "we." Her parents Marian Broadwater Kuhr and Max Paul Kuhr were second generation of families who had arrived in Montana as early settlers. Carolyn was always proud of her heritage. The twins and their brothers Max, Paul and John grew up in a household that honored God, country, family, music and hard work. Throughout her life, Carolyn's powerful positivity was irresistible to everyone around her.
Carolyn graduated from Havre High School, attended Northern Montana College (now MSU -- Northern), and graduated with a degree in Home Economics from the University of Minnesota. She worked at the Mayo Clinic during a summer session, and completed her requirements in dietetics with an internship at the University of Oklahoma where she remained on staff the following year. Putting her degree to use, she taught Home Ec at both Havre and Bozeman high schools and then accepted a position to manage the food service at the "Quad" at Montana State University. During the summers when school was not in session, she worked at the Gallatin Gateway Inn and the Elkhorn Dude Ranch. She considered herself quite the career girl.
In 1949, she married Cecil Maris Rhodes ("Cece" and later "Dusty") and it was an unwavering marriage that lasted 57 years. Magnolia Oil (later to become Mobil Oil then Exxon Mobil) moved them nine times (Louisiana, Mississippi, Texas, Oklahoma, Wyoming and California) during Cecil's 47-year career with the company. With each move, Carolyn in her organized way created beautiful homes filled with love, laughter and music with Carolyn playing the piano and harmonizing with anyone who was singing with her. Five children, Marian, Scott, Kathlyn, Janet, and Julie made for full houses, but she loved being surrounded by family and active in her children's lives, celebrating life on both ordinary days and holidays. She planted lovely gardens and made delicious, nutritious meals, though she readily added ice cream and French fries to the essential food groups. She made God, music, and beauty part of every day. A natural leader, she was active in the Christian Science church, her children's education, P.E.O. and Daughters of the American Revolution. She and Dusty made sure their children knew their relatives, and every year took them to visit Havre as well as her aunt Tod who summered at Lake McDonald in Glacier National Park.
When Dusty retired, they built the "cabin" in Whitefish, Montana, spending summers there and creating new memories with each of their seven grandchildren. "Gomma" made them feel special, loved and supported as they grew up. In their words: "Montana was the highlight of the year." "You had her undivided attention, and there was a good chance she was holding your hand." "No one was a stranger to her, just someone she hadn't had the opportunity of meeting." "She started every meal with everyone singing grace in harmony followed by giggles." "She never took no for an answer" and was "not even remotely subtle about it." "She saw the best in all of us." "She taught me how to really love others." "She was a force that filled the room with light" – and she absolutely was.
In 2011, she moved to Immanuel Lutheran Communities in Kalispell, Montana, and peacefully passed on Oct. 4, 2022 at the age of 101. She is survived by her brother Paul Kuhr of Havre, her children Marian Eskridge (Jim) of Denver, Colorado, Scott Rhodes of Edmond, Oklahoma, Janet Kelsey (Doug) of Langely, BC, Canada, and Julie Sanderude (Scott) of Whitefish, Montana, seven grandchildren, and 10 great-grandchildren, as well as numerous nieces and nephews.
Carolyn believed in the power of good and demonstrated it daily. Exuberance does not begin to describe her personality. She had a zest for life and for loving. What a life!
A Celebration of Life will be held in Whitefish, Montana, on May 20, 2023.
The family suggests that memorial donations may be made to the Carolyn Kuhr Rhodes Scholarship Fund c/o MSU-Northern Foundation, PO Box 1691, Havre, MT 59501.
Recent Headlines
---