Runners race in annual Whitefish Marathon event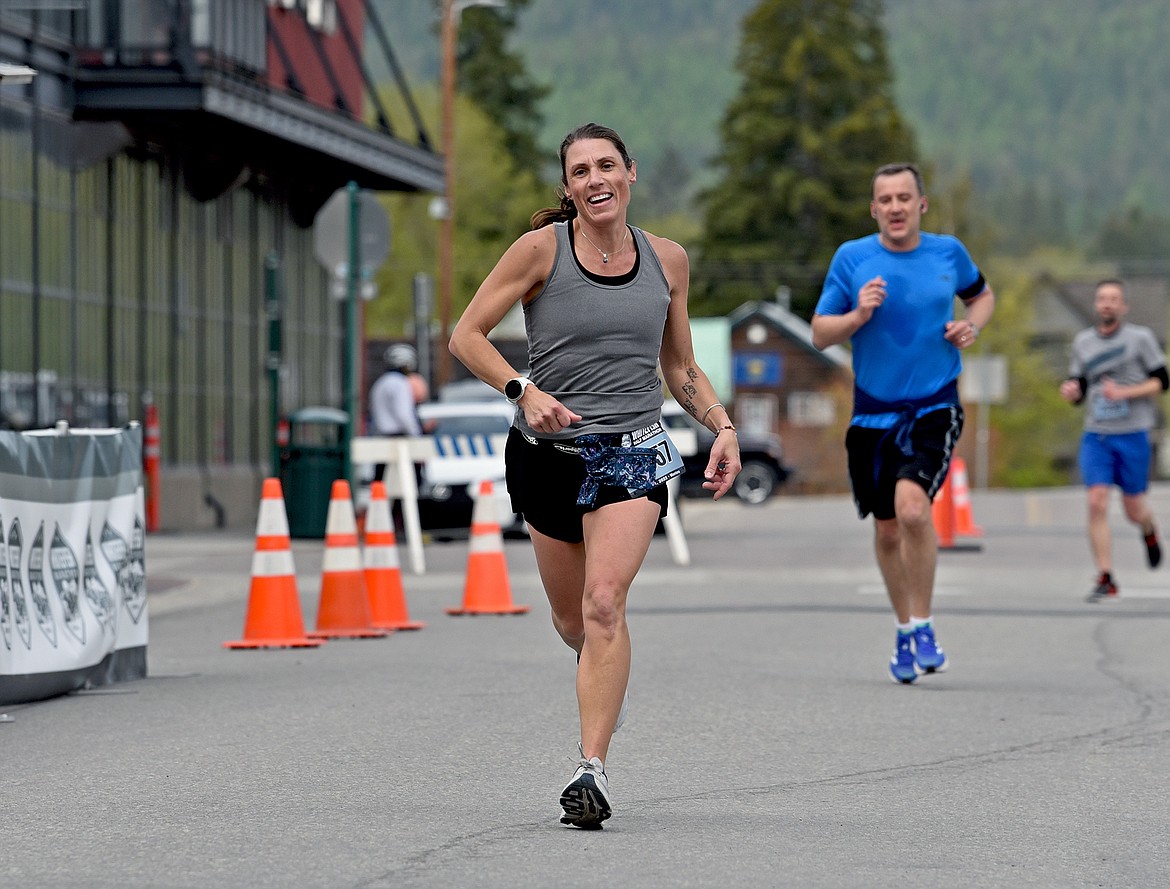 Sarah Peterson of Whitefish runs through the finish line at the Whitefish Marathon. She participated in the half marathon race and completed it in a time of 1:53:33. The 2022 Whitefish Marathon had a chilly 8 a.m. start and the cool temps made for great running conditions for the over 800 finishers across the full marathon, half marathon and 5K. (Whitney England/Whitefish Pilot)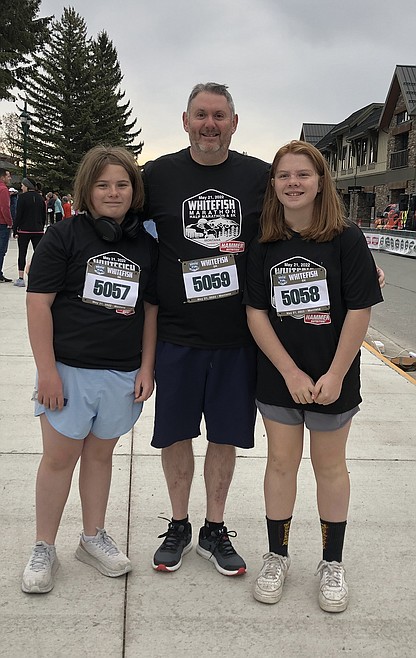 Twins Kate and Orla Sullivan, sixth graders at Whitefish Middle School, gave it their all this weekend racing their first 5K at the Whitefish Marathon event. Pictured with their step-dad Kenny Ross. (Photo submitted by Claire Sullivan)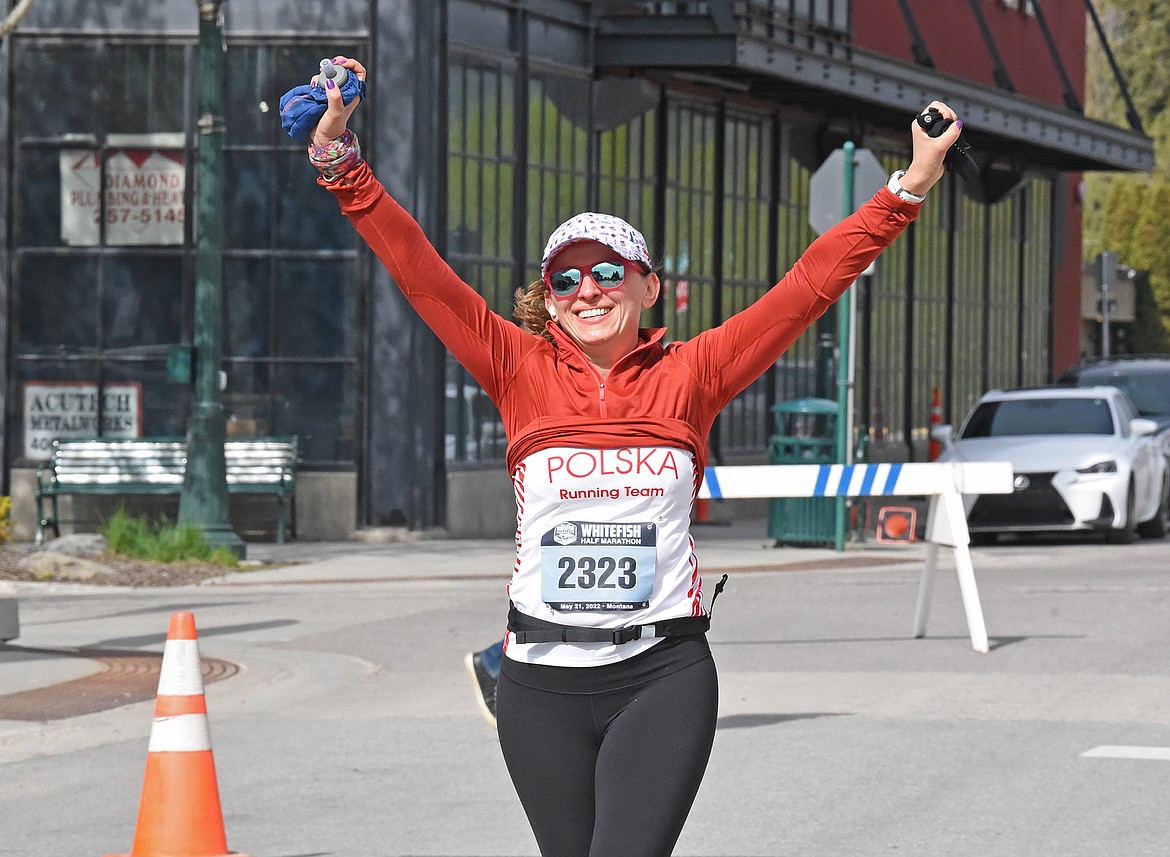 Jolanta Thorburn from Kirkland, Washington celebrates a successful race during the Whitefish Marathon event downtown on Saturday. (Whitney England/Whitefish Pilot)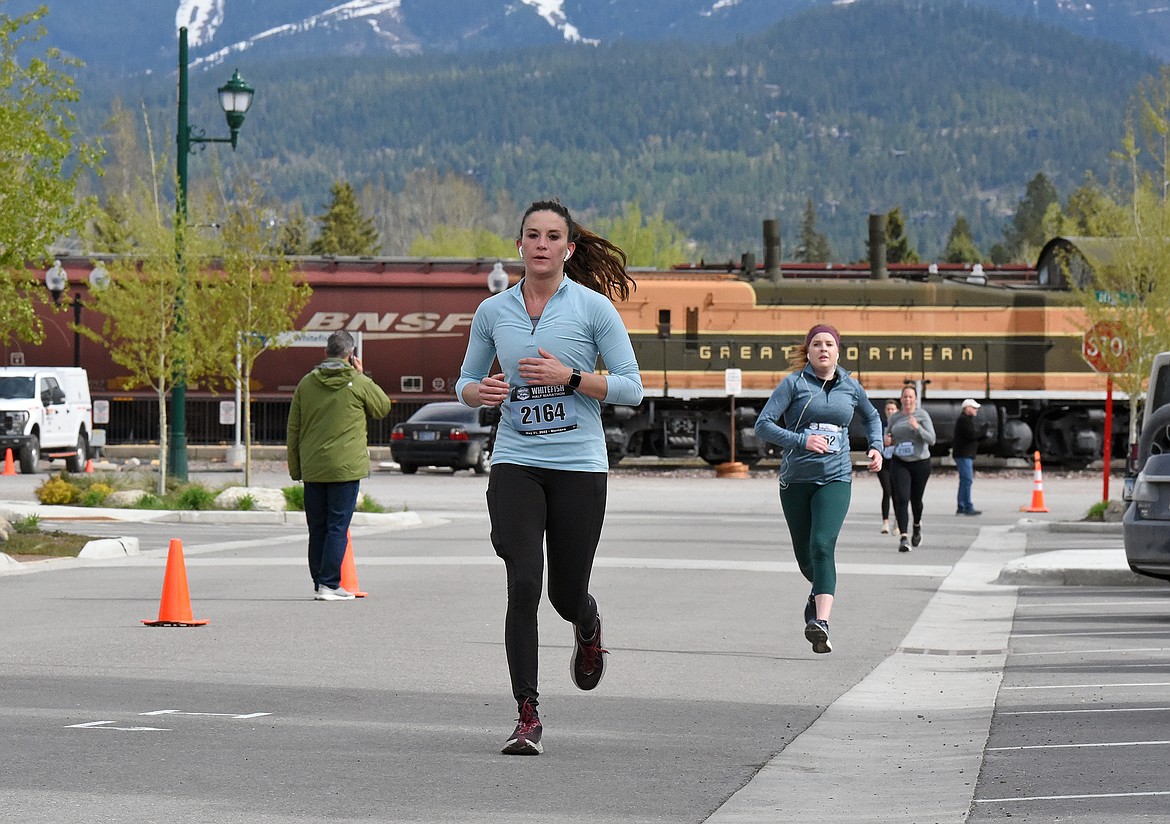 Runners along Central Avenue during the Whitefish Marathon on Saturday. (Whitney England/Whitefish Pilot)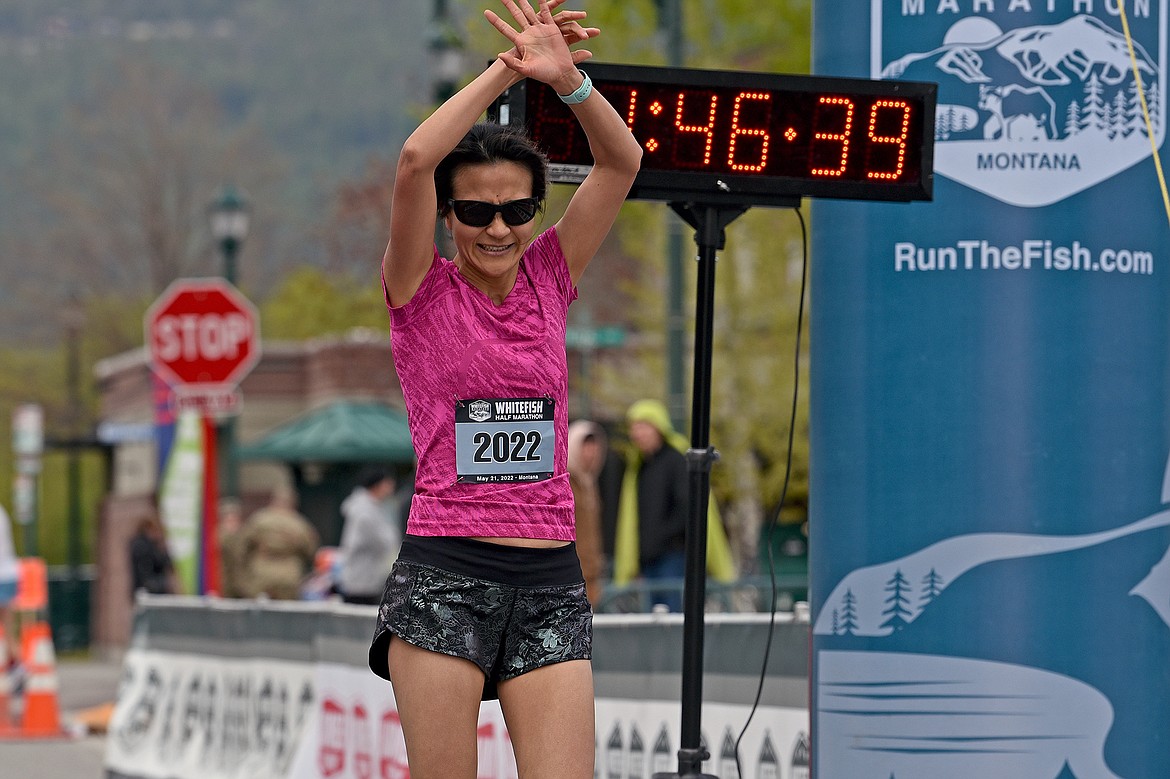 Whitefish resident Stella Sharbono celebrates finishing the Whitefish Half Marathon on Saturday. (Whitney England/Whitefish Pilot)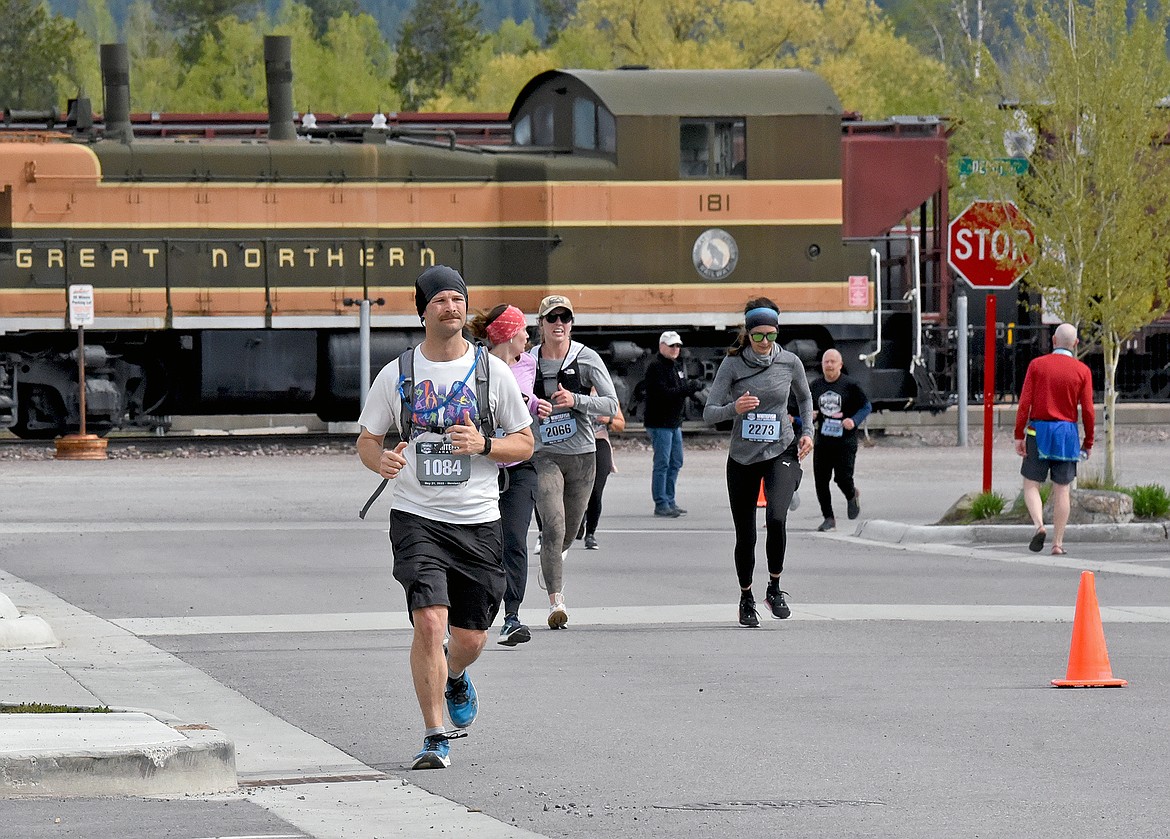 Racers run along Central Avenue during the Whitefish Marathon on Saturday. (Whitney England/Whitefish Pilot)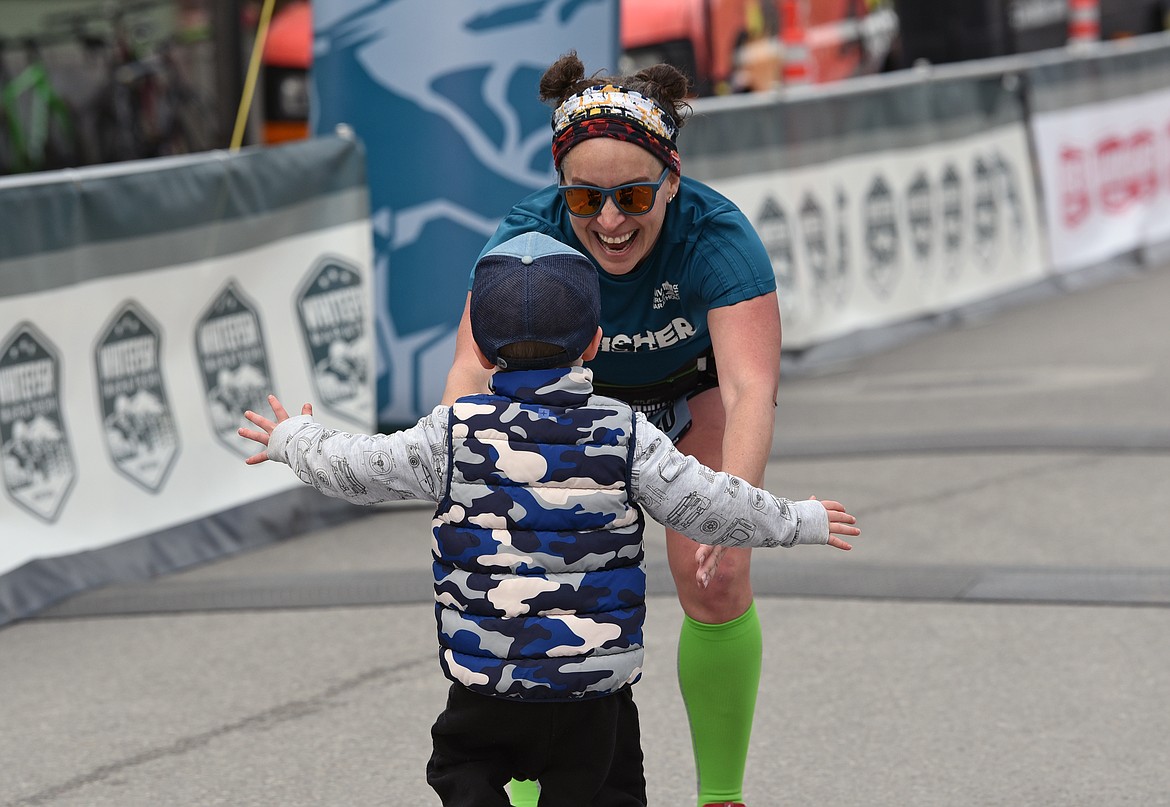 Andrea Lammers-Pottage from Lethbridge, Alberta is greeted by her young fan after crossing the finish line at the Whitefish Marathon on Saturday. (Whitney England/Whitefish Pilot)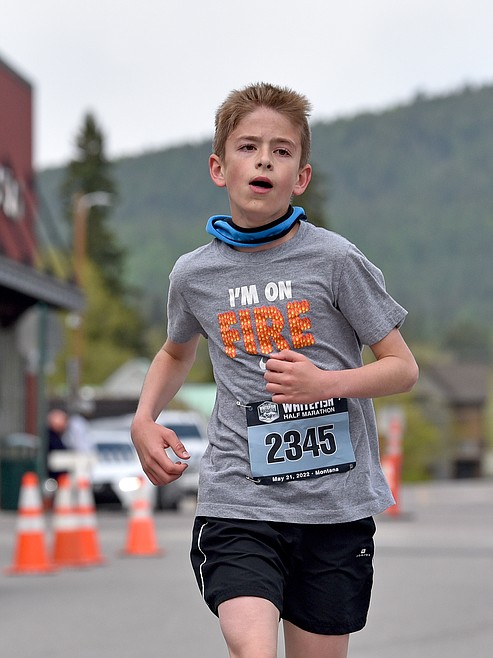 Carter Baum of Great Falls finishes first in the 12-19 age division in the Whitefish Half Marathon on Saturday. (Whitney England/Whitefish Pilot)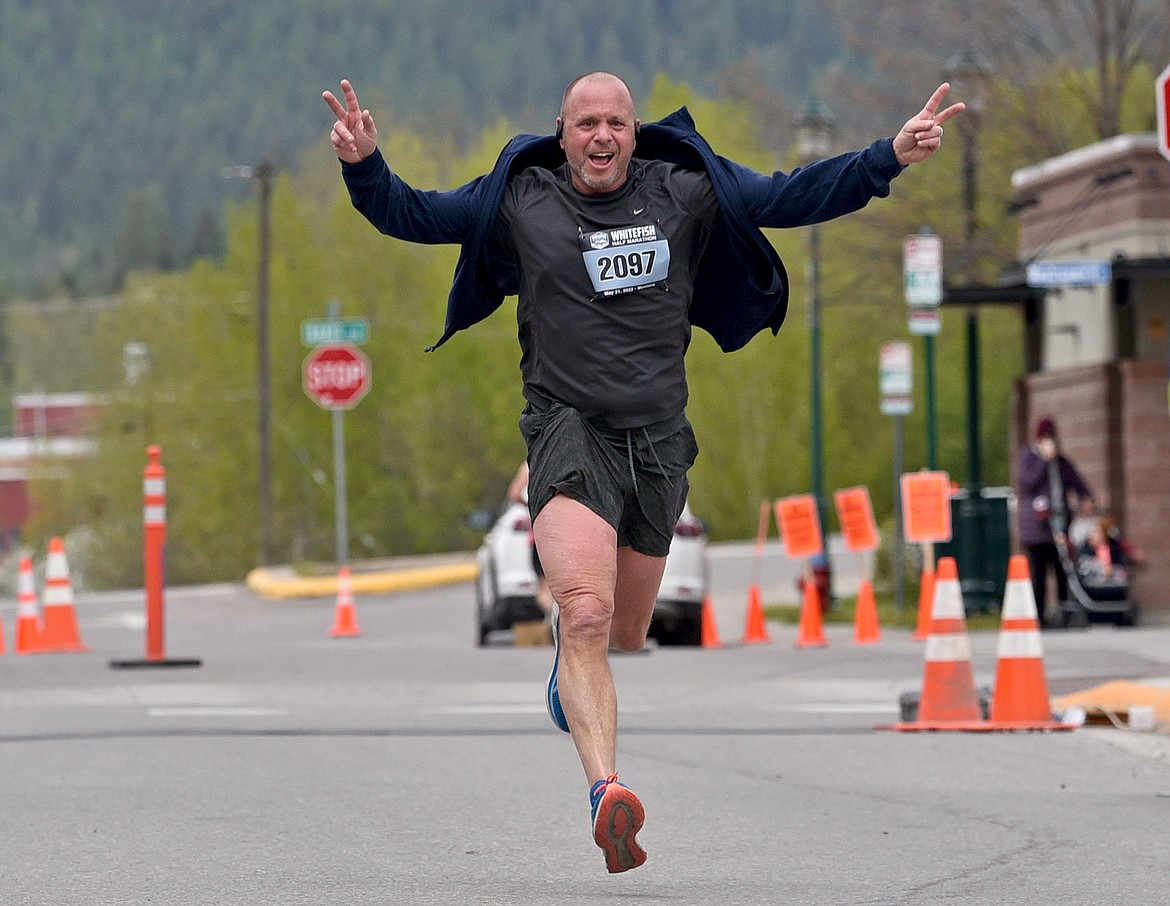 Chris Adamcyk of Kalispell crosses the finish line of the Whitefish Half Marathon on Saturday. (Whitney England/Whitefish Pilot)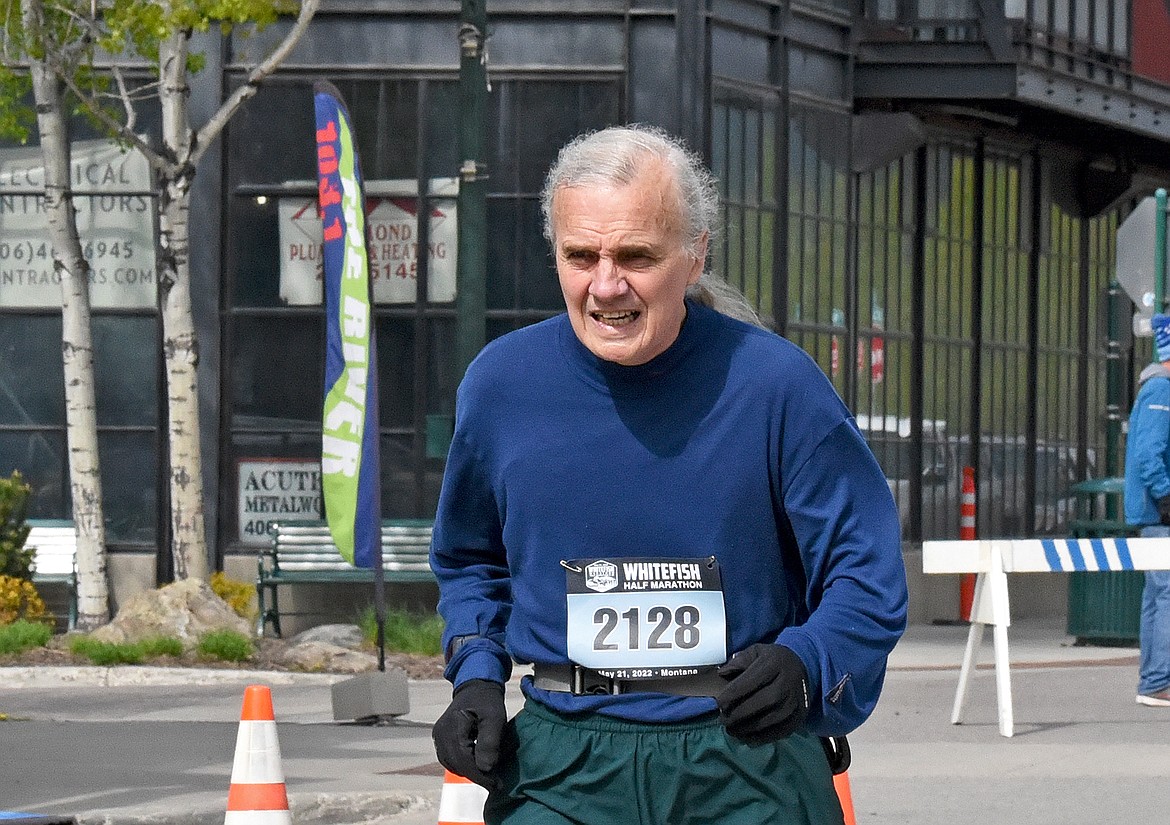 Gil Jordan from Coram runs the half marathon in 2:16:24 on Saturday in Whitefish. (Whitney England/Whitefish Pilot)
Previous
Next
by
Whitefish Pilot
|
May 25, 2022 2:00 AM
The Whitefish Marathon is one of the largest marathons in Montana and on Saturday around 1,000 racers participated in the event.
The event had three different races — the full marathon, half marathon and 5K — all starting and finishing in Depot Park.
The full marathon course took runners on a tour of Whitefish as they ran through downtown, over to JP road and all the way up the east side of Whitefish Lake. The full marathon had 148 finishers, the half with 359 finishers and 328 finished the 5K.
Kaitlyn McNamara of Whitefish was the first female runner to cross the finish line in the full marathon, clocking a time of 3:06:16. She also placed fifth overall and was the top runner out of Whitefish in the full marathon.
Paden Alexander of Ronan was the top finisher in the full marathon on the men's side with a time of 2:45:54.
In the half marathon, Drew Coco of Whitefish and Micah Drew of Kalispell raced each other to the finish with Coco getting the edge for first; his time was 1:11:06.2 and Drew's time was just tenths of a second behind, 1:11:06.4.
Elizabeth Wasserman of Columbia Falls was the top female finisher in the half marathon with a time of 1:23:23.
The Whitefish Marathon is a fundraiser for The WAVE.
For complete results visit www.whitefishmarathon.com.
Recent Headlines
---