Hospital Corner: Celebrating all healthcare workers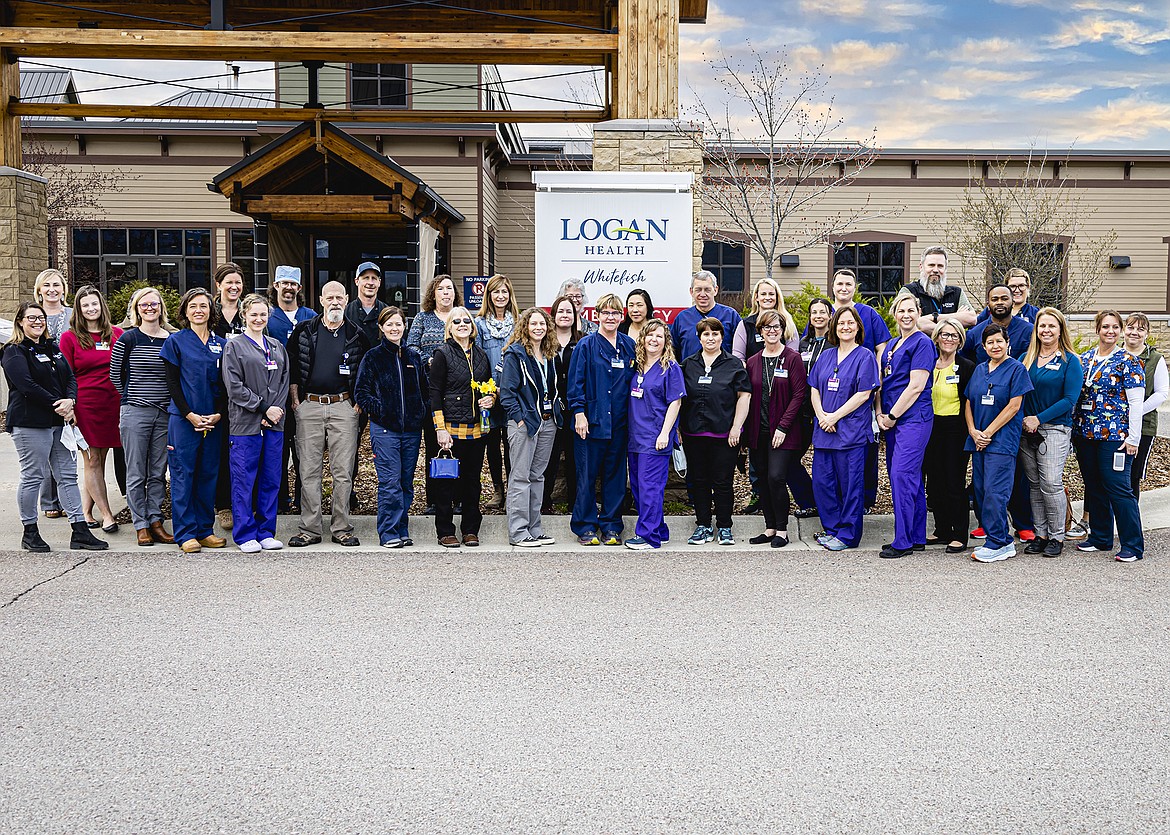 Logan Health - Whitefish staff celebrates National Hospital week and recently being named a Top-20 Critical Access Hospital. (Courtesy photo)
by
By Riley Polumbus
|
May 11, 2022 1:00 AM
For the first time in three years, we can gather to celebrate National Hospital Week May 8-14 and show our appreciation for all of our employees at the hospital, our clinics and across the Logan Health system.
While nurses, physicians and other providers work closely with patients providing person-centered care, hundreds of others behind the scenes play a role in the patient experience. Hospital Week recognizes everyone for being the center of healing for our communities and making a difference in the lives we touch.
National Hospital Week coincides with Florence Nightingale's birthday, May 12, 1820. Nightingale was a nurse during London's cholera outbreak and the Crimean War. During the war, she observed more soldiers dying as a result of infection than from injuries. She incited a movement to elevate standards for hygiene practices in hospitals. Additionally, she took steps to maintain supplies and established a number of other patient services to improve the quality of a hospital stay including laundries, kitchens and libraries for patients.
Nightingale's influence is so far-reaching one can easily credit her for the existence of nearly every behind-the-scenes department at Logan Health — Whitefish.
Quality, Risk and Performance Improvement – Keeping patients safe is our top priority and Nightingale's gift for statics provided data to help track and improve the quality of care. There are teams in place at Logan Health— Whitefish to ensure quality at our hospital. Our Clinical Informatics team uses data and technology to improve and enhance the quality of care and the Quality team monitors safety and risk.
Sterile Processing – This team manages our surgical equipment seeing that they are sterilized, properly prepared, processed, stored and issued for patient care.
Environmental Services – Our housekeeping and laundry teams take cleaning to a whole new level and ensure staff and patients have the scrubs and gowns they need daily.
Dietary Services – The healing benefits of appealing food are a component of our Planetree Philosophy and Nightingale's. Thanks to the Valley Café team patients, visitors and employees receive freshly prepared meals.

Materials Management – This team ensures that every department has what they need, when they need it.
Plant Operations – In addition to sanitization and hygiene, Nightingale recognized that patients needed fresh air. Our Plant Ops team maintains all of our buildings keeping everything in order ensuring fresh airflow and safe environments for care.
Nursing Education and Training – Perhaps Nightingale's largest impact was to establish a training school for nursing. In addition to our bedside nurses, several staff members play educational roles keeping everyone up-to-date on processes and technologies to provide the safest care.
Inspired by Nightingale, healthcare has continued to evolve, continuously improving roles that improve the quality of hospital and clinical care. If you know anyone that works at Logan Health — Whitefish, one of our clinics or at any of the Logan Health facilities, please tell them you appreciate what they do to keep our communities safe and healthy. We are proud of each of our employees, providers and volunteers.
---