Road work resumes near Glacier Park
by
Whitefish Pilot
|
May 4, 2022 1:00 AM
Motorists headed to Glacier National Park should expect minor delays as work along U.S. 2 east of Columbia Falls is set to resume next week.
The Montana Department of Transportation and Riverside Contracting will resume construction on the Hungry Horse to Stanton Creek project on May 2. This project started in April 2021 and will wrap up this season.
"We just have a few tasks to wrap up on U.S. 2 this year," MDT District Construction Engineer, John Schmidt, said. "We still want the public to be aware of this work, though, since some minor delays are to be expected because of it."
Crews will return this spring to paint final roadway lines and install signage throughout this stretch of U.S. 2. The transportation department expects this project be done by June.
They will also plan to fix the damaged guardrail and update the sidewalk at the West Glacier entrance to meet ADA standards.
For this construction to occur, crews anticipate that delays of up to 15 minutes can be expected. This is a heavily trafficked route between neighboring communities and Glacier National Park. Officials said they are working directly with Glacier National Park and other organizations to coordinate efforts and limit construction-related impacts.
"Thanks to the traveling public for their patience during this work," Schmidt added. "We appreciate everyone's careful driving on these curved and tight work zones."
Last year, crews completed roughly 26 miles of pavement preservation work, including improvements to roadway resurfacing through cold in-place recycling, new pavement markings to enhance visibility, upgraded guardrail, additional rumble strips, and ADA ramp sidewalk enhancements.
Big Sky Public Relations is providing weekly project updates on behalf of MDT. Those interested in receiving messages are encouraged to send a request to Amy Aiello at amy@bigskypublicrelations.com. The public is welcome to call the project hotline (available Monday through Friday from 9 a.m. to 5 p.m.) at (406) 207-4484 or visit the project webpage at https://www.mdt.mt.gov/pubinvolve/us2hungryhorse/ to learn more.
Alternative accessible formats of this document will be provided upon request. Persons who need an alternative format should contact the Office of Civil Rights, Department of Transportation, 2701 Prospect Avenue, PO Box 201001, Helena, MT 59620. Telephone 406-444-5416 or Montana Relay Service at 711.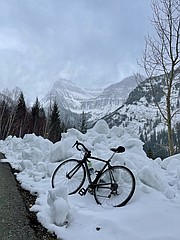 ---