Whitefish Parks and Recreation director honored for professional service in community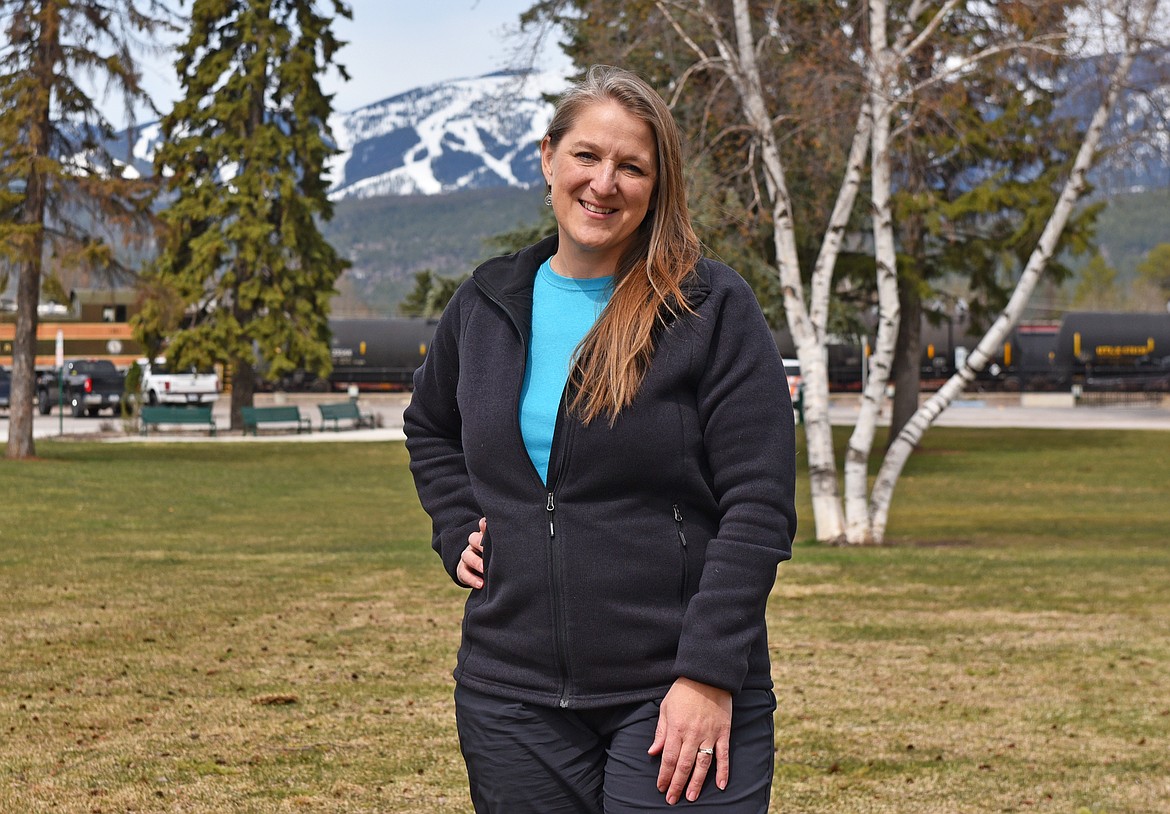 Whitefish Parks and Recreation Director Maria Butts in Depot Park last week. (Julie Engler/Whitefish Pilot)
by
JULIE ENGLER
whitefish pilot
|
May 4, 2022 1:00 AM
Maria Butts has always kept the importance of city parks and open land being free and accessible to all at the forefront of her job as the Whitefish Parks and Recreation director.
Hard work and passionate leadership recently earned Butts recognition from the Montana Trails Recreation and Park Association at its annual meeting in Great Falls in early April. The Whitefish Parks director was honored with the 2022 Professional of the Year award.
"I was really surprised and I had a good portion of my staff with me, too. It was really nice to have them there supporting me and experiencing that together," Butts said. "It was a good win for us and for the city."
Resource Development Coordinator Cassie Lasson has worked with Butts for a few years and nominated her for the honor. Even though Butts is on the board of MTRPA she was unaware that she was selected to receive the award prior to the conference.
During the conference, Butts was asked what project has given her the greatest sense of pride. She mentioned the Bakke Nature Reserve on 501 West Seventh Street. James R. Bakke gifted his 4-acre property to the city and in 2018, Butts and her team created the nature reserve with an interpretive trail.
There are three versions of the trail to enjoy: a fitness trail, a tree identification trail and one that highlights Bakke's art and life.
Typically with projects like this, a consultant is called in who advises the parks and recreation team how to proceed. This time, the park board allowed the staff to design and build the park. They held public meetings and learned from Bakke's friends what was important to him.
"I'm really proud of that one," Butts said. "We got to honor (Bakke) for his gift to the city and be creative in how we wanted to develop the land."
BUTTS GREW up in the Finger Lakes area of upstate New York and went to college in Mansfield, Pennsylvania, before teaching English to ninth graders for four years. In 2010, Butts and her husband decided to move and look for somewhere to live that had mountains, water and recreation.
"There's got to be something between New York and Alaska that we might like," she recalled with a smile. "We had two small elementary school kids, two dogs and a cat; we sold everything and got an RV and packed up and headed toward Alaska, trying to figure out where we wanted to go."
After visiting a relative in Bozeman and spending a couple weeks at Glacier National Park, they decided to stay for the winter. Come spring, the kids went to school at Muldown and liked it, so the family stayed put.
Butts began working for the parks and recreation department when it was still housed on the corner of Depot Park. She worked as a summer camp counselor for a year, then transitioned to the after-school program. During this time, she met her friend and co-worker, Recreation Coordinator Liz Records.
"We have a lot of great memories from that summer," Records recalls. "On one of our first days working together, we bonded over several games of UNO with a bunch of kids on the floor of the Ice Den."
They started several enduring programs during the early years of their recreation careers. Butts remembers talking with Records about all the kids who live here and never get to go up on the mountain — so they initiated the Friday night ski program.
The two also worked together to make childcare more accessible after recognizing that, although they provide recreation programs, they are also in the business of providing childcare.
"We implemented the sliding fee scale based on the federal guidelines of 10% of household income and the number of people in the household, in order to make it affordable for people to be able to participate in our programs," Butts explained.
When she advanced to become the recreation coordinator, the parks director at the time, Karl Cozad, invested in Butts' professional development. Under his direction, she attended a course with a national recreation training school to gain a greater understanding of the field. When Cozad was preparing to retire, he encouraged Butts to apply for the director position.
"He took the time to help me understand the history of parks and recreation, his experience with it and the professional development side of it and what it means to be serving your community through parks and recreation, which I think is a beautiful gift that we get to give the community," she said.
Currently, the parks department has several projects in the hopper, including a plan to get the city's many river parks off city water and onto lake or river water to reduce the strain on the city system.
"Recently we put together an irrigation and landscape plan that provides a guide for us to conserve water in our irrigation systems by using drought-tolerant and native species in our parks so we're not taxing our water system and putting treated water back into the ground," she says.
She aims to expand that environmentally friendly model and plant drought-tolerant plants in boulevards.
She said they are also looking at ways to manage weeds without toxic chemicals and trying to get 'adopt a park' and 'adopt a bulb-out' programs started, wherein members of the community can volunteer to pull weeds and maintain a park or bulb-out. A bulb-out is a landscaped curb extension at intersections downtown that is designed to slow traffic and increase pedestrian visibility.
Something Butts sees as an important part of the department's responsibilities is keeping parks and open land free and accessible to the public while most all other activities in Whitefish come with a cost.
"You can come to a park for free. You can experience Whitefish by being in a park. You can go to City Beach and you don't have to pay," Butts said. "So it's the one equalizer and I'm proud of that."
In addition to providing clean open spaces, Butts' department works to protect them from overcommercialization as Whitefish becomes a more popular destination. Staff recently created a new commercial use plan with the park board.
"We cannot allow business development at the cost of the public being able to have free, open access to parks," she said. "If you are a for-profit entity and want to rent the park, you have to have a nonprofit partner that will receive some of those proceeds. It's got to go back into the community in order to encumber the land from the public's free use of it."
As director of the department, Butts recognizes they are not alone in their desire to provide recreational opportunities.
"We have a bunch of community partners, too," she said. "The Whitefish Trail with Legacy Partners, the Whitefish Lake Institute with aquatic and invasive species, we've got the Whitefish Skatepark Association fundraising for an expansion of the skatepark. Flathead Area Mountain Bikers are building a pump track.
"Because of the community partnerships we have, we are able to do so much," she added.
Butts, as MTRPA's Professional of the Year, addresses problems with a creative mind and a top notch team. She says she enjoys her job and her team works well together.
"I love providing for the community but I go to work on a daily basis to be surrounded by some of the most dedicated, intelligent, creative, fun people I've ever met," Butts expressed. "My department and throughout the city, there are some amazing people I get to work with and I'm happy about that."
The department had seven members when Butts started. It has grown to nine now and they will be hiring a tenth shortly to join this award-winning leader and her team.
"It's an honor to work for her and with her," Records notes. "She's a fearless leader who is not afraid to take chances."
---