Glay Kent Tallman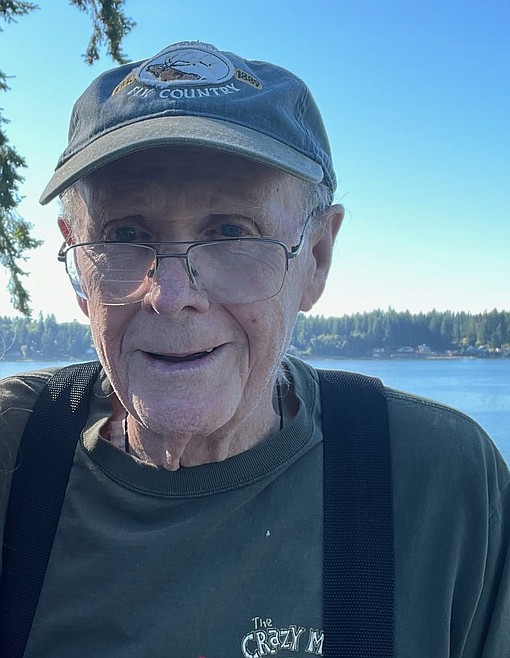 Glay Kent Tallman, of Olympia, Washington, died April 17, 2022 in his home, surrounded by his children, grandchildren, and great-grandchildren. He was 86.
Glay was born Aug. 20, 1935, in Kalispell, Montana to Paul and Sylvia Tallman. He graduated from Whitefish (Montana) High School in 1953, where he had been a top skier on the talented Bulldogs team.
After high school, he joined the Air Force and served four years. While stationed in St. Louis, he nurtured what would become a lifelong love of baseball and the St. Louis Cardinals. Though he rooted for the Seattle Mariners after moving to Washington state, the Cardinals were his team.
After fulfilling his commitment to the Air Force, Glay moved back to Whitefish. There he met Adaline Siegle. Adaline, a native of Glendive, Montana, had moved to Whitefish to teach during Glay's time in the service. By his own admission, Glay spent most of 1959 "chasing Adaline," and they married later that year.
Throughout his life, Glay remained a man of simple pleasures. Every year, he kept a bountiful garden and was proud of his recipe for zucchini pickles. When there wasn't a ballgame on, he enjoyed John Wayne movies, or whatever western happened to be on. It was the next best thing to a Louis L'Amour paperback. He loved big family dinners and never failed to bring a Schwann's pie for dessert. Two, if it was a party. And when his time came, he had only one request: "Put me next to sweet Adaline."
Glay was preceded in death by Adaline, as well as his parents and his brother Gary Tallman.
He is survived by his three children, Ron (Thu) Tallman, Wendy (Bill) Lange, and Doug (Janet) Tallman, as well as seven grandchildren, and two great-grandchildren. He is dearly missed.
A poem by Janet Tallman reflecting on Glay's garden:
Glay's Garden Gate
The gate creeks open with a rattle and bang,
Rusty tools, strainers - ready as they hang.
An orange cat stretches, lounging in the sun,
Never far from his friend as work has begun.
The crunch of a shovel neath the weight of a boot,
Slow but steady tilling as the earth takes root.
Row after row planting vegetables to share,
Tended to and nurtured with the utmost care.
A white plastic chair tucked under the eaves,
A perfect shady place for bones to ease.
Notice the "click-click" of a hummingbird's song,
Fluttering a message - listen hard, listen long.
Grab a Miller High Life and rest awhile,
Dream of Sweet Adaline and begin to smile.
Lessons to be learned from this kind, gentle man
Appreciate simple things and dig deep to understand.
The message in a garden and the joy of the journey,
Holding family's love close for it will last beyond eternity.
---