Chisholm finds spelling bee success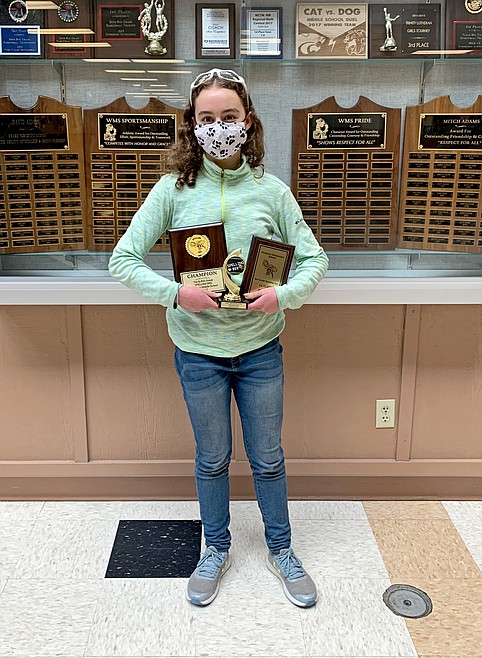 Whitefish Middle School student Teagan Chisholm holds her trophies after competing in the state spelling bee. (Courtesy photo)
by
JULIE ENGLER - Whitefish Pilot
|
March 23, 2022 1:00 AM
While many people rely on their computer's spell-check feature, there is one local student who needs no such help.
Last weekend, Teagan Chisholm became the second student in the history of Whitefish Middle School to compete in the Treasure State Spelling Bee in Bozeman. It had been eight years since a WMS student reached this level of excellence.
"I'm just super proud of her, she represented us well," WMS Principal Josh Branstetter said, beaming.
Only the top 60 spellers from grades fourth through eighth qualified for the 57th annual State Spelling Bee in Bozeman. The state competition was held in-person for the first time since 2019 due to the pandemic. Students who advance at this level qualify for the Scripps National Spelling Bee in Washington D.C.
Chisholm earned her spot at the event by winning the WMS spelling bee then winning the Flathead County Spelling Bee which was online this year.

"She was the top scorer in the county for the online test," Branstetter said.
Chisholm's family, her parents and older brother, joined her on the journey to Bozeman and were there to cheer her on at the competition. She said her mom is her greatest source of support.
According to Branstetter, the organizers gave little time for preparation as she only had about a week. That didn't faze Chisholm, who also participates in martial arts and ballet. She made time to look through the list of study words provided by the organizers.
Nerves can come into play in every kind of competition. Chisholm says she was nervous before the contest began, but once it started she relaxed and blocked out all distractions.
"I wasn't really stressed during the bee, a little bit before but not really during because I hyper-focused," she explained.
Not everyone has what it takes to be a spelling bee champion but Chisholm does. She likes to read, she has a language-oriented brain, and one more surprising thing — she has a pair of lucky spelling socks.
Chisholm is no stranger to spelling bee success. She won bees when she was in the fourth grade and the fifth grade, too.
"I'm going to try to get back in the spelling bee next year," she said. "But I only have one more chance."
Recent Headlines
---