Middle school mathlete earns trip to nationals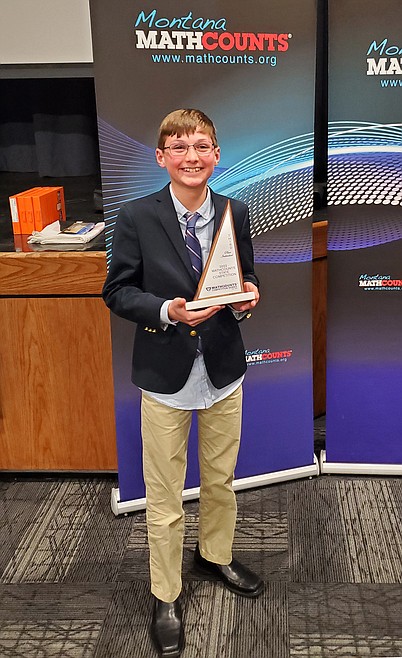 Whitefish Middle School sixth grader Holden Hadidi with his Montana MathCounts trophy in Butte. (Courtesy photo)
by
JULIE ENGLER - Whitefish Pilot
|
March 23, 2022 1:00 AM
Take the top 80-plus math students in the state, add two rounds of problem-solving until 10 remain; use a speed round to subtract one every few minutes until four students are left. Among those top-four students in the recent Montana MathCounts competition was Whitefish Middle School sixth-grader Holden Hadidi who next will be heading to the national competition in Washington D.C. in May.
Hadidi qualified for nationals when finished third in a field of 88 competitors at the state competition in Butte last week. He was tied for first place going into the last round.
"Holden is a sixth-grader that is taking the advanced seventh-grade math," WMS Principal Josh Branstetter said with pride.
Hadidi said he's always enjoyed mathematics and he is eager to learn new things.
"I always liked doing math. When I was younger I would look at our math books and I'd go to the back (of the book) and they had all these extra problems and I was like, 'Yeah, I get to try to solve these,'" Holden said.
MathCounts is a competition series that has been around for nearly 40 years. Competitions involve four rounds and the series includes contests at four levels: school, charter, state, and national. Students complete individually at every level.
Hadidi's parents and his three younger brothers joined him on his first-ever trip to Butte and his father was a volunteer test grader for the event.
"They're very supportive of me," Hadidi said of his family. "They were able to come with me in Butte and they were cheering me on the whole time. It was really nice to have them there."
All the competitors complete a sprint round, which requires mathletes to solve 40 questions in 30 minutes without the aid of a calculator. Next is the target round where students solve four pairs of questions. They are limited to six minutes per pair and may use a calculator.
The top ten scorers from these two rounds go on to the countdown round in which two students at a time square off. They flash a problem up on a screen, the competitors have 40 seconds to answer, and they each have a buzzer in front of them.
"It's like jeopardy, in a way," Hadidi explained. "They don't call up the top 10 (competitors) in order. So you're watching the two people go at it and you have no idea if you'll be called up next. So you're super nervous, you're sitting on pins and needles the whole time."
While math is one of Hadidi's favorite subjects, he also likes to read,plays the trumpet andis involved in athletics.
"He's a well-rounded kid," added Mr. Pederson, the MathCounts coach and Hadidi's math teacher.
For those people;e who don't see the value in math classes and believe they won't ever ues the concepts, Hadidi has the answer to that, too.
"You use it when you are winning an all-expenses-paid vacation to Washington D.C.," Hadidi said with a giant smile. "I'm still so excited. I'm counting down the days."
If there is anyone who is qualified to count the days, it's Hadidi. The competition is May 7-10, so he doesn't have long to wait.
Recent Headlines
---