Whitefish's Smith wins junior golf championship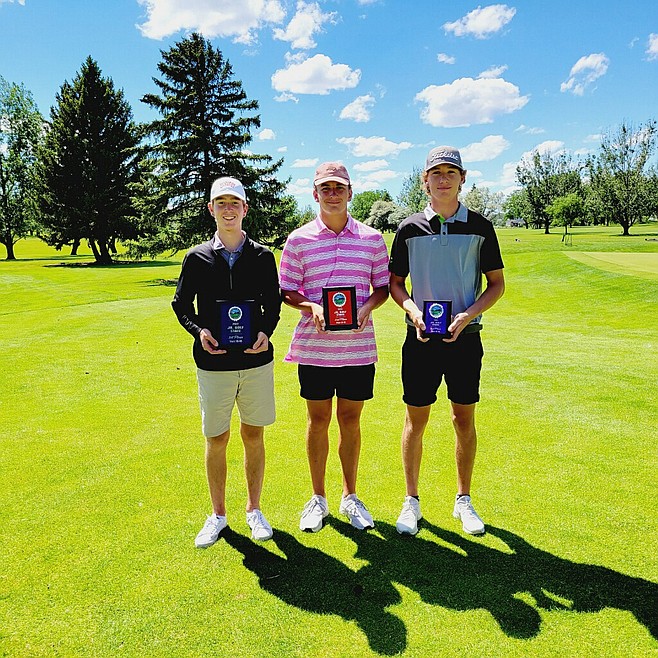 The Montana State Junior Championship top-three golfers in the 16-18 age division are Billy Smith of Whitefish, Joe Opitz of Missoula and Eli Groshelle of Great Falls. (Photo provided by Montana State Golf Association)
by
Whitefish Pilot
|
June 29, 2022 1:00 AM
Whitefish High School senior Billy Smith will be representing Montana at the Boys Junior Americas Cup in Northern California at the end of July.
Last week, Smith was the overall boys champion in the 16-18 age division at the 2022 Montana State Junior Championships held in Laurel. After two days of competition, six division winners were crowned and the teams for the Junior Americas Cup were determined.
Smith bested Missoula's Joe Opitz (73-73, 146) by one shot to win. Smith finished at one over par with rounds of 72-73, 145.
Also representing Montana at the Boys Junior Americas Cup, in addition to Smith, will be Opitz, Cameron Hackmann of Laurel and Sam Norman of Laurel. Both competed in the boys 14-15 age division. Hackmann shot 73-75, 148 to edge out fellow Laurel competitor, Norman who shot 75-74, 149.
The boys 13 and under division saw impressive play with Colin Jensen of Billings shooting 70-71, 141 good enough for three-under-par and winning the division by five. Runner up, Maxwell Milton of Polson shot 74-72, 146.
For the girls side, the team representing Montana for the Americas Cup includes Macee Greenwood (Stevensville), Kenzie Walsh (Billings), Emma Woods (Fairfield) and Kadence Fischer (Laurel).
Greenwood, was the overall girls champion with rounds of 77-77, 154. Woods was second to Greenwood in the 16-18 division with scores of 81-83, 164.
Walsh was second overall and won the 14-15 age division (86-77, 163). Second to Walsh was Katie Lewis (Missoula) with 83-92, 175.
In the 13 and under division, Cameron Burnett was first with 107-102, 209. Breckin Frederick of Bozeman shot 112-110, 222 for second.
110 players competed from five districts through six age divisions in the Junior Championships. Next year's championships will be hosted in Helena at Bill Roberts Golf Course.
The complete scoreboard can be found online at www.msgagolf.org
Recent Headlines
---