Gianforte tours Flathead flooding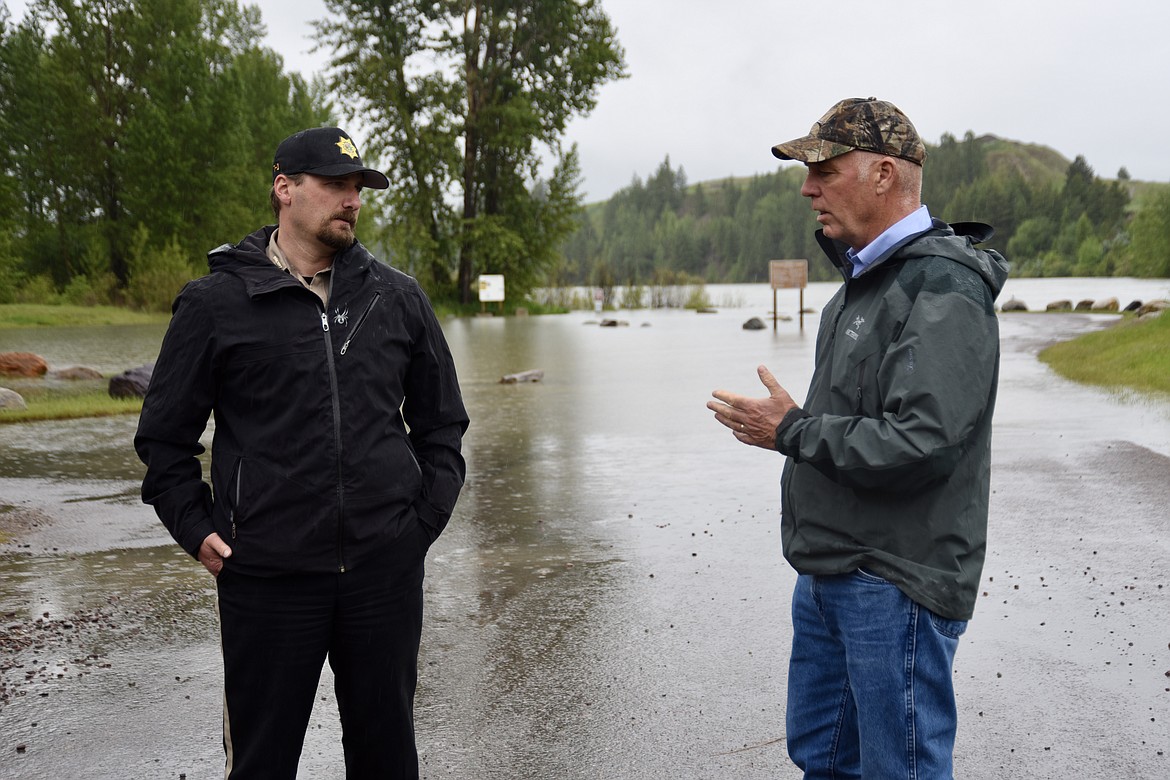 Flathead County Sheriff Brian Heino, left, updates Gov. Greg Gianforte on flooding in Northwest Montana during a briefing Monday, June 20 at the Old Steel Bridge fishing access on the Flathead River in Evergreen. (Matt Baldwin/Daily Inter Lake)
by
DERRICK PERKINS & MATT BALDWIN
Hagadone News Network
|
June 21, 2022 1:00 AM
Gov. Greg Gianforte pledged Monday to back local officials and emergency responders with whatever resources they need as another bout of heavy rain swelled area waterways and prompted more evacuations.
"We're watching this situation very closely," said Gianforte, standing a stone's throw from the waterlogged Old Steel Bridge fishing access site along with county commissioners, state legislators and Sheriff Brian Heino.
The governor was in town to get a briefing from Heino after a second, this time unexpected, wave of rain swept across the Flathead Valley in less than a week. According to a flood advisory issued earlier in the day, areas of immediate concern were Trumbell Creek west of Columbia Falls, and other small streams from Columbia Falls east to West Glacier.
A flood warning for the Flathead River from Columbia Falls to Flathead Lake remained in effect, as well.
As of noon Monday, pre-evacuation notices were issued for all low-lying areas of the Lower Valley area, the south end of River Road and low-lying areas in Evergreen. An emergency shelter was set up at Kalispell Middle School. Local officials instructed residents to call 406-758-2111 for further information.
"We have more significant rainfall than they originally predicted," Heino said during the briefing.
With Flathead Lake reaching full pool level, the Flathead County Sheriff's Office said water is backing up in parts of Bigfork, Creston, Lower Valley and South Kalispell. Heino described the ensuing backflow as a "lake effect."
"We have one report of water flows raising almost a foot and a half in a couple of hours and so we have to put out some tentative evacuations in the Lower Valley area," he said. "Law enforcement is out and we have called in every available unit at this point."
That includes volunteers as well as emergency responders from other area agencies, like local fire departments. Many are providing on-the-ground updates from around the county, Heino said.
The rain storm Monday was expected to douse the region with 1-3 inches of precipitation in the mountains and 0.25-0.75 inches in the valleys. Data for the Flathead River at Columbia Falls showed the river at 14.17 feet Monday morning. It was projected to stay between 14 and 15 feet through Thursday, before trending down next week, according to the Advanced Hydrologic Prediction Service.
The Whitefish River at Kalispell remained in action stage at 4.89 feet Monday. Projections show the river flirting with the 5-foot flood stage by Tuesday.
At Bigfork, the Swan River was at 5.83 feet and projected to crest just below flood stage at 6.38 feet on Tuesday into Wednesday.
In places where evacuations are being carried out — Wagner Lane and Leisure Drive — the sheriff said the decision to leave ultimately rested with residents. So far, shelters set up by the county have not seen much use. Heino partially attributed that to the community, which looks out for its own, he said.
Gianforte praised Heino and his fellow first responders.
"I wanted to see this with my own eyes, to be on the ground," Gianforte said, emphasizing the high level of coordination among local agencies as well as with state officials.
"I just want you to know we stand ready to help," he told Heino.
As part of his tour of flooding in the valley — sandwiched between trips to the recently devastated area around Yellowstone National Park — Gianforte was expected to take an aerial survey of the region. After his public briefing with Heino, the governor said Flathead County had not formally asked for any additional aid or resources from the state.
Recent Headlines
---