Twins fall to Mavericks in rainout
The Glacier Twins A squad got in five innings of a doubleheader Sunday against the Missoula Mavericks Sunday in a game that was called in the bottom of the fifth due to rain.
As it was, Glacier was down 4-0 after five.
Mason Peters had the lone hit for the Twins.
Kellen Kroger had given up three hits and four runs in the 4-2/3 innings he pitched. AC Chilson came in to pitch middle relief when the rain started pouring down.
The Twins were scheduled to play Bitterroot Tuesday after presstime and then face Mission Sunday at Memorial Field.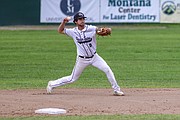 Recent Headlines
---