Whitefish track and field teams top podium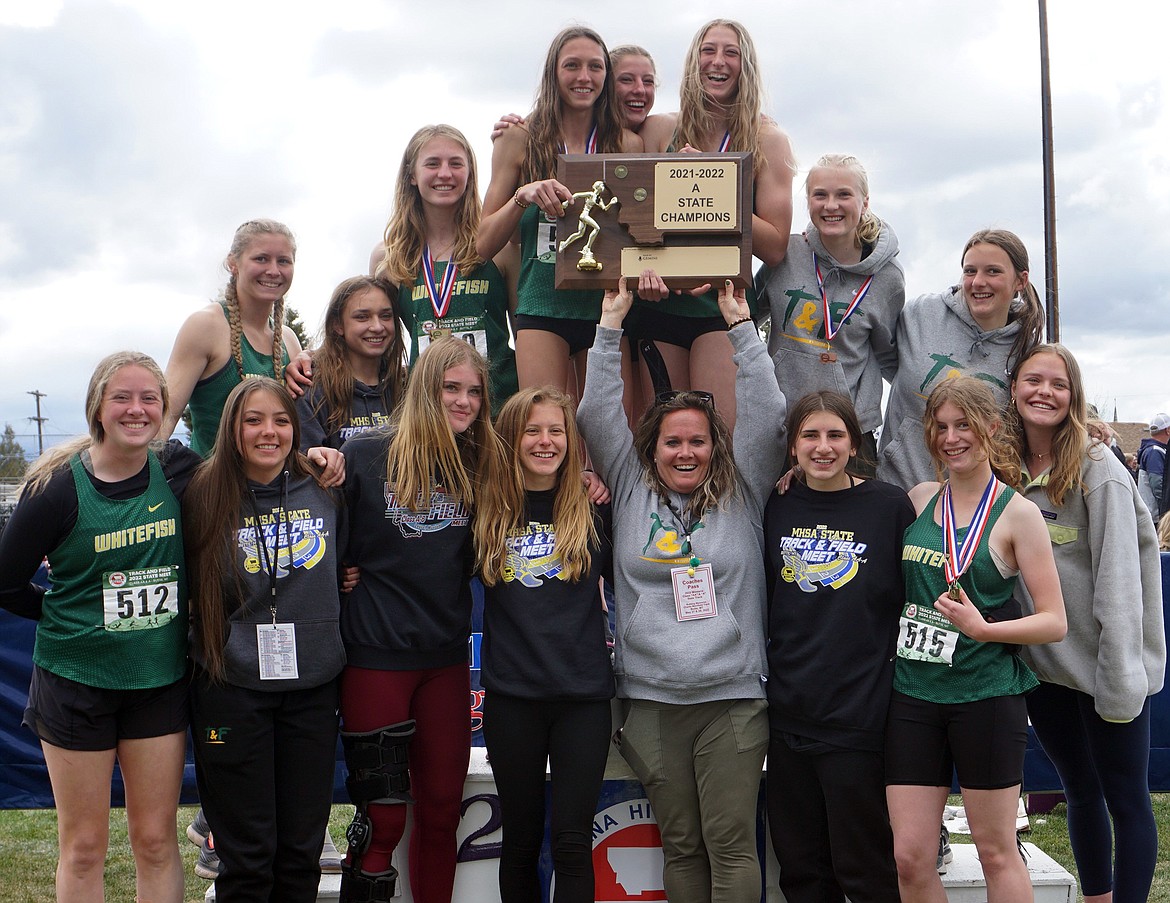 The Whitefish girls track team celebrates with Coach Kelliann Blackburn after winning the Class A State Championship at the state meet last week in Butte. (Matt Weller photo)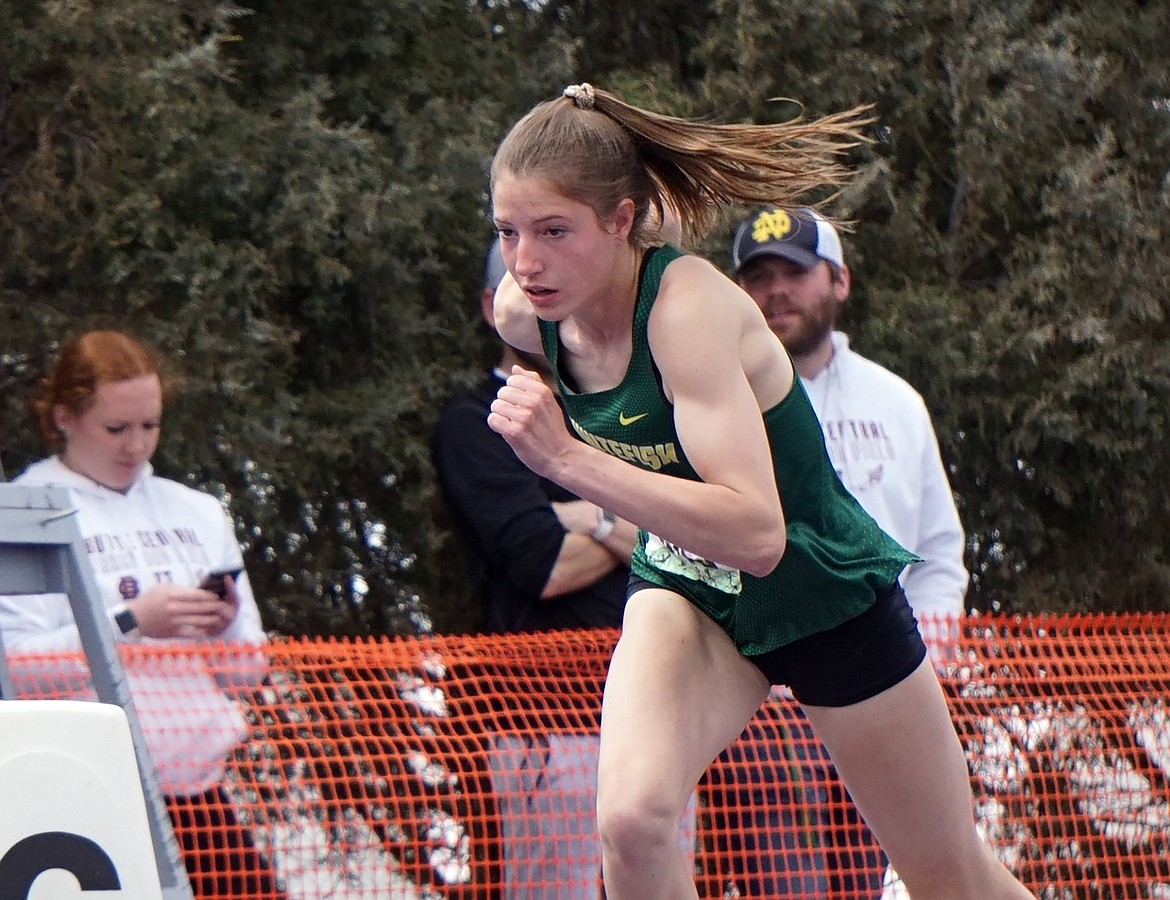 Whitefish's Hailey Ells competes in seven events at the State A meet last week in Butte. (Matt Weller photo)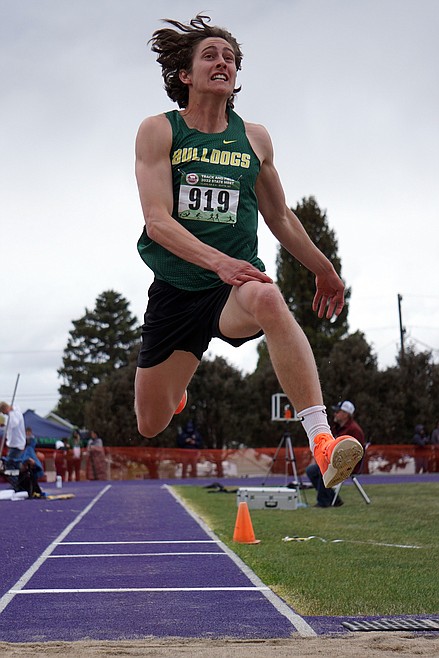 Bulldog senior Gabe Menicke wins the Class A triple jump state title at the State A meet last week in Butte. (Matt Weller photo)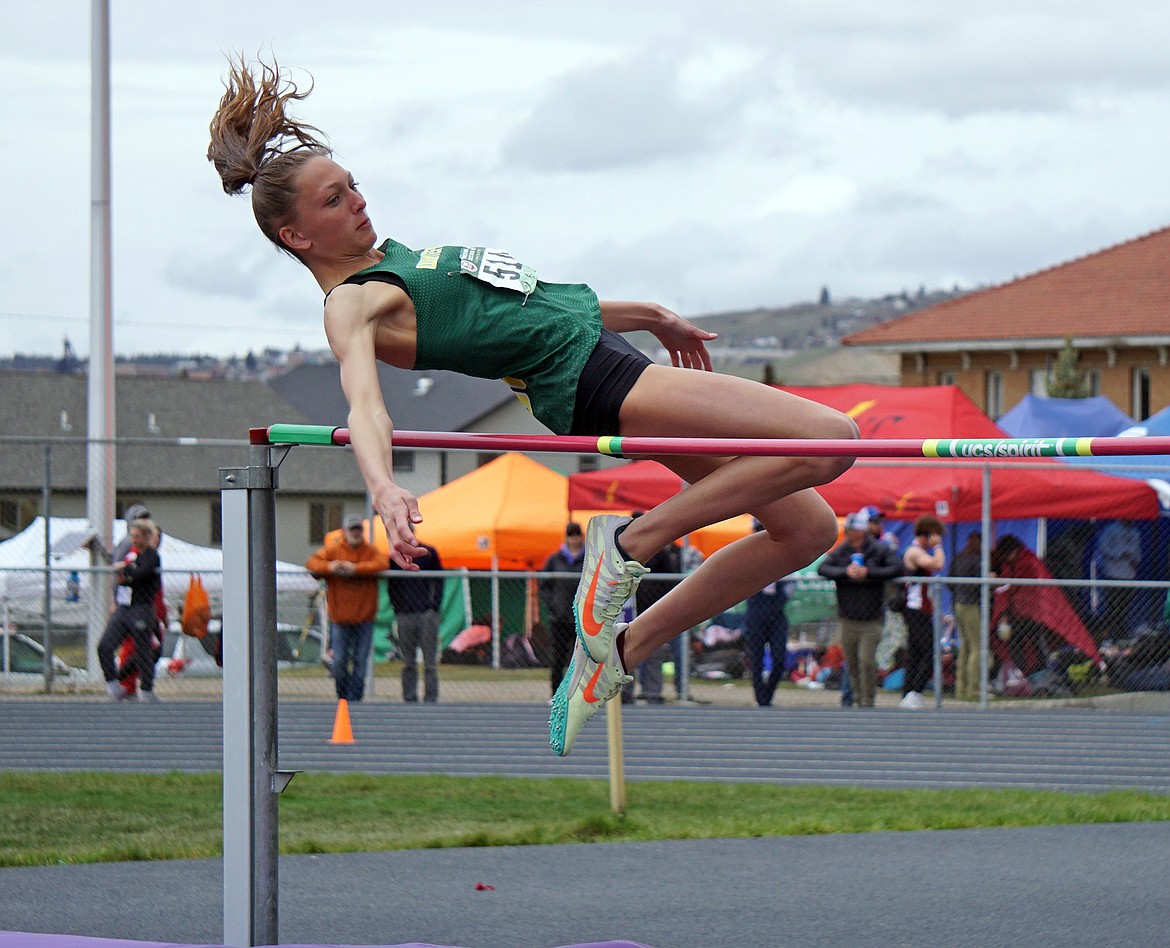 Whitefish senior Erin Wilde wins the Class A state title in the high jump at the State A meet last week in Butte. (Matt Weller photo)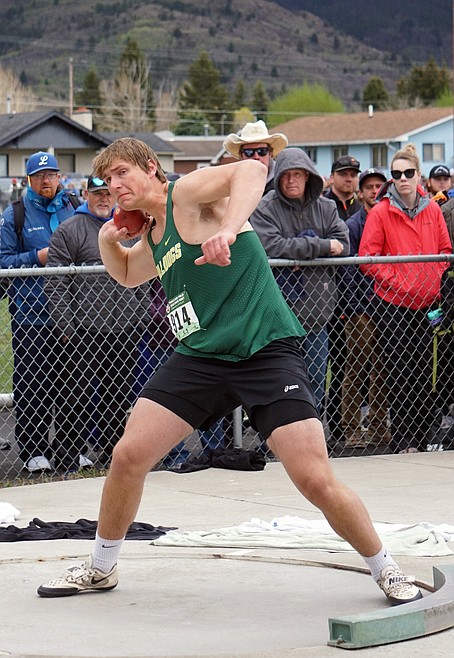 Whitefish senior Talon Holmquist is the Class A state champion in shot put after hoisting a personal best of 57 feet, 8 1/2 inches at the State A meet last week in Butte. (Matt Weller photo)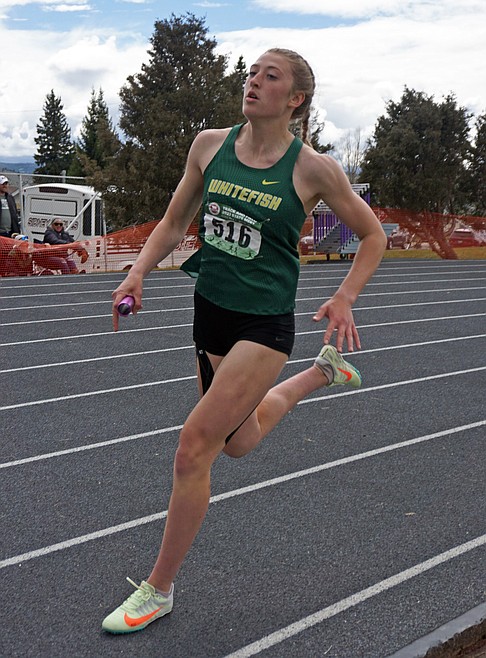 Bulldog Brooke Zetooney runs in the 4X400 relay at the State A meet last week in Butte. Zetooney claimed titles in the 100 meter, 200 and ran in both state-winning relays. (Matt Weller photo)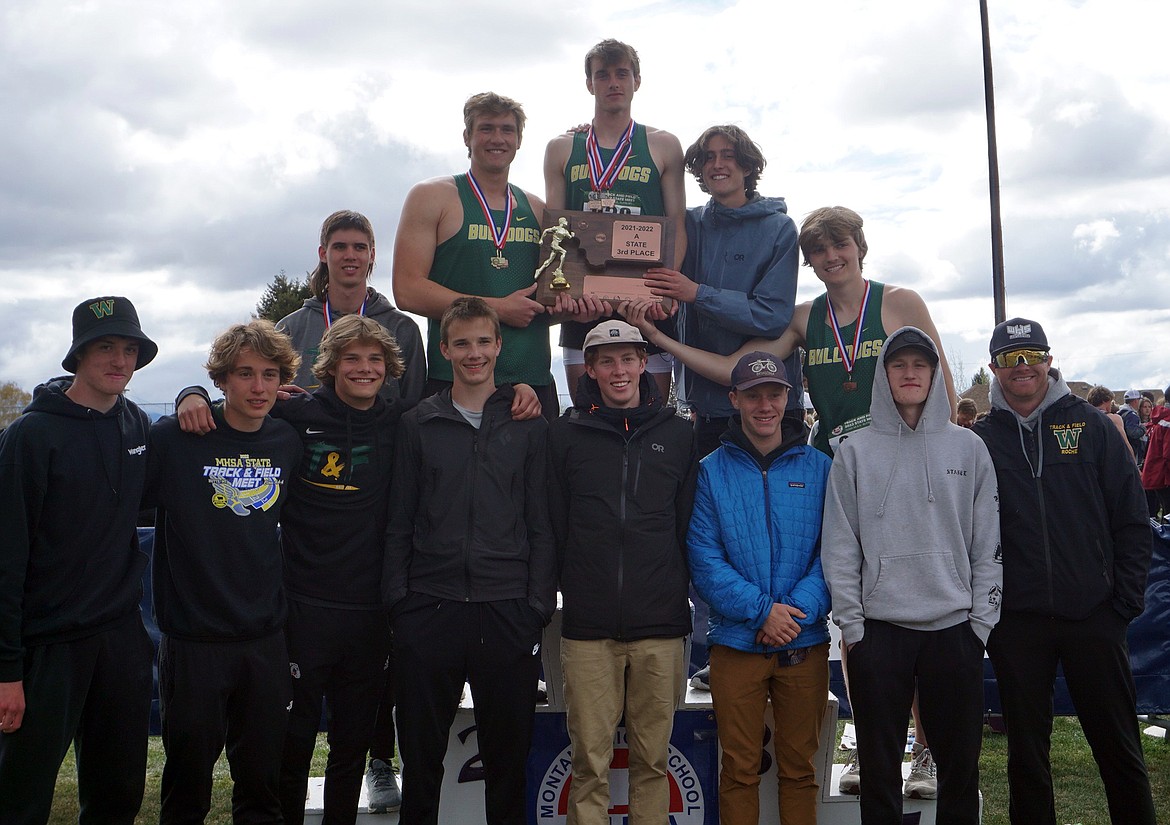 The Whitefish boys track team took third place at the Class A State meet held Friday and Saturday in Butte. (Matt Weller photo)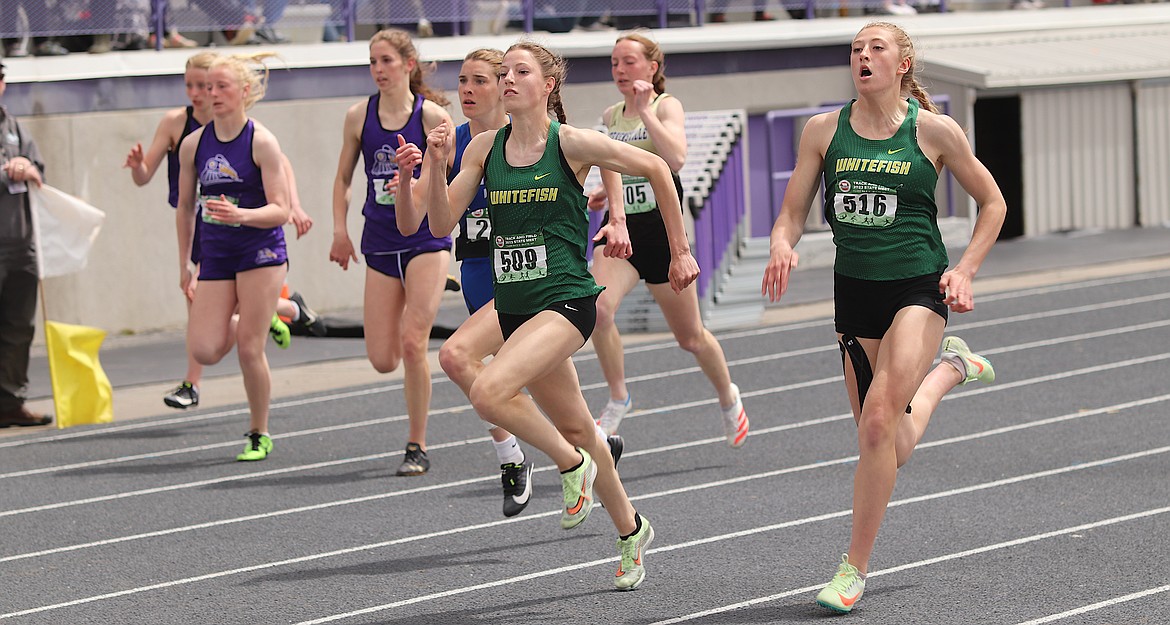 Whitefish's Hailey Ells (left), and Brooke Zetooney (right) run the girls 100-meters at the State AA-A track and field championships in Butte on Saturday, May 28. Zetooney won the event, Ells was fourth, and the Whitefish girls won the team title. (Bill Foley/ButteSports.com)
Previous
Next
by
WHITNEY ENGLAND
Whitefish Pilot
|
June 1, 2022 1:00 AM
After one day of competition, both the Whitefish boys and girls track teams were sitting in third place in the State A Track meet in Butte that ran from Friday to Saturday.
The team points were close after the first day, but a lot can happen in a two-day state track meet says Whitefish girls head coach Kelliann Blackburn.
"You really have to show up on both days… I had every single one of my girls show up and then some. They competed hard both days," she expressed.
On Saturday around 2 p.m., the team scores were projected in the stadium and the Whitefish girls still trailed, however that didn't last long. Within about a half an hour the Lady Bulldogs had run away with first place; the Bulldog boys held strong onto third place to also earn a trophy.
Every athlete contributed to the Whitefish girls' State A title, but the effort was led by sophomores Brooke Zetooney and Hailey Ells, and senior Erin Wilde.
Zetooney nailed down individual titles in both the 100 and 200 meter sprints, running a season-best 25.98 time in the latter. Zetooney also shocked the crowd when she put up a personal best in the 400 meter and passed teammate Ells in the final leg. She ran a 59.51 in the race for second place and Ells came in third; Corvallis sophomore Olivia Lewis took first.
"Brooke — god-given talent and she put it to use; she was peaking at the right time," Blackburn said. "She had an excellent track meet."
Ells was especially impressive as she competed in seven different events, while three of those had prelim races. Ells' best individual result came in the 200 meter where she took second to Zetooney, but she placed in several events. Ells took third in the 400, 300 meter hurdles and the high jump; she placed fourth in the 100 meter and ran on both first-place Whitefish relay teams. Blackburn says Ells had a hand in around 40 team points.
"That's huge to ask a sophomore to do that and I was so proud of her — she ran for her team," Blackburn said.
Wilde finished out her senior season with an individual state title in the high jump being the only girl to clear 5-03. Wilde also took third in the long jump and seventh in the triple, as well as running on the short relay.
Wilde has been a huge contributor to the Whitefish team and Blackburn says she will be missed, though her name will live on in Whitefish High School.
"I was excited to see that for Erin and I wanted that for her," Blackburn said. "Whitefish High School is going to miss her. She broke two school records, the long jump and the high jump, so her name will be on the records board. It was a nice way to finish off her career."
In the long and short relays, Whitefish took first in both. And the mile relay, the last event of the meet, served as a celebration though the girls didn't let up at all.
"Going into the mile relay, those kids knew they were state champs — and they ran like champions," the coach recalled.
For the boys, Whitefish boys head coach Willie Roche says they shocked Class A with the podium finish. The boys came in third behind Dillon and Hamilton, scoring 57 points.
The Bulldog boys were led by three seniors — Gabe Menicke, Talon Holmquist and Bodie Smith. Those three athletes have led the Bulldogs all season and the state meet was no different. Finishing in third and able to hold the team title hardware was the result putting in the hard work to realize their goals.
"It was so cool for them to chase that goal, [Bodie], Talon and Gabe, and to finally be able to hold it," Roche said. "They were like this is the coolest moment of high school for us to finally get that team trophy."
They secured the team trophy after taking fourth in the final event — the 4X400 relay. Whitefish led Laurel by only four points prior to the race and had to stay in front of them to keep their lead.
Menicke finished first in the triple jump — which was expected as he's led Class A in the event throughout the season. However it wasn't quite that simple as he scratched on his first attempt. On the second jump though, Roche says Menicke put together a nearly perfect jump which sent him to a new PR of 46-10.75.
"His second jump he got right on the board, every single phase was perfect… It was one of the first times all year that he's put together a perfect jump, the peak of his ability," Roche said. "That was just a monster jump."
But more shocking than that Menicke hit another personal best when he ran in the "slow heat" in the 400 meter and pulled off a third-place finish.
Holmquist dominated the shot put and came up just shy of beating the Class A record with his throw of 57 feet, 8.5 inches. That was a personal best for him and secured his individual state title while breaking the school record.
"As soon as he threw it, it was like a thunderous applause and then everybody got silent to see how far it actually was," Roche recalled. It was an interesting atmosphere, then when they read 57-8.50 everyone went crazy."
Smith had to do some fighting in order to place on the second day. Roche says Friday Smith's long jump didn't go as expected and he ended up quite a bit shorter than his previous best. He also clipped a hurdle in prelims and had some making up to do. He showed up on Saturday ready to compete and earned second place in the 300 hurdles with a PR of 40.70; he took third in the 110 hurdles and helped Whitefish's mile relay to a fourth place finish which secured the team third-place trophy.
"None of his saw him bouncing back as well as he did… in the 300 hurdles he clipped hurdle No. 7, but you could see there was just something within him that was so determined to not let that slow him down," Roche said.
Whitefish sophomore Deneb Linton also placed in the 3200 meter — he took third with a time of 10:09.39.
"Deneb ran a really fast two mile, Gabe came out of nowhere out of the first heat in his 400 to get third which is kind of unbelievable…" Roche said. "We found points we weren't really expecting and the competitive spirit took over."
For full results visit athletic.net.
State A meet
BOYS
Team results (Top-5)
Beaverhead County 103; 2. Hamilton 91; 3. Whitefish 57; 4. Laurel 49; 5. Corvallis 40.5
Whitefish Individual results
400 meters - 3. Gabe Menicke 50.91 PR
800 meters - 11. Barrett Garcia 2:05.14
3200 meters - 3. Deneb Linton 10:09.39; 9. Mason Genovese 10:39.39; 10. Jacob Henson 10:44.05.
110 meter hurdles - 3. Bodie Smith 15.88
300 meter hurdles - 2. Bodie Smith 40.70 PR
1600 meter relay 4. Whitefish (Bodie Smith, Barrett Garcia, Gabe Lund, Gabe Menicke) 3:27.91
Shot put - 1. Talon Holmquist 57-08.50 PR
Discus - 3. Talon Holmquist 147-10
Pole vault - 13. Bowdrie Krack 11-06.00 PR
Long jump - 6. Bodie Smith 20-08.75; 8. Gabe Menicke 20-07.25 PR; 13. Morgan Kyle 19-08.
Triple jump - 1. Gabe Menicke 46-10.75 PR; 10. Carson Krack 41-08 PR


GIRLS
Team results (Top-5)
Whitefish 103; 2. Corvallis 78; 3. Laurel 70; 4. Beaverhead County 62; 5. Hardin 53
Whitefish Individual results
100 meter - 1. Brooke Zetooney 12.66; 4. Hailey Ells 13.05
200 meter - 1. Brooke Zetooney 25.98 SR; 2. Hailey Ells 26.22
400 meter - 2. Brooke Zetooney 59.51 PR; 3. Hailey Ells 59.69; 9. Rachael Wilmot 1:02.76
800 meter - 4. Isabelle Cooke 2:25.56 SR; 8. Kellie Klepper 2:29.32
1600 meter - 11. Isabelle Cooke 5:44.88
3200 meter - 8. Morgan Grube 12:56.16
100 hurdles - 4. Maeve Ingelfinger 16.04; 8. Kristina Shestak 17.32
300 hurdles - 3. Hailey Ells 46.98; 6. Maeve Ingelfinger 47.66 PR
400 relay - 1. Whitefish (Rachael Wilmot, Hailey Ells, Erin Wilde, Brooke Zetooney) 49.19
1600 relay - 1. Whitefish (Rachael Wilmot, Isabelle Cooke, Brooke Zetooney, Hailey Ells) 4:03.99
High jump - 1. Erin Wilde 5-03; 3. Hailey Ells 5-02; 14. Tommye Kelly 4-08
Long jump - 3. Erin Wilde 17-02.75
Triple jump - 7. Erin Wilde 33-10.25; 14. Norah Schmidt 32-07 PR
Recent Headlines
---