Whitefish girls tennis rallies through state tournament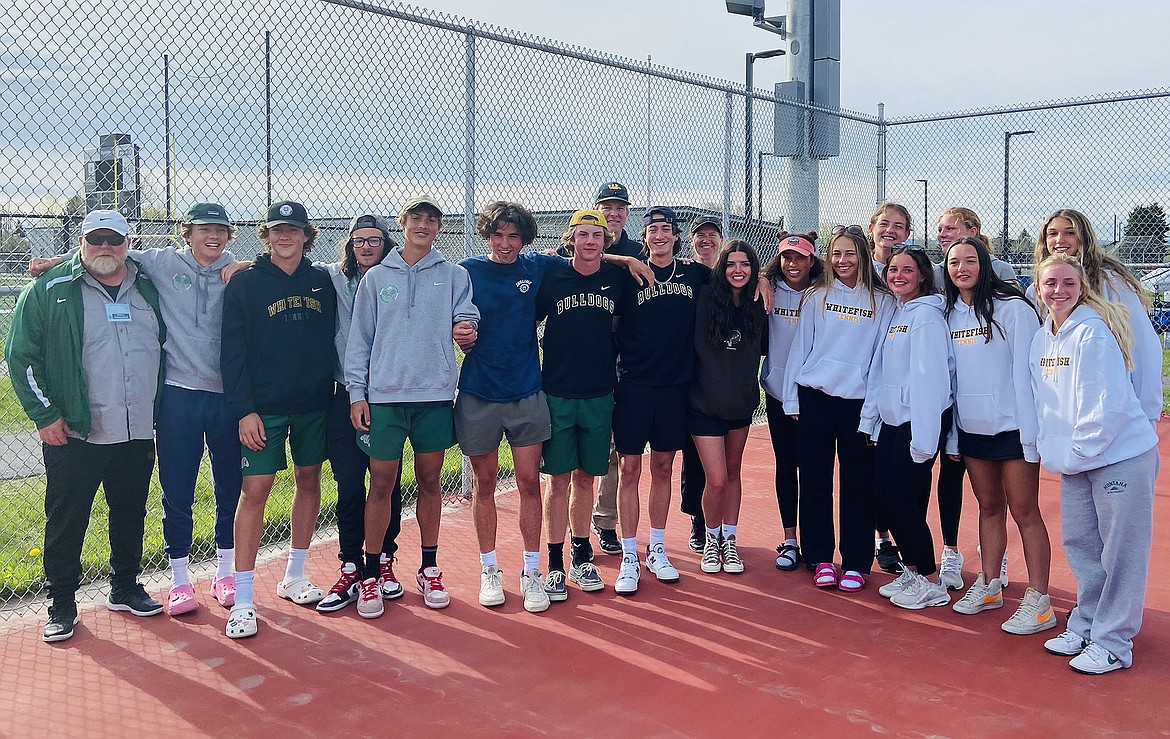 The Whitefish boys and girls tennis teams celebrate competing in the State A Tennis Tournament on Thursday and Friday in Bozeman. (Courtesy photo)
by
WHITNEY ENGLAND
Whitefish Pilot
|
June 1, 2022 1:00 AM
Led by their top two singles players, the Lady Bulldogs fought through the State A Tennis Tournament in Bozeman on Thursday and Friday — playing a total of 19 matches.
The grueling tournament format set up Whitefish players to compete in several matches through the consolation bracket. Although as a team Whitefish didn't place at state, there was plenty to celebrate this season.
"We had a really strong year, I was really proud of the girls," Whitefish coach Patrick Dryden said referencing the girls' 14-0 undefeated regular season. "That was kind of our strength, it was the depth of the team. I was really pleased we were able to pull off a divisional title, that was a bit of a surprise."
In the state tournament, Dryden says they didn't have the superstars — however the Bulldogs did have a lot of talented players who played with heart. On both the doubles and singles sides of the tournament, Whitefish athletes quickly fell into the consolation bracket. However, they continued the fight through each round.
Dryden says though his team was on the consolation side, they kept winning which made for a lofty number of total matches throughout the tournament.
The Bulldogs' top two singles players, Anyah Cripe and Lauren Brown, both played a series of matches before they ended up facing each other in the fifth-place match. Cripe came out on top of that one to claim fifth place, while Brown ended in sixth. Both are honored with all-state recognition.
"They both ended up on the podium, just a fine way to cap their careers," Dryden said. "With them playing each other, that was a real emotional time for the girls, their coaches and their parents. That was a very cool moment."
Dryden says Cripe lost her first match and came close to losing her second match of the tournament, but pulled out a win. In the third match she played, her opponent had a few set points but again Cripe stayed the course.
"She was super close to being eliminated from the tournament, but she fought her way back," Dryden said.
He added that the matches played Friday morning were the best he'd ever seen out of both Cripe and Brown.
For doubles play, Whitefish's No. 1 team of Tallory Workman and Emma Trieweiler won their first match, but unfortunately the quarterfinal got away from them. Dryden says they led 5-2 in the first set, but then lost that set in a tiebreaker. The girls rallied back to win the second set, however the team from Miles City turned up the intensity in the third and sent the Workman-Trieweiler duo into the consolation bracket.
Following that loss, Trieweiler and Workman had to immediately turn around and play again in heat they haven't trained in all season. The Whitefish team was eliminated in that round.
"It was in the mid-80s and we haven't seen any kind of heat all year," Dryden recalled.
Whitefish's second doubles team of Ashely Gunset and Elliette Haigh lost in the first round to Corvallis' No.1 team but were able to advance two rounds in the consolation bracket.
Whitefish scored 12 team points as Billings Central won the State A title with 26; Hamilton and Polson tied for second with 20 points.
The State A Tennis Tournament results can be found at mhsa.org.
Recent Headlines
---