Alpine Theatre Project's summer program pairs students with Broadway talent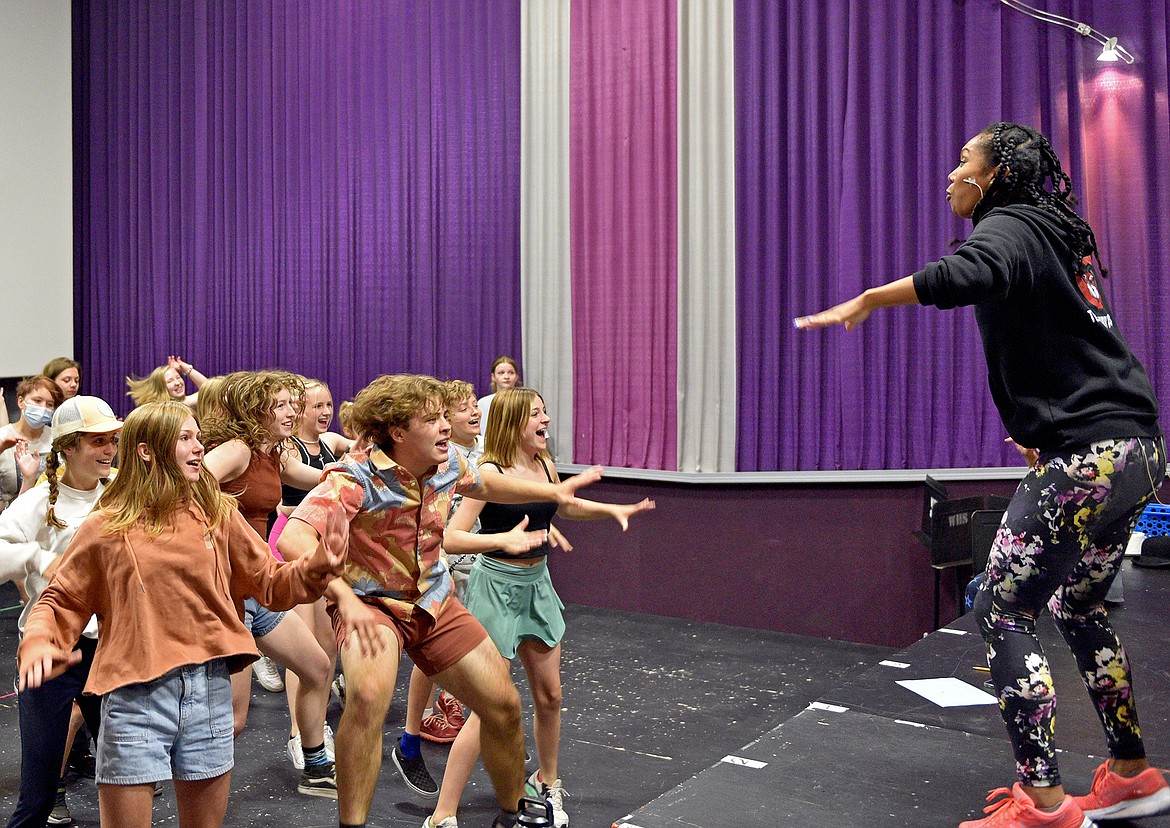 ATP Broadway Summer Training Camp participants learn from instructor Lauren Lim Jackson, one of several Broadway actors teaching at the camp, during a rehearsal on Friday, July 22 at the Alpine Theatre Company in Whitefish. (Whitney England/Whitefish Pilot)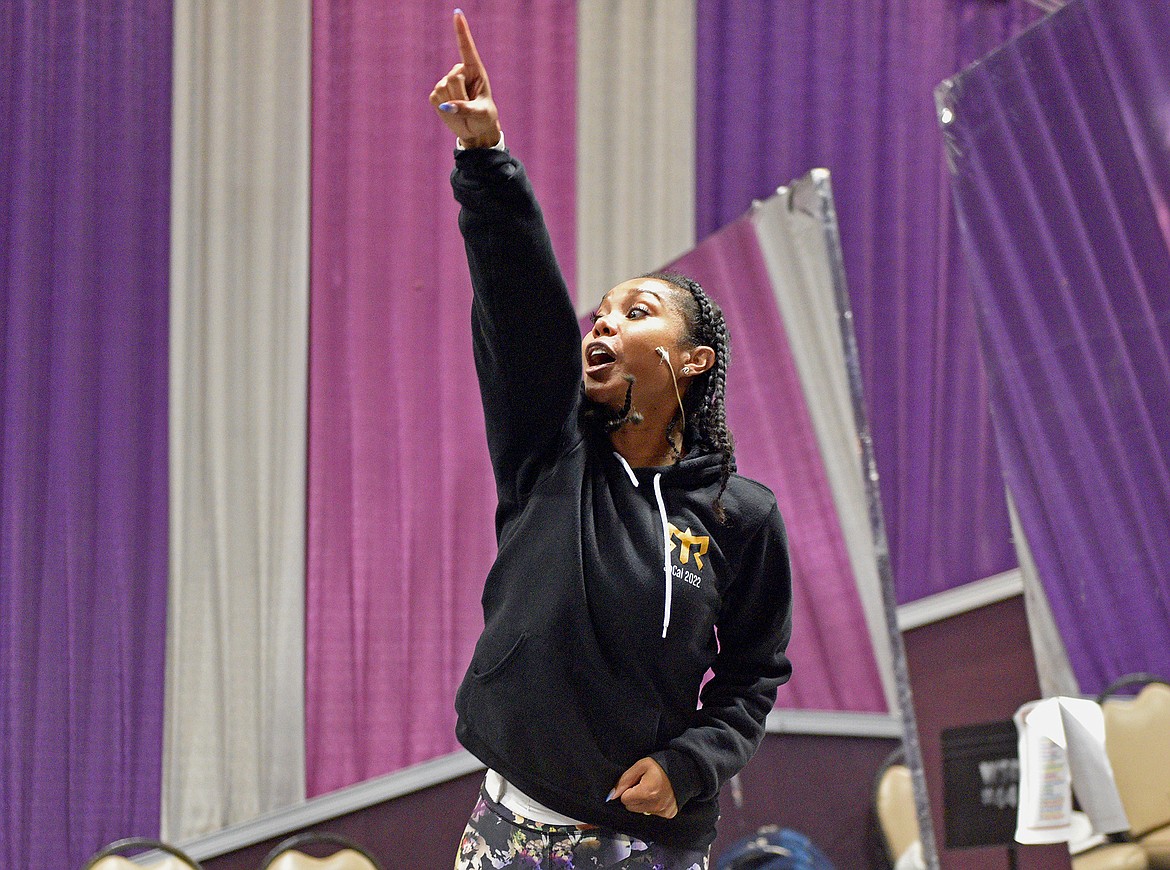 Lauren Lim Jackson, one of several Broadway actors teaching at the Alpine Theatre Project's Broadway Summer Training Camp, teaches participants during a rehearsal on Friday, July 22 in Whitefish. (Whitney England/Whitefish Pilot)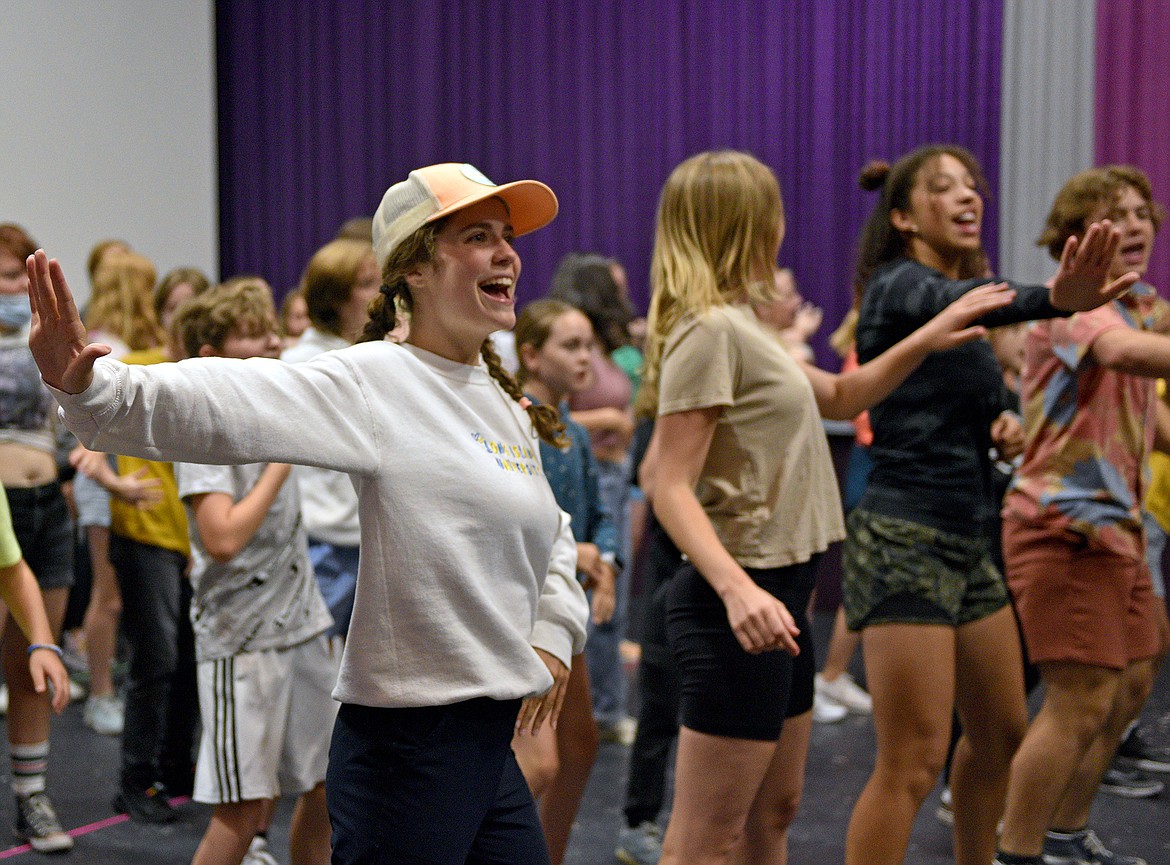 Summer camp participants practice a number during a rehearsal on Friday, July 22 at the Alpine Theatre Project in Whitefish. (Whitney England/Whitefish Pilot)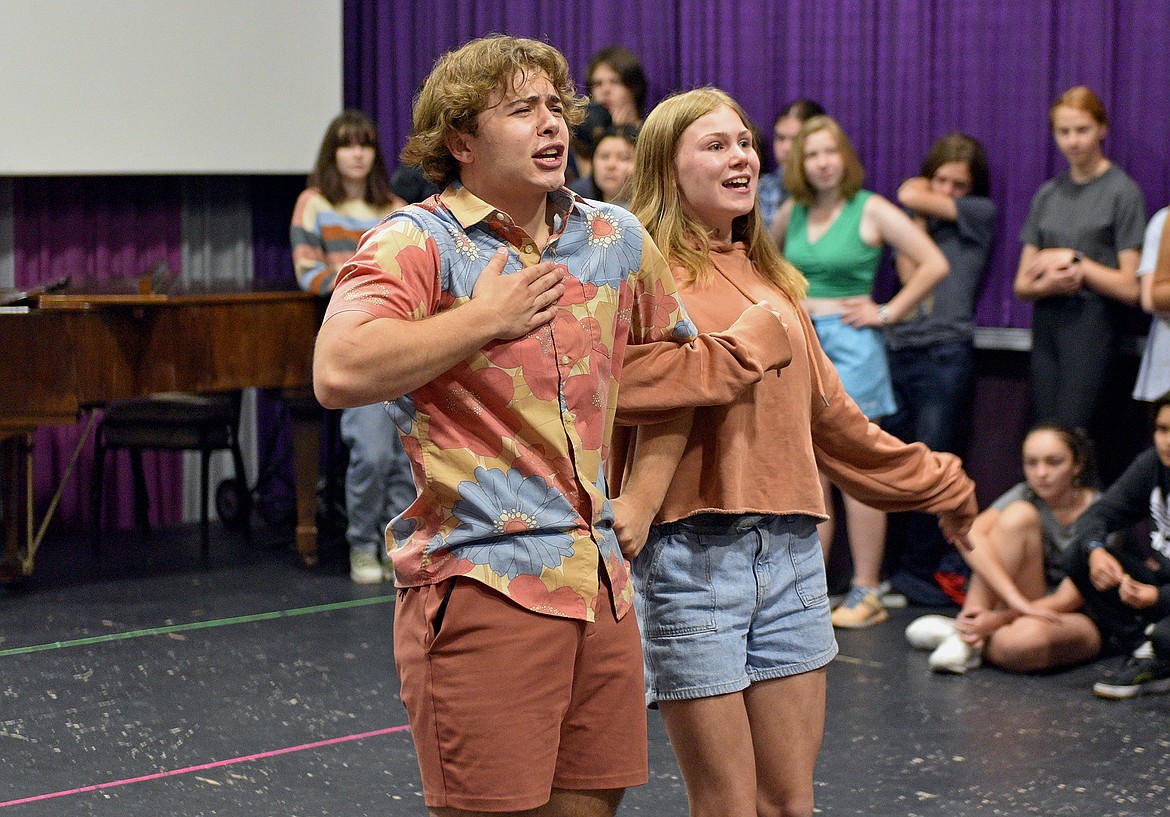 Tanner Harmon and Kendall Dye perform a scene together at a rehearsal during the ATP Broadway Summer Training Camp on Friday, July 22 at the Alpine Theatre Company in Whitefish. (Whitney England/Whitefish Pilot)
Previous
Next
by
LUKE SEYMOUR - Daily Inter Lake
|
July 27, 2022 1:00 AM
Walking into the lobby of the Alpine Theatre Project, it's easy to forget that not long ago the building housed the Whitefish Mountain Cinema.
The posters of upcoming Hollywood releases have been replaced by placards advertising Broadway classics like "The Full Monty," "Rent" and "Annie." In the place of popcorn and soda machines are piles of stage props and lighting equipment. The rattle of bass that came from movie trailers and blockbusters running in the auditoriums have been replaced by the plinking of improvised piano numbers and children scream-singing with all their might.
These are the changes made by the Alpine Theatre Project that were on full display July 18 as the organization held its Broadway Summer Training Camp. During rehearsals, the thrilling urgency of a fast-approaching deadline of an upcoming performance and the culmination of a summer's work was palpable.
The intense training camp culminates in two different concerts. Shows run Tuesday, July 26 through Saturday, July 30.
The troupe consists, on one hand, of veteran performers, their resumes including professional experience on both stage and screen. On the other, 60 children with varying ages, talents and experience.
The program aims to expose youth in the Flathead Valley to arts and culture, said Luke Walwrath, co-creator of ATP.
"One of the great things about Montana is that they have, and always have had, such a robust cultural landscape," Walrath said. "This community has such a deep passion for the arts, it's just about getting people the resources they need to connect with theater and help them find what they're passionate about."
After founding the program with his wife Betsi Morrison and their business partner, David Ackroyd, in 2004, Walwrath said that the idea for a summer program came in 2017. According to Walrath, the whole thing was Morrison's idea.
"Because of our background in theater, we've made all these connections in our life with all of these amazing, first-rate performers, so she would go out and collect all of these people who she's worked with in the past and ask them if they would like to teach for us over the summer while my job would be to just figure out how we were going to pay for it," Walrath said with a laugh.
ONE OF those instructors is Lauren Lim Jackson, a teacher and actor based out of Orange County, California who's worked in performance art for more than 30 years. Her credits include multiple roles in such Broadway stalwarts as "Finian's Rainbow," "Pretty Women: The Musical," "Chicago" and "Big Fish." She's also done film and TV work, achieving her first onscreen performance at only 6 years old.
"A lot of these kids look to me like I'm the old lady and the teacher here," said Jackson, "but really, when working with kids, it's hard not to feel like they sometimes have more to teach you than the other way around."
Jackson says that younger students are best to teach because of their lack of self-consciousness.
"When you're a teacher and a performer, as time goes on sometimes you just feel the need to play it safe and you forget to put yourself out there," she said. "Kids just don't have that in them. They want to play and laugh and move and be silly, but they also want to listen and take direction."
Lander Busse, a senior at Flathead High School, is one of the ATP's most loyal camp-goers.
"I've been going here for four years now and so I've kinda been here from the start," Busse said. "It's been really exciting to see how the program started with just a handful of kids like me and just see it get bigger and bigger every year."
Busse said that although he's always leaned more toward singing, he appreciates the lessons that focus on a mixture of skills and disciplines imperative for performers to master.
"I've done a lot of plays now and I'm trying to get better at dancing," said Busse. "It's just a matter of wanting to get better at everything and being the best performer you can be."
The program seeks to have the students and instructors work together on cross-disciplinary performances like singing, dancing, acting and even drumming, with the ultimate goal of performing two separate shows performed live over several nights at the end of the summer: one show performed by the students and one performed by the instructors.
Busse says that even though his priority remains working with the program to better himself as a singer and actor, attending the summer program is also helping him set the stage for his future.
"I'm starting my college search here soon so obviously I've come to trust a lot of the instructors here and see them as mentors and I've been constantly seeking advice from them and Luke and Betsi have been really good in helping me build my future brick by brick," he said.
When asked about what advice he would give younger performers who are new to the program about what they can expect to achieve with a summer in the program, Busse is quick to answer.
"Everything," he said. "You can achieve everything and anything here if you just put yourself out there and work with the teachers and your fellow students. You can make a career here from just one summer."
IN AN ideal world, there would be no shortage of organizations like the Alpine Theater Project that reach out to students of all backgrounds and provide them with the resources they need to immerse themselves in the culture of the performing arts, said Jackson.
"I think outreach is extremely important and that we can always do more to tear down that barrier between what students are passionate about and what their financial situation allows them to do," Jackson said. "I think it's vital for the kids and for the theater community in general. It makes students happy to be here."
Walrath says that although ATP runs off of several revenue streams, including ticket sales and advertising, ultimately most of the program's funding comes from donors.
"Over 60 percent of our revenue comes from contributed income," Walrath said. "So being the director of revenue means that if there's a kid who can't afford the program or if one of our productions is starting to run outside the budget, it's my job to go out and talk with our donors and figure out how we're going to pay for it."
One of the aspects of the program that Walrath is most excited about is their flexibility regarding student payment.
"Our policy is 'no student is turned away,'" Walrath said. "Whether for financial reasons or otherwise."
Alpine Theatre Project's Broadway Concert Series runs July 26-30 at the Whitefish Performing Arts Center, 127 Spokane Ave., Whitefish. The Broadway Veterans Concert runs July 26, 28 and 30 and the Broadway Hopefuls Concert runs July 27 and 29. The Broadway stars will perform in a series of concerts packed with Broadway showstoppers from shows like "Cats," "Wicked," "Hairspray," "Moulin Rouge," "Chicago," and more. For more information go to: https://atpwhitefish.org/.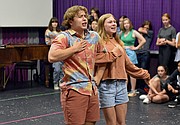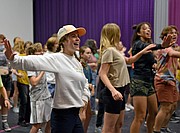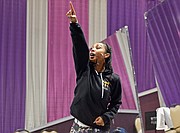 Recent Headlines
---