WTC brings gripping comedy 'Mauritius' to stage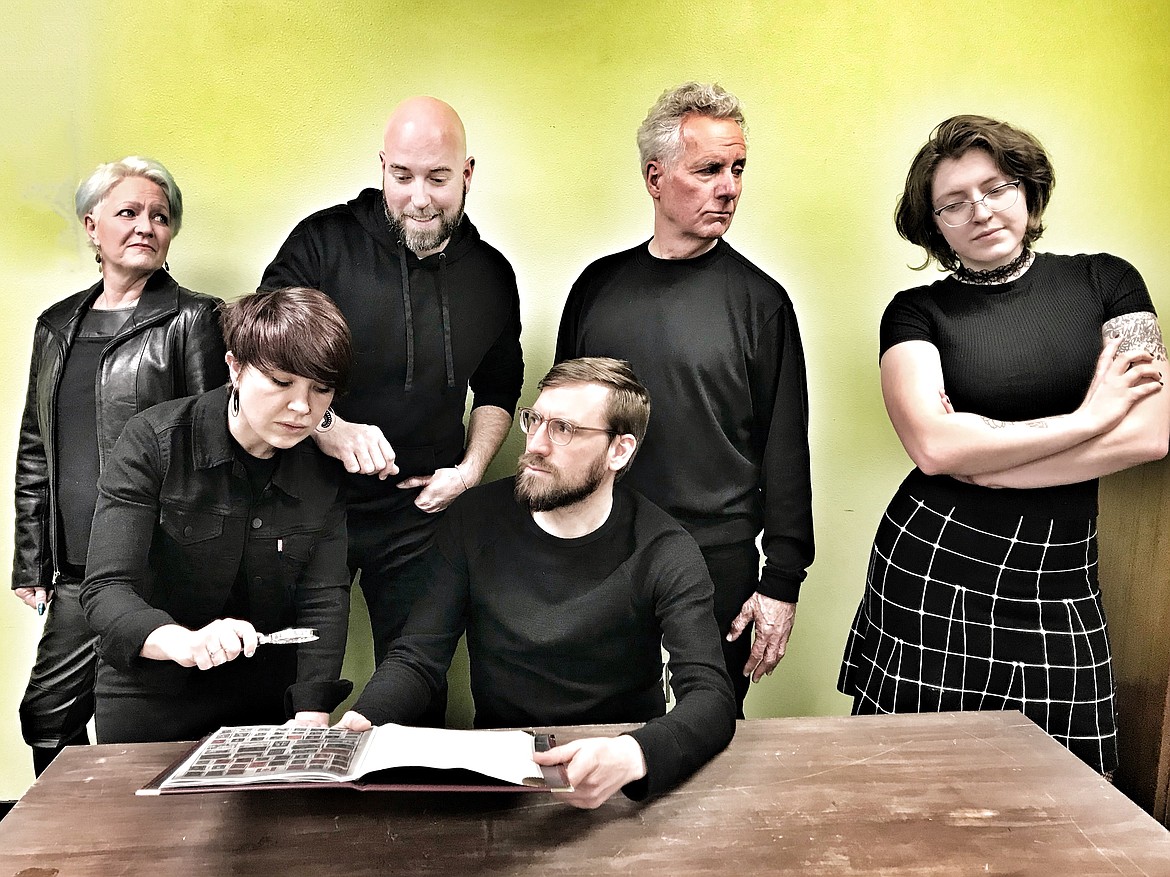 Kara Bauer, Sarah Bell, David Blair, Jake Carr, Tony Hernandez and Caitlyn Goeman in "Mauritius." (Photo courtesy of Whitefish Theatre Co.)
|
January 26, 2022 1:00 AM
The Whitefish Theatre Co. presents its third Black Curtain theatre production of the 2021-2022 season with "Mauritius" by Theresa Rebeck at the O'Shaughnessy Center in Whitefish. Part mystery and part dark comedy, "Mauritius" has performances on Jan. 29 and 30 at 7:30 p.m. Due to the recent spike in COVID-19 cases, masks are highly recommended and greatly appreciated when attending this show.
After their mother's death, Jackie and Mary, two estranged half-sisters, discover a book of rare stamps that may include the crown jewel for collectors. One sister tries to collect on the windfall, while the other resists for sentimental reasons. In this gripping tale, a seemingly simple sale becomes dangerous when three seedy, high-stakes collectors enter the sisters' world, willing to do anything to claim the rare find as their own. An "ingenious" fast-paced thriller, "Mauritius" is a riveting blend of sharp comedy and heart-pounding drama that simmers with constant surprise.
"This is an intriguing and slightly twisted play," says Director David Ackroyd. "The plot may revolve around the discovery of two rare and possibly extremely valuable old stamps and the more seamy side of the stamp collecting subculture, but what's really compelling to me is the interplay of five uniquely drawn characters and the lengths they go to cash in on this potential windfall."
Adds Ackroyd, "I love that their actions as they maneuver for possession of the stamps are so completely unpredictable, but also that the two apparently naive female characters turn out to be every bit as manipulative and devious, even as ruthless, as the guys who try to take advantage of them."
Cast members include Sarah Bell as Jackie, Caitlyn Goeman as Mary, Jake Carr as Phillip, David Blair as Dennis, Tony Hernandez as Sterling, and Kara Bauer reading stage directions. Viewers are reminded that as a Black Curtain production, there will be minimal staging, set and props and actors will be reading from a script.
Tickets are $12 for adults and $10 for students for all shows. Tickets can be purchased at the Box Office at 1 Central Avenue in Whitefish or by calling 862-5371. Box Office Hours are 11 a.m. to 3 p.m. monday through friday and one hour before a performance. Individual tickets can also be purchased online at www.whitefishtheatreco.org. This show is sponsored by Bet & Doug Wise.
---