WIHS student wins essay contest by opening up about mental health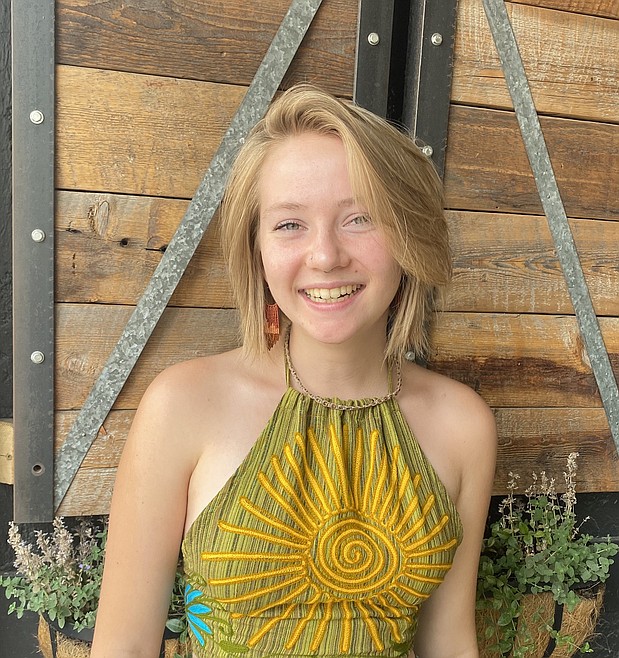 Whitefish Independent High School student Gracie Hickman. (Courtesy photo)
by
WHITNEY ENGLAND
Whitefish Pilot
|
January 5, 2022 1:00 AM
A couple years back Gracie Hickman was considering dropping out of high school because she was struggling to learn in a traditional school environment — fast forward to this fall and now she's seeing more academic success than ever before.
At the recent Jobs for Montana Graduates annual leadership conference, Hickman's personal account of her journey working through hardship and mental illness was chosen as a winner in the essay contest. She was in complete shock as her name was announced in front of the large crowd at the conference.
"It was nerve-wracking because I'm not a big person to go up in front of people," she expressed. "But it was a moment of self pride — I guess I've never been able to tell myself that I'm really proud of myself for doing something like that…
"I definitely felt that like warmth in my body once I heard my name," she added.
In her essay, Hickman holds little back as she tells both her strife and success she's endured throughout life, and her personal narrative storytelling is straight from her heart.
The now junior at Whitefish Independent High School says school has always been tough for her because her brain works differently than most. Throughout her younger years she was put into classes for disadvantaged students and says she thought of herself as stupid. The situation came to a boiling point in ninth grade at Whitefish High School when she would have panic attacks at the thought of attending first period and her thoughts plunged to a dangerous low.
"At that point I was pretty suicidal, and I was just telling my mom I couldn't do it anymore," Hickman recalled.
After one of those mornings spent crying in the school bathroom, Hickman and her family seeked help. She was diagnosed with mental illnesses including ADHD, depression and anxiety. After her diagnosis, life started to feel more doable as she was armed with resources that could help her understand the way her brain functions and how that affects daily life.
In addition to her diagnosis, transferring to the Whitefish Independent High School midway through last school year has been transformative. Hickman says the alternate educational approach at WIHS cultivates a learning environment in which she can succeed regardless of mental illness.
"I know now the traditional public school system was just not built for my brain," she wrote in her essay. "I didn't fit into the perfect cookie-cutter that they tried to squeeze me into. But then I was introduced to the Whitefish Independent High School, and its Jobs for Montana Graduates Program. Finally I was able to explore my interests and overcome my weaknesses."
Hickman says WIHS gives a lot of freedom to students to complete courses on their own schedule and setting goals monthly rather than by quarter helps her to stay on top of her work. Jobs for Montana Graduates is the required college and career readiness credit for WIHS students. The class is hands-on learning that exposes students to real-life situations and immerses them in community projects.
In the essay Hickman praises the JMG program for pushing out of her comfort zone and growing exponentially.
The many significant changes in her life over the last few years were truthfully told in her winning essay.
Throughout the essay that she says only took her a couple hours to get down as it flowed straight from her own personal experience, Hickman recounts both hardships she's endured and ways that her alternative schooling has steered her toward recent success in and out of the classroom.
Hickman is open about her struggle with mental illness and wants to keep the conversation going in order to help others and spread awareness. By writing her essay she showed she wasn't afraid to speak out about the importance of mental health. She also is on the Whitefish High School student-led mental health steering committee that recently formed to help combat teen suicide and those struggling with mental illness.
"I think (mental health) is a big thing that should be talked about," she said. "It shouldn't be hidden, and it shouldn't be embarrassing."
Hickman branched out this year by serving as the WIHS and Center for Sustainability and Entrepreneurship, CSE, representative on the high school student council. She also volunteers as a ski instructor for Big Mountain Ski Club, and loves the outdoors especially including hiking, rock climbing and fly fishing. Hickman has a passion for helping the environment and is an artist — specifically line drawings, welding and wood burning. Art, even more so than writing, is a way for her to express feelings and work through triggering emotions.
Hickman isn't sure if she wants to attend college right away after high school while she considers a career path, and plans to spend time traveling after she graduates.
That's all to be determined in the future, but for now Hickman continues to thrive in the alternate learning environment at WIHS. After making personal strides like writing an award-winning essay — something she never would have imagined possible — she reflects on that day freshman year when she wasn't sure if she'd make it alive past 16 years old. She says writing about that time was the highlight of her essay because of the stark contrast from her life then to now.
That day may have been one of the worst in her life, but instead of remaining broken down she rose above; now she has a life of adventure ahead because of the courage she showed to take those first small steps toward better understanding herself.
"Thinking back to that day and now, I never would have expected to be where I am or to be who I am today," she said, noting she used to be ultra shy and wouldn't have dreamed of putting herself out there. "It's kind of crazy to think about that, and be proud of myself for once."
Recent Headlines
---