Bulldogs struggle with thin roster in two losses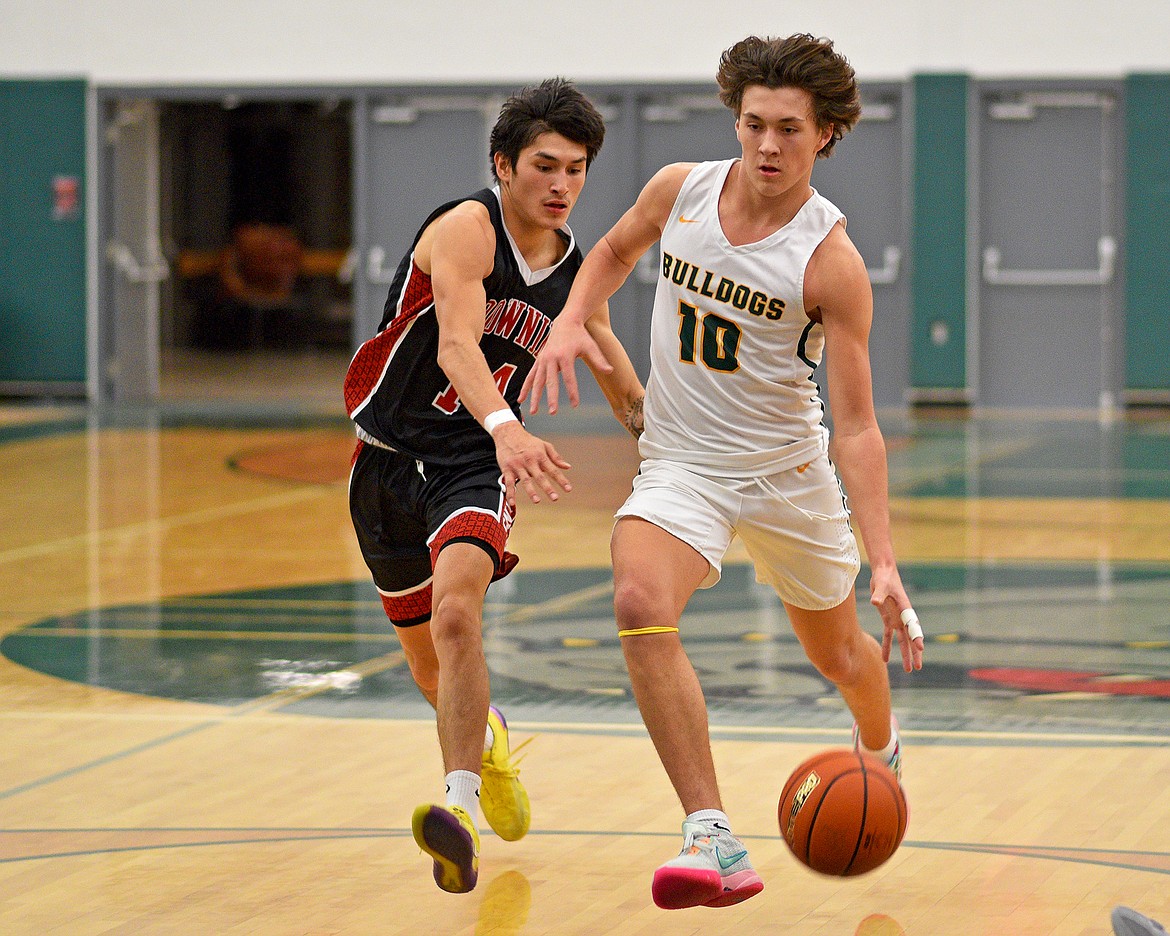 Whitefish junior Mason Kelch dribbles around a Browning player in a game on Saturday in Whitefish. (Whitney England/Whitefish Pilot)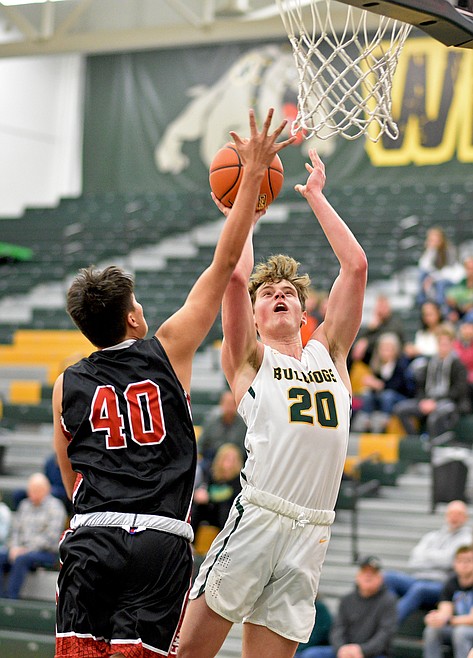 Whitefish's Jack Sears shoots over a Browning player in a game in Whitefish on Saturday. (Whitney England/Whitefish Pilot)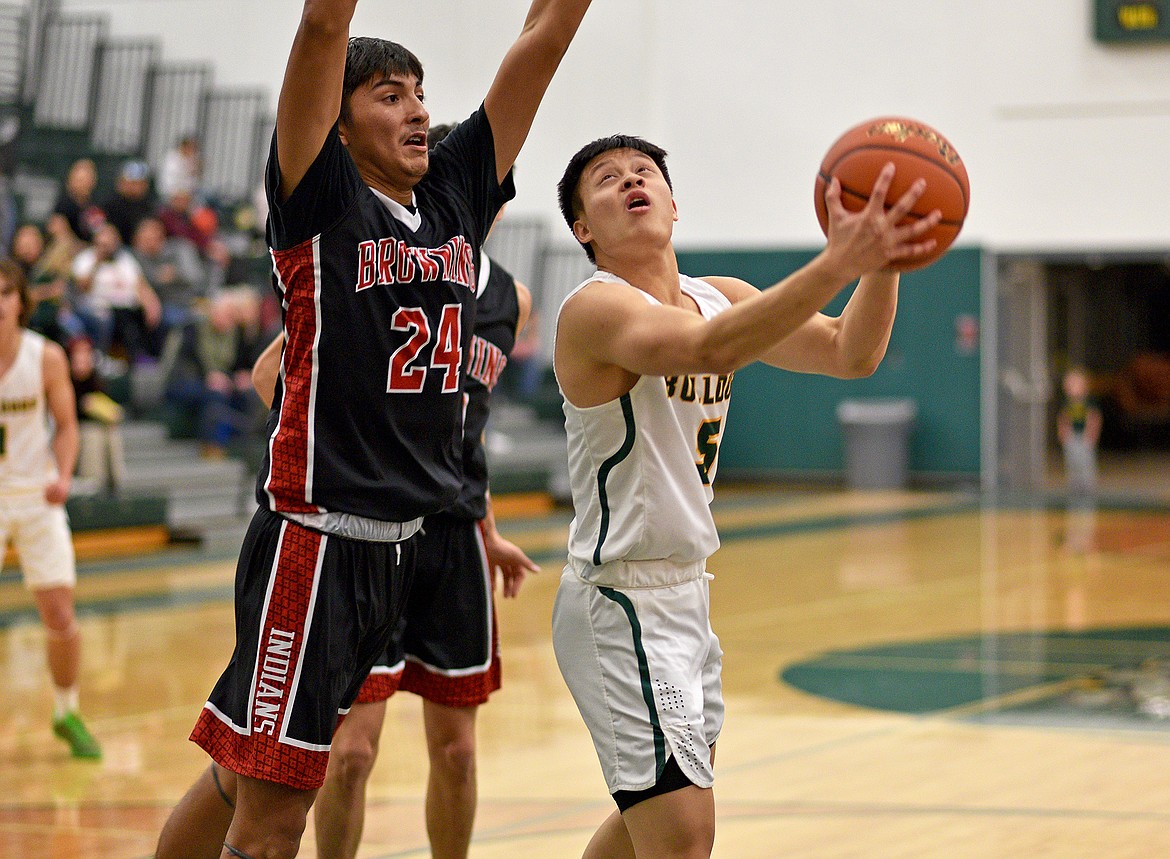 Bulldog Daniel To tries a reverse layup in a game against Browning on Saturday in Whitefish. (Whitney England/Whitefish Pilot)
Previous
Next
by
WHITNEY ENGLAND
Whitefish Pilot
|
December 21, 2022 1:00 AM
The talent and athleticism are there, but the lack of depth on the bench is hurting the Bulldogs to start the season.
Whitefish fell behind in two games last week, first on Friday night in Corvallis, 77-56, and then Saturday against Browning, 75-54. In both games, the score remained close at halftime, but then the Bulldogs couldn't get their offense going again in the third quarter.
"Our bench is a little thin as far as subs go, that plays a part too especially in games like that," said Whitefish head coach Alex Gonzalez.
Against Corvallis, Whitefish came out a little slow to start, but by halftime, Corvallis had a narrow 37-33 lead heading into the locker room. The third quarter was the issue for the Bulldogs where the Blue Devils put up a 28-point quarter to Whitefish's 8 points. The Bulldogs tried to make up the difference in the fourth, but couldn't.
"I felt like we were evenly matched… but we came out kind of flat and didn't produce offensively like we should have," Gonzalez said.
In the game, Bulldog Dane Hunt contributed 14 points, Mason Kelch had 15 points and Mason Genovese added 12.
The Browning game the next day was a similar story. Whitefish jumped out to an early lead and scored 21 points in the first quarter. The Indians came roaring back to take the lead before the end of the first half. In the third quarter, Browning outscored Whitefish 23-9 to pull away. Whitefish hung in through the fourth quarter, and coach was proud of them for sticking with it despite the loss.
"They hung in there, but I believe that not having that depth in the bench we can't go that deep and they kind of wore us down… we handled the pressure, the pressure was not the problem, I think it was just our gas tanks," Gonzalez recalled.
Kelch hit four 3-pointers and scored a game-high 25 points for Whitefish. Jack Sears added 11 for the Bulldogs.
"Mason Kelch did awesome. Mason probably played point guard, power forward, shooting guard — and he never complains," Gonzalez said. "He's just great to watch and he welcomes the pressure."
"Jack is pretty much our only big guy, he was doing well in both games," the coach added. "It's not easy banging back-to-back games and being our only big."
For Browning, Tommy Running Rabit poured in 23 points to lead four players in double figures. Gonzalez said Browning is an aggressive team with a deep bench. They put the pressure on the Bulldogs with a full-court press and challenged them in the speed of play. Despite losing by double figures, Gonzalez acknowledged that it's still early in the season and they have some work to do figuring out which players to include in the rotation that will ease the starters' amount of minutes.
"I'm proud of them because their effort level was great and they tried and they never gave up against Browning, and I know they were tired, I know they worked hard," Gonzalez said.
Whitefish was set to play Hamilton on Tuesday after press time. Then the Bulldogs travel to Eureka for the final game before winter break. Whitefish plays the Lions at 6:30 p.m. on Thursday.
Browning 17 17 23 18 - 75
Whitefish 21 9 9 15 - 54
BROWNING — Tristan Crawford 4, Robert Reagan 16, Tommy Running Rabbit 23, Brayds Vielle 11, Maurice Red Horn III 11, Johnny Edwards 5, Jamerson Lazy Boy 4, Delbert Blackman 1.
WHITEFISH — Jack Sears 11, Ryder Barinowski 3, Mason Kelch 25, Mason Genovese 6, Josh Downie 7, Daniel To 2.
Corvallis 77, Whitefish 56
Whitefish 15 18 8 15 —56
Corvallis 19 18 28 12 —77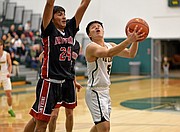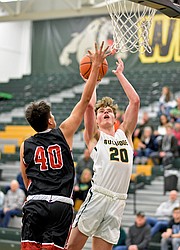 Recent Headlines
---