In a Nutshell: Food Ed feeds the body — and soul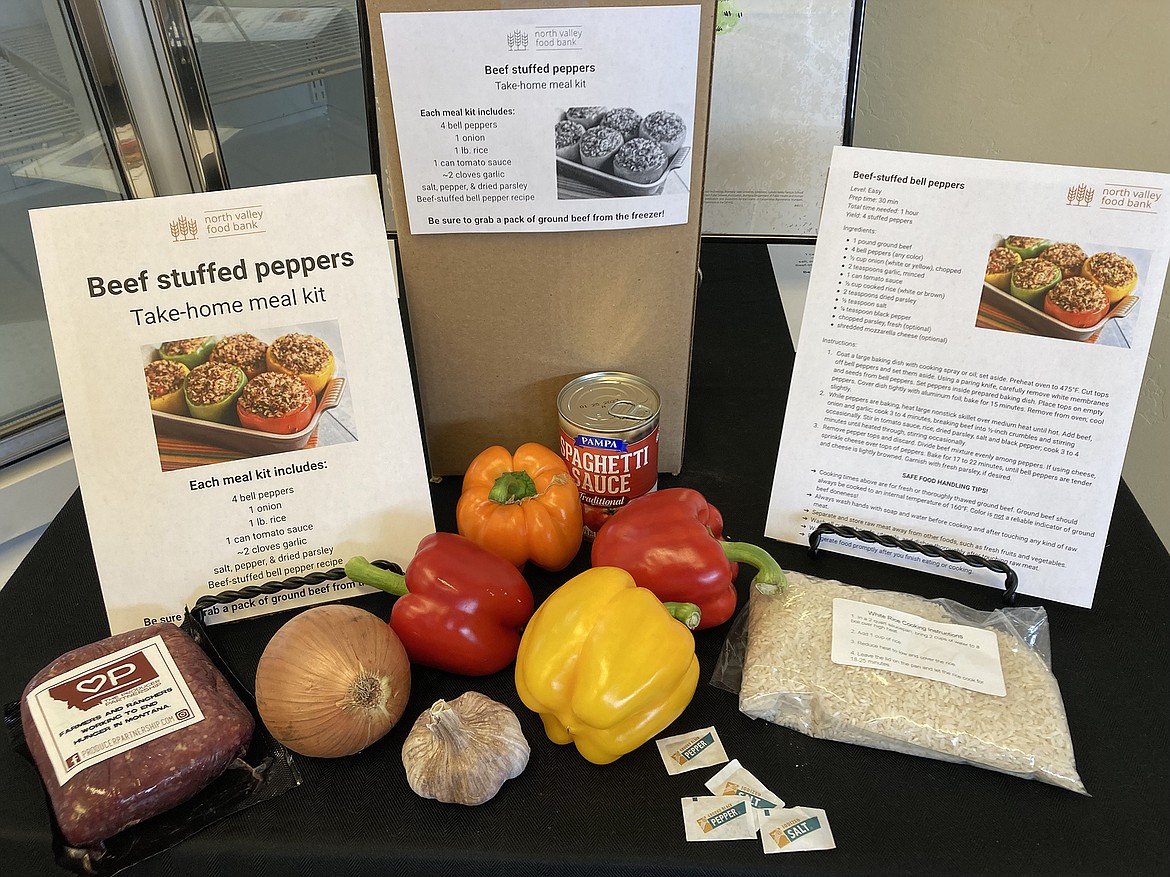 A stuffed bell pepper meal kit by the North Valley Food Bank. (Provided photo)
by
Kristen Schepker, North Valley Food Bank
|
August 3, 2022 1:00 AM
Did you know that radish tops are edible? Have you ever tasted garlic scape pesto? Or mixed fresh mint leaves into cookie dough?
These are just a few examples of the topics we're exploring through North Valley Food Bank's recently launched Food Education program. A complement to our grocery distribution services, the Food Ed program aims to introduce customers to unfamiliar foods. It also highlights creative strategies for utilizing familiar everyday products in new ways.
Both approaches help reduce food waste, a major contributor to climate change. Teaching our customers that you can eat the greens that grow on radishes, for instance, decreases the likelihood that they'll wind up in a landfill rather than on someone's dinner plate.
Learning about food is fun, too! With our Food Ed activities, we hope to spark excitement, curiosity and joy around food. We believe inspiring culinary enthusiasm will encourage customers to spend time in the kitchen, either on their own or with their families.
The primary venue for programming is our community grocery store. Events vary weekly based on product availability, seasonality and sourcing. So far, we've handed out samples of house-made snacks and meals prepared on-site in our commercial kitchen, including roasted chickpeas, wonton wrap taco cups, rhubarb oat muffins, green juice and meatballs. We've packaged take-home meal kits complete with recipes and all ingredients needed to make dishes like stuffed bell peppers, cilantro rice bowls and homemade ranch dressing.
We also offer educational activities for children. Last month, we facilitated an herb seed planting event where youth learned how to plant and care for parsley, chive, cilantro and dill seedlings. Another day, we set up a green smoothie bar and invited all children who came to the grocery store to make custom smoothies while their families shopped. We did have one rule – everyone's smoothie had to include a handful of fresh greens – but other than that, kids could design the drinks of their choice. Some added bananas and berries, others picked yogurt or peanut butter or avocado, and everyone left with a smiling, happy face.
Also in July, we hosted our first-ever community dinner. Five families joined us to prepare personal pizzas that we baked on-site and ate together around a large table. Since then, several customers have asked when the next dinner will be. (Spoiler alert: it's later this month!)
Whether you're a child or an adult, eating food is a shared human experience that connects us all. What we eat and how we access food can vary dramatically from household to household – a stark reality that only deepens during periods like the twin public health and economic crises we're living through today. Food banks can feel like a last resort for our customers, most of whom would rather go to a supermarket and select the groceries their families prefer.
While we strive to treat all of our customers with the utmost kindness, respect and dignity, there's an inherent separation between those of us who are here to distribute food and those who come to receive it. Our Food Ed program is slowly beginning to chip away at that giver-receiver distinction. When I'm chatting with customers at the sample table about our favorite ways to use fresh ginger, or what type of plums make the best plum sauce, it's easy to forget that we're standing in the middle of a food pantry. In those moments, we're just a couple of neighbors sharing our passion for the vast and fascinating world of food.
I am seeking volunteers to help me expand the Food Ed program even further. If you too love food and cooking, please join us. Contact Kristen at kristen@northvalleyfoodbank.org for more information.
Recent Headlines
---