Major Whitefish events, festivals adopt zero waste practices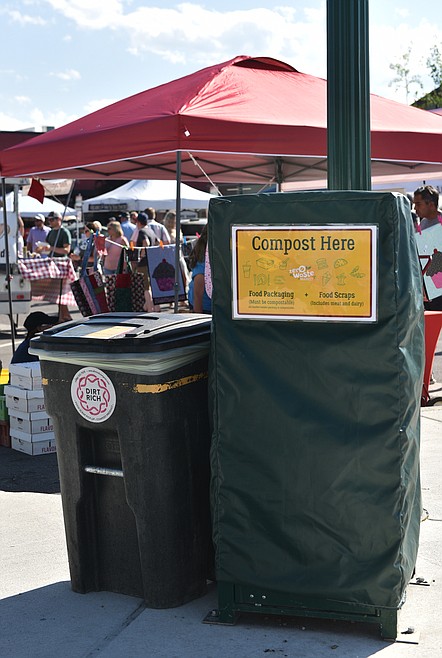 Clearly marked composting bins replace trash cans at the Whitefish Farmers Market, a Zero Waste market. (Julie Engler/Whitefish Pilot)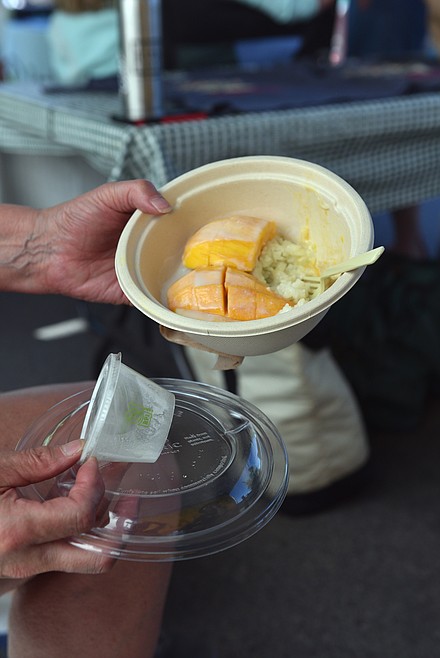 The containers can look sophisticated and even "plastic-like" but all the dishes and utensils purchased at Whitefish Farmers' Market are compostable, along with any food scraps. (Julie Engler/Whitefish Pilot)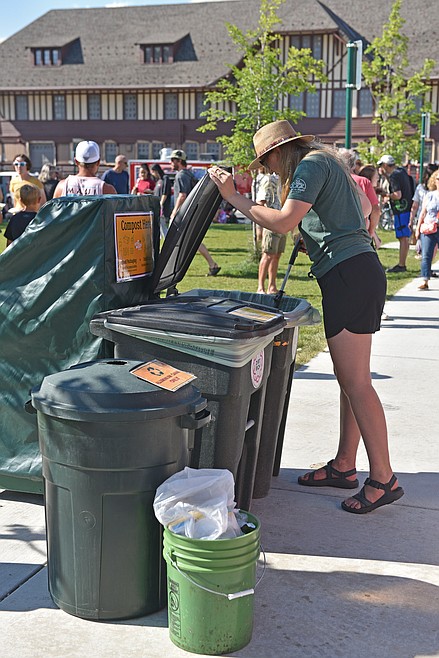 Andrea Getts with Land to Hand Montana frequently checks the bins for non-compostable materials during the Whitefish Farmers Market. (Julie Engler/Whitefish Pilot)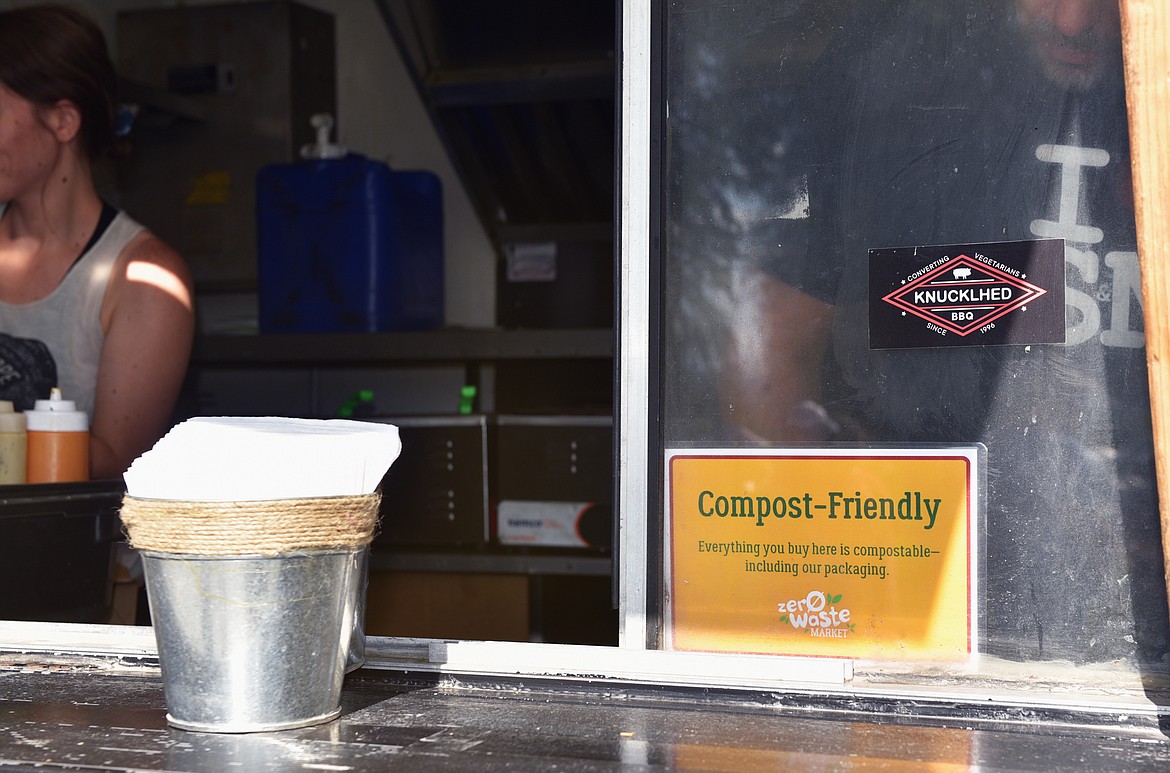 Signage at every food truck lets customers know that all the packaging at the market, a Zero Waste Event, is compostable, including the dishes. (Julie Engler/Whitefish Pilot)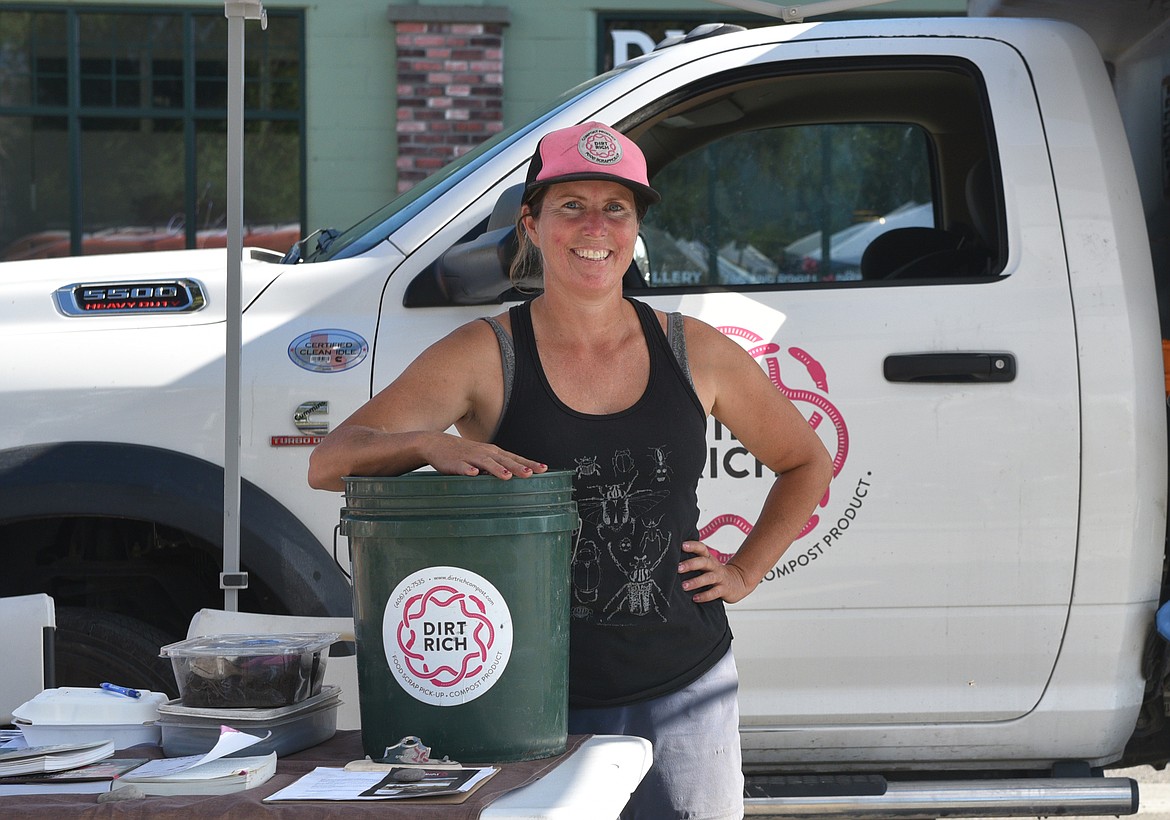 Krista Fischlowitz with Dirt Rich Compost works at the Whitefish Farmers' Market, a Zero Waste Event, downtown on a recent Tuesday evening, collecting compostable materials and answering questions about the composting process and products. (Julie Engler/Whitefish Pilot)
Previous
Next
by
JULIE ENGLER
Whitefish Pilot
|
August 3, 2022 1:00 AM
A visitor to the zero waste Whitefish Farmers' Market will notice that everything they buy from a food vendor is compostable — all the packaging, all the food. When finished with a meal or a treat, only two things remain, compost or aluminum cans.
The market provides containers for disposal of each of these items but does not provide a place for trash brought in from elsewhere. The concept is that zero waste comes from the market itself and if market goers bring in trash, they need to pack it out with them. There are trash cans available less than a block away as people head back toward the restaurants and shops of downtown Whitefish.
This concept is being widely adopted by major annual events held in Whitefish and the Farmers' Market organizers are lending their equipment and expertise to help encourage more event organizers to host zero waste events.
Three summers ago, the directors of the Whitefish Farmers' Market began working with Land to Hand Montana to make it a zero waste event. Now their success has spurred other destination events to become zero waste as well, including the upcoming August favorites — Huckleberry Days Art Fair and the S.N.O.W. Bus Brewfest.
Just last month, the Whitefish Arts Festival also adopted the zero waste concepts and borrowed equipment from the Farmers' Market. At least seven major festivals, fairs and races in Whitefish and the valley will hold zero waste events this year and likely going forward.
WHEN THE market organizers first considered becoming a zero waste event, they realized it was a three-part process and each part was crucial.
"You've gotta have all the vendors using only compostable material and you've got to train the consumer. And then you have to have somewhere for the compost to go and that piece is Alissa LaChance's Dirt Rich, an industrial composting operation," market director Rhonda Fitzgerald explained. "So we got all three pieces and made that all happen at once."
"Every vendor has a sign by their window that says, 'We compost. Everything you get here is compostable,'" Fitzgerald added. "We're educating them when they buy (their food), we're making it impossible for them to throw it away in the trash and (we're providing) lots of signs."
At first, the vendors were unsure of the change, but the market organizers insisted that if they wanted to be at the Whitefish Farmers' Market they would only use compostable materials. Fitzgerald said most vendors discovered that it wasn't any harder to use the new materials and they actually felt pretty good about it.
"We enjoy doing zero waste products here at this market. This is our community. We want to keep it as pristine and beautiful as we can," said Chef Star Ironside with the S&M Tacos food truck. "And the last thing any of us want to see is one of our products floating down the river when we're on our day off."
Food waste doesn't break down in the landfill but at the Dirt Rich facility, it is made into three different kinds of compost. Krista Fischlowitz of Dirt Rich Compost said composting keeps waste from going to the landfill, cuts down on methane emissions and helps keep streams and lakes clean.
"The waste comes into our yard and it exits our yard as a different product," said Fischlowitz. "People are able to use it in their gardens and farms and bring it back into agriculture. So it completes the cycle."
Fitzgerald and the Farmers' Market team realized they could not rustle up the manpower required to pull off a zero waste event. Gretchen Boyer, Executive Director of Land to Hand Montana, formerly Farm Hands, was interested in the idea and decided to collaborate with the market and provide the needed labor force.
Land to Hand sets up the market by gathering the equipment, covering the trash cans with green vinyl covers and placing the lined compost bins and the aluminum can bins nearby. At the end of the market, they collect the equipment and return all the materials to a storage facility.
During the market, employees visit each bin frequently and cart more than 10 full bags of compost to the Dirt Rich truck. A busy market produces over 1,000 gallons of compostables.
Andrea Getts, Outreach Coordinator with Land to Hand, helps make sure the recycling bins are not being contaminated with non-compostable materials. Over half the bins at a recent market contained a piece of plastic trash.
"We look in the recycling bins and the compost bins because people still throw trash away," Getts sighed. "Last week, I found three apples in the aluminum recycling bin — the compost bin was three inches away."
"People just don't understand composting. I feel like the signs are pretty explicit but people still stand there and look at the thing in their hand and they look at the sign and then they walk away; they don't even put it in," Getts said. "And so one of the things we do when we're walking around is verbally tell people where their waste should go."
After two years of success running a zero waste program, the market organizers wanted to get other events to do it, too. With LaChance's cooperation, they pitched the idea to other destination events with glowing results.
With equipment loaned from the market and vendors trained to use compostable materials, the other event organizers were also keen to host zero waste events. The Whitefish Trail Hootenanny, The Last Best Ride, Huckleberry Days Arts Festival and the S.N.O.W. Bus Brewfest have all committed to going zero waste, among others. The Whitefish Community Foundation has also agreed to make its next big gala a zero waste affair.
The Huckleberry Days Arts Festival is Aug. 12-14 from 10 a.m. to 6 p.m. Friday and Saturday, and 10 a.m. to 4 p.m. on Sunday at Depot Park. The S.N.O.W Bus Brewfest will be the following weekend on Aug. 20 from 3-7 p.m. at Depot Park in Whitefish.
Recent Headlines
---