Bulldog golf team continues solid season
|
September 15, 2021 1:00 AM
The Bulldog golf team continues to mark solid performances on the course this season.
On Monday the Bulldogs headed to Polson with the boys tying for first with the home team at the Pirate Invite. Whitefish and Polson both finished with a team score of 302.
Whitefish's Billy Smith and Marcus Kilman tied with Pirate Christian Lund for second in the individual scores with 74, all behind Libby's Reece Malyevac who took medalist honors with a score of 71.
The Lady Bulldogs team tied with Hamilton for fourth place, scoring 413 as a team. Macy Whisenand led the Whitefish girls with a score of 100 to finish 11th overall. Whitefish's Stella Jaffe was close behind her with a 102 to tie for 13th place.
The Bulldogs traveled to Libby on Friday with the boys team earning first at the tourney with a score of 299. The girl's team finished with a score of 442 to earn third place.
Kilman led the boy's team for the day at Cabinet View Golf Club in Libby with a score of 71.
"Marcus was in control from the first tee and leaned on his strong wedge game and putting to anchor the Bulldogs for another sub-300 score of 299," Coach Tait Rocksund said.
Bulldogs' Nix shot a 74 and Smith earned a 75.
"Johnny Nix and Billy Smith both posted competitive rounds for us and finished second and third respectively," Rocksund noted.
Polson shot a 332 for second place. Libby and Flathead both shot 366 to tie for third.
On the girl's side, Whisenand posted a personal best score of 99 to lead the girl's team, Rocksund noted.
The Polson girls shot a 390 to earn first place and Frenchtown carded 411 for second place.
The Bulldogs marked some good scores at the Whitefish Triangular on Sept. 7 at Whitefish Lake Golf Course.
The boy's team finished in second place overall at the triangular with a score of 309, just behind Glacier's 304, but ahead of Flathead's 351.
Whitefish's Marcus Kilman (75), Billy Smith (76) and Riley Brown (78) finished in third, fourth and fifth place.
On the girl's side, Whitefish was led by Anyah Cripe who carded a 95 earning fourth place at the event.
On Wednesday and Thursday, the teams are set to compete in Kalispell before heading to Hamilton on Saturday.
Pirate Invite
BOYS
Team scores — Polson 302, Whitefish 302, Libby 332, Hamilton 337, Dillon 359, Flathead JV 359, Glacier JV 360, Corvallis 366, Frenchtown 370, East Helena 376, Polson JV 380, Ronan 386, CFalls 400, Browning 448.
Whitefish (302) — Billy Smith 74, Marcus Kilman 74, Johnny Nix 75, Bjorn Olson 79, Riley Brown 80
GIRLS
Team scores — Frenchtown 386, Polson 391, Corvallis 406, Whitefish 413, Hamilton 413, Browning 461, Flathead JV 565
Whitefish (413) — Macy Whisenand 100, Stella Jaffe 102, Leia Brennan 105, Tallory Workman 106
Cabinet View Invitational
BOYS
Team scores — Whitefish 299, Polson 332, Libby 366, Flathead 366
Whitefish (299) — Billy Smith 75, Johnny Nix 74, Marcus Kilman 71, Riley Brown 82, Matthew Peschel 79
GIRLS
Team scores — Polson 390, Frenchtown 411, Whitefish 442
Whitefish (442) — Tallory Workman 119, Macy Whisenand 99, Stella Uaffee 110, Leia Brennan 114.
Whitefish Triangular
BOYS
Team scores — Glacier 304, Whitefish 309, Flathead 351.
Whitefish (309) — Billy Smith 76, Johnny Nix 80, Marcus Kilman 75, Riley Brown 78, Bjorn Olson 90.
GIRLS
Team scores — Glacier 379, Flathead 410, Whitefish 428.
Whitefish (428) — Anyah Cripe 95, Tallory Workman 116, Macy Whisenand 108, Stellar Jaffe 109, Leia Brennan 126.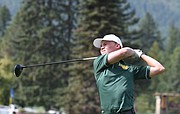 ---