Glacier plan would phase out air tours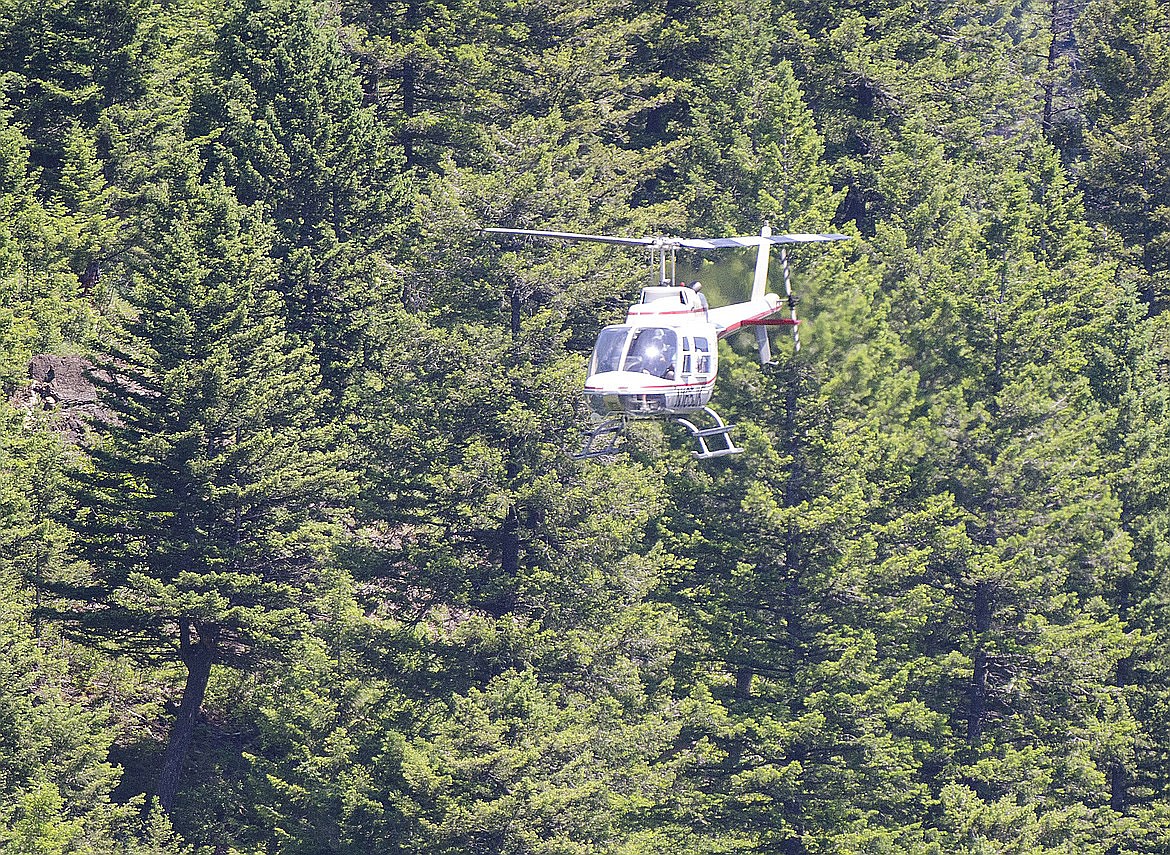 A helicopter flies low near West Glacier in this file photo.
by
CHRIS PETERSON
Hungry Horse News
|
September 13, 2021 11:00 AM
Glacier National Park last week released a draft air tour management plan that would curb commercial "sight seeing" tours over the park to 144 annually and, eventually phase out tours altogether.
A federal appeals court in May 2020 ruled that Glacier, along with 22 other national parks had to come up with an air tour management plan with the federal Aviation Administration within two years. The ruling came after a lawsuit was filed in 2017 by the Public Employees for Environmental Responsibility (PEER).
Glacier's General Management Plan, which was finalized in 1999, called for no commercial air tour flights over the park, but it was never implemented.
At one point, a commercial operator, Minuteman Aviation, had helicopters making daily flights over the park sometimes so frequently hey were coming and going nearly every half hour.
The company has since left West Glacier.
The new plan allows for up to three flights per day from Homestead Helicopters, Minuteman (which has since moved to Missoula) and Red Eagle aviation.
However, the total cannot exceed 144 flights a year.
The air tours are based on a three-year average from 2017-2019 for the current operators.
"Requests for additional allocations by an existing operator that would result in an overall increase of annual commercial air tours in the park will not be considered," the plan states.
Homestead and Minuteman currently have few flights allocated over Glacier — just three for Homestead and five for Minuteman annually.
Red Eagle, which also uses much quieter fixed-wing aircraft has 136 air tours a year allocated.
If the businesses sell, the air tour permits would not be transferrable under the plan.
"In the event that any operator ceases operations at the park for any reason or transfers its interest in the business entity … to any other entity of individual, reference to such operator will automatically be removed from the (plan) and the total number of annual commercial air tours authorized by this (plan) will be reduced by the number of allocations held held by such operator," the plan states.
In other words, if Red Eagle goes out of business or changes ownership, 136 flights would be struck from the plan.
The plan also sets up approved flight routes over the Park, which primarily make a loop from the Middle Fork over the Logan Pass area and back down the Going-to-the-Sun Road corridor.
Most of the park is off-limits to tours under the plan.
The plan also controls flights within a half-mile of the park boundary and does not allow flights to hover, or go lower than 2,600 feet above ground level.
Public feedback can be provided through the NPS Planning, Environment and Public Comment website from now through Oct. 3.
The Park Service and Federal Aviation Administration will consider comments to help inform the final plan for Glacier National Park. The project website is available at: https://parkplanning.nps.gov/GlacierATMP
A public meeting for the plan is scheduled Tuesday, Sept. 21 at 4:30-6 p.m. Mountain Time and will be livestreamed via YouTube, Facebook, and Twitter.
Links to meeting notifications and recordings will be posted to the project website.
---