Whitefish Schools keep mask policy after reviewing state rule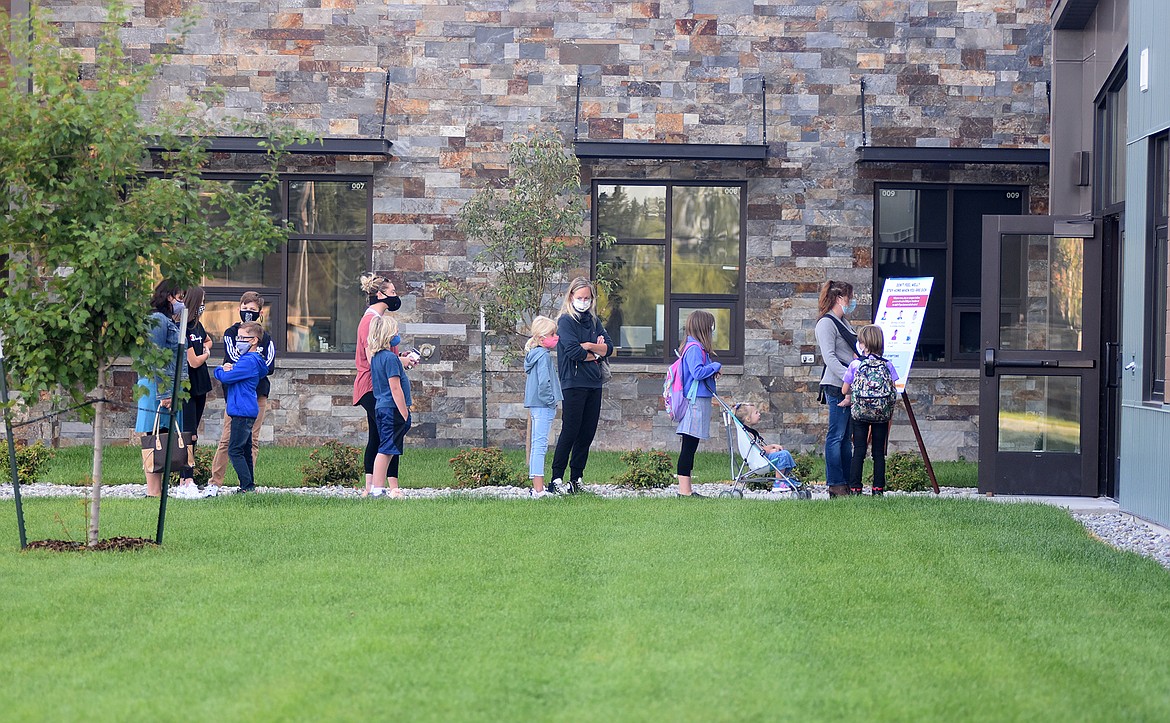 Students and parents line up outside Muldown Elementary School during the 2020-21 school year. (Pilot file)
by
WHITNEY ENGLAND
Whitefish Pilot
|
September 1, 2021 1:00 PM
Whitefish School District's mask requirement for younger students will stay in effect as the district says it already meets an emergency rule issued by the state which asks districts to consider parents' concerns related to face coverings.
Gov. Greg Gianforte on Tuesday announced an emergency rule from the Department of Public Health and Human Services that aims to promote parental rights regarding masking children in schools. The rule states that in order to provide for both the well-being and educational needs of students, schools should consider, and be able to demonstrate consideration of, parental concerns when adopting a mask mandate. It also says schools should provide students with an opportunity to opt-out of health-related mandates for several reasons, some of which include physical health, mental and emotional health, and religious beliefs.
"Montana students deserve to be back in their classroom in as normal and safe an environment as possible," Gianforte said in a release. "Montana parents deserve to know their voices are heard in schools when health-related mandates for their children are being considered."
Following the announcement, Whitefish Superintendent Dave Means said in a letter sent to families Tuesday evening, that the district reviewed the emergency rule and its mask requirement for students in kindergarten through sixth grade is in line with the new regulation.
"The district reads the rule as permissive as it specifically provides that school districts 'should consider' parental concerns and 'should provide' an opt-out system for certain reasons," Means stated in the letter. "The district has done both. The district will continue to follow its current face covering guidelines to ensure the safety and welfare of students and staff."
The current face covering guidelines for Whitefish includes wearing masks for all students, staff and visitors in grades kindergarten through sixth while indoors on school grounds, and recommending masks for all other grades. This policy was unanimously approved by the Whitefish School Board in a special meeting on Aug. 12 after four hours of public comment as well as discussion between the trustees and school administration.
Means went on to say in the letter that the district provided ample time for public comment on the issue and the district will provide an opt-out for the mask requirement — that option would mean choosing remote learning instead of attending classes on campus.
"The School District has received hours of public comment from parents and others in the community on this issue, demonstrating its clear desire to take the wishes of parents into account," Means said. "Furthermore, the School District will continue to provide parents and students the ability to opt-out of wearing a mask. However, should they opt out, they are opting into learning off-campus with remote learning."
To start the 2021-22 school year the remote learning option was open to those with COVID-19 related concerns or other health related issues. Whitefish students began the new school year on Aug. 25.
Means added that the district will consider medical or religious accommodations for students as necessary.
Currently the Centers for Disease Control and Prevention and the American Academy of Pediatrics, including the Montana chapter, recommends universal indoor masking for all students, staff, teachers and visitors in K-12 schools.
"There are many children and others who cannot be vaccinated," Dr. Sara Bode, chairperson of the American Academy of Pediatrics Council on School Health, said in late July. "This is why it's important to use every tool in our toolkit to safeguard children from COVID-19. Universal masking is one of those tools, and has been proven effective in protecting people against other respiratory diseases, as well."
Gianforte, in the press release, questioned the research on the effectiveness of masks preventing the spread of disease and stated that mask mandates could negatively impact the well-being of children.
"Simply put, our children shouldn't be subject to arbitrary mask mandates when schools can't follow the science because there's a lack of meaningful, reliable research," Gianforte said. "On the other hand, some scientific studies we've carefully reviewed undoubtedly reveal the adverse impacts of masking on a child's health, well-being and development."
The Whitefish School Board plans to revisit the district's mask policy during its October meeting.
Recent Headlines
---