Whitefish girls rout Polson, Bigfork to close regular season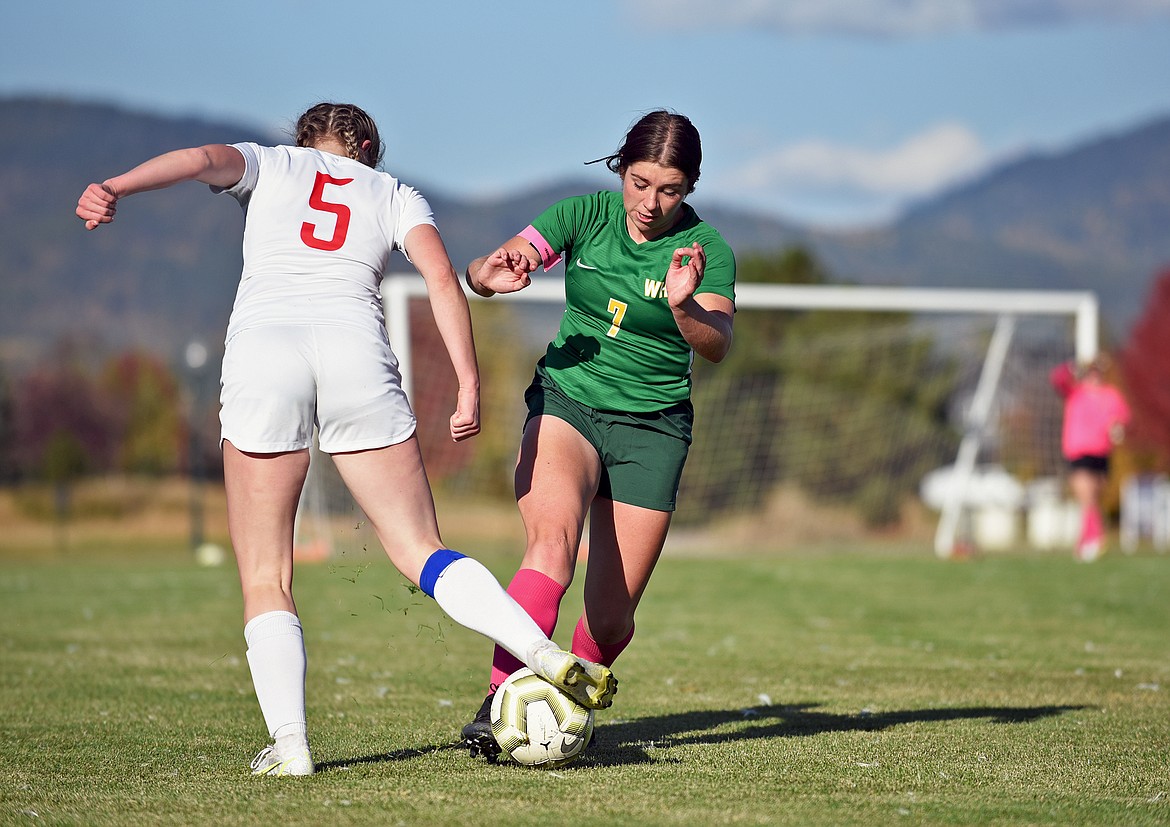 Whitefish senior Lucy Lowry takes the ball away from Bigfork's Lily Tanko during a game in Whitefish on Thursday. (Whitney England/Whitefish Pilot)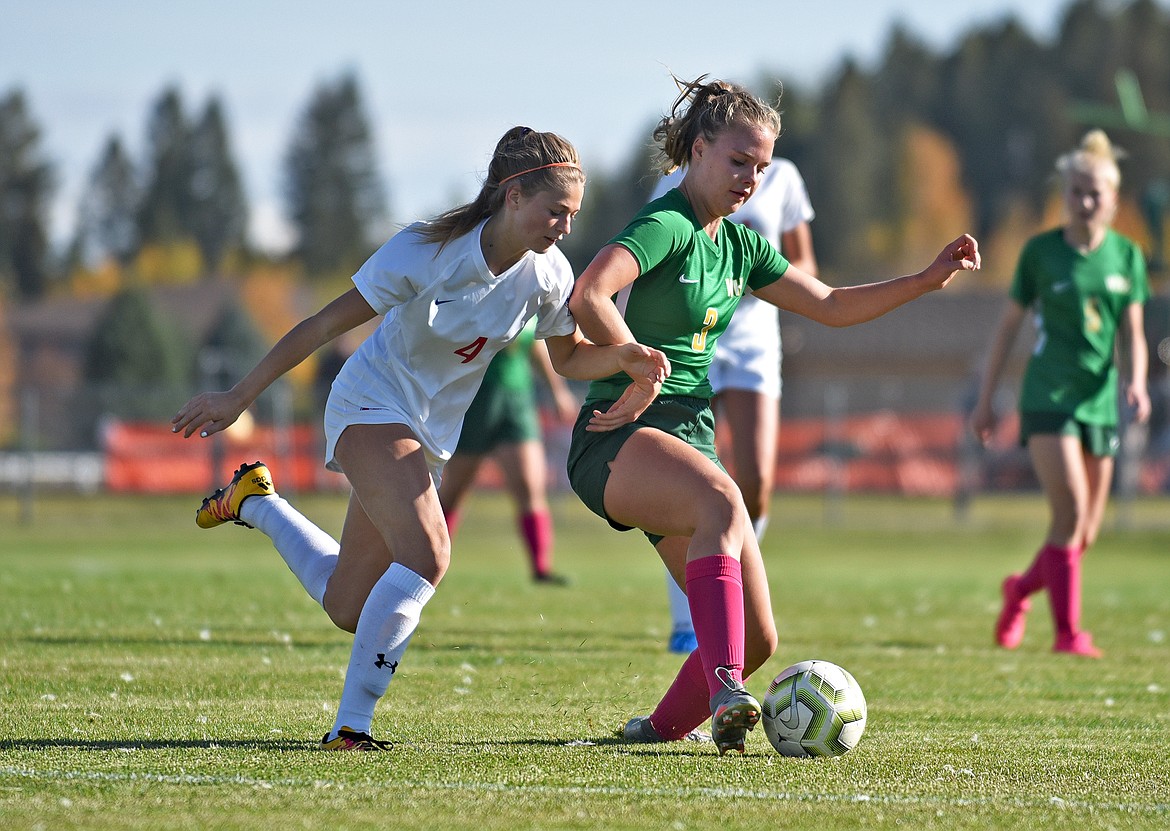 Whitefish midfielder Olivia Genovese works to keep possession of the ball during a game against Bigfork in Whitefish on Thursday. (Whitney England/Whitefish Pilot)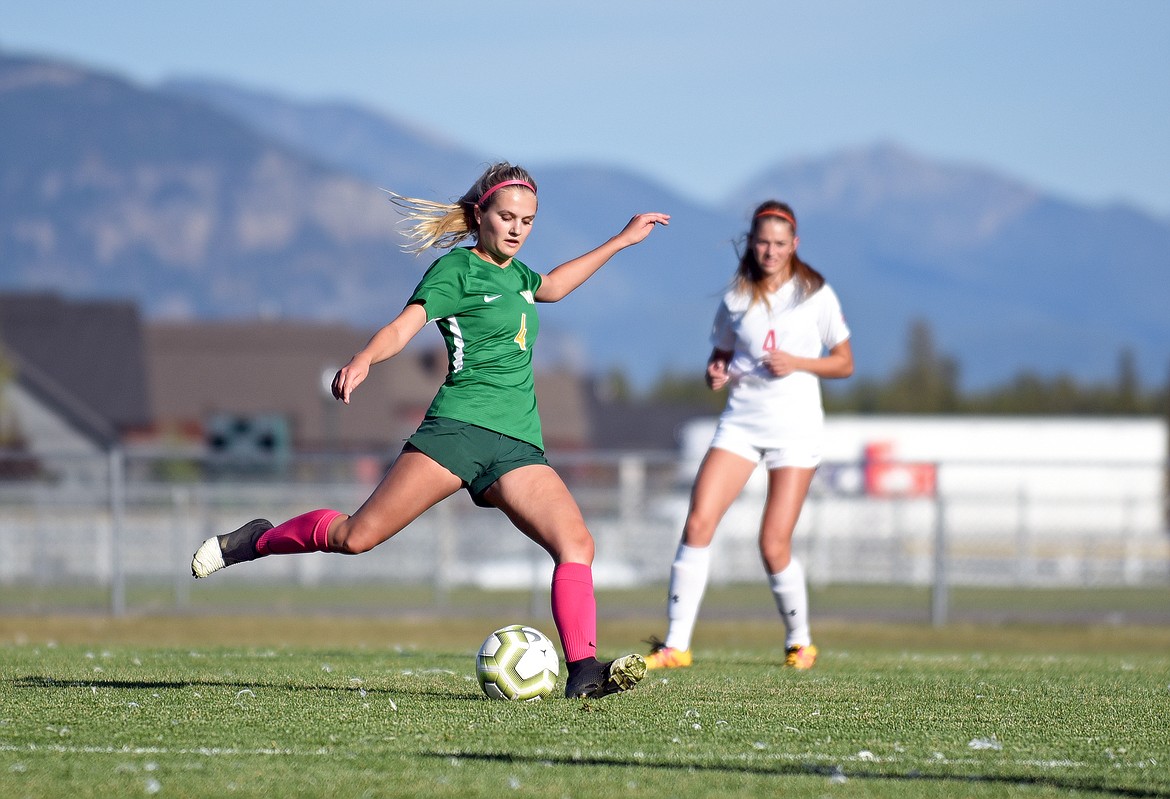 Bulldog Sophie Olson winds up to advance the ball up the field during a game in Whitefish on Thursday. (Whitney England/Whitefish Pilot)
Previous
Next
by
WHITNEY ENGLAND
Whitefish Pilot
|
October 13, 2021 1:00 AM
Whitefish senior Emma Barron put together two more hat-trick performances last week as the Lady Bulldogs defeated Polson 10-2 and Bigfork 7-1 in the final week of regular season play.
Whitefish is 12-0 overall and 7-0 in conference play as the team heads into Class A playoffs on Saturday.
On Tuesday, Oct. 5 the Lady Bulldogs routed Polson for the second time this season. In addition to Barron's hat trick, Sadie Olson, Adrienne Healy and Olivia Genovese all scored two goals each while Sophie Olson added one. Barron and Healy also had two assists each.
Whitefish outshot the Lady Pirates 33-14 and Bulldog goalkeeper Norah Schmidt made nine saves.
Against Bigfork on Thursday Barron scored off a pass from Genovese in the 7th minute. Bigfork however tied up the game just over 10 minutes later as Valkyrie Braeden Gunlock got a breakaway shot past Schmidt.
Genovese and Barron then had almost back-to-back goals in the 22nd minute. Barron scored again just before the end of the first half. In the second half, Whitefish continued its dominance as Sophie Olson scored in the 42nd minute and Sofie Saurey added two more.
"Bigfork on Thursday, senior night — the girls were amped to come out after the 2-nil win (earlier in the season)," Benedict said. "They wanted to put some goals on the board... We were happy with the result, in the long term it was good to get out of there injury free against Bigfork and we're just really excited to get into the playoffs."
Whitefish takes an undefeated record into the postseason, but Benedict says that hardly matters now with the playoffs ahead. The numbers the coach is looking at is the goal scoring ratio compared to last season. Whitefish scored 81 goals this season, almost triple the amount from last year's regular season which was 31 goals.
"That just shows we're a little bit different of a team," Benedict said. "The team that did that last year, they're here this year but they know how to score goals, they know how to attack and our defense is just as good as it was the previous season."
The Bulldogs as the No. 1 seed from the Northwest A will face Loyola, the third seed out of the south. Whitefish did not play Loyola this season, but did play other Southern A opponents such as Hamilton, Corvallis and Frenchtown. They defeated all of those teams by six goals or more. Benedict says the team will do their research on Loyola to prepare, but as always they'll be ready to play Whitefish soccer.
"We're going to go out, we're going to take care of business and we're going to be ruthless — earn ourselves a spot in the semifinals," Benedict said.
Whitefish will host Loyola on Saturday at Smith Fields. Game time is noon.
Whitefish 6 4 — 10
Polson 1 1 — 2
WF — Emma Barron (Sofie Saurey) 1:00
WF — Sadie Olson (Barron) 3:00
WF — Barron (Adrienne Healy) 8:00
WF — Sophie Olson (Barron) 17:00
WF — Sadie Olson (Healy) 22:00
WF — Barron (Olivia Genovese) 29:00
WF — Healy (Maddie Muhlfeld) 45:00
WF — Healy (Isabelle Cooke) 63:00
WF — Genovese (Healy) 67:00
WF — Genovese 70:00
Shots — WF 33, Polson 14. Goalie saves — WF 9 (Norah Schmidt), Polson 20. Corner kicks — WF 5, Polson 1. Fouls — WF 3, Polson 3.
*scoring information for Polson was not available.
Bigfork 1 0 — 1
Whitefish 4 3 — 7
WF — Emma Barron (Olivia Genovese) 7:00
B — Braeden Gunlock (Scout Nadeau) 18:00
WF — Genovese (Barron) 22:00
WF — Barron (Adrienne Healy) 23:00
WF — Barron (Sophie Olson) 38:00
WF — Olson (Sofie Saurey) 42:00
WF — Saurey (Healy) 44:00
WF — Saurey (Barron) 57:00
Shots — WF 27, Bigfork 4. Goalie saves — WF 2 (Norah Schmidt), Bigfork 9 (Catherine Panor).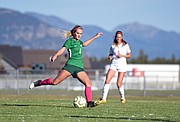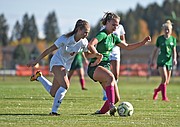 ---