Five WHS musicians selected for all-state ensembles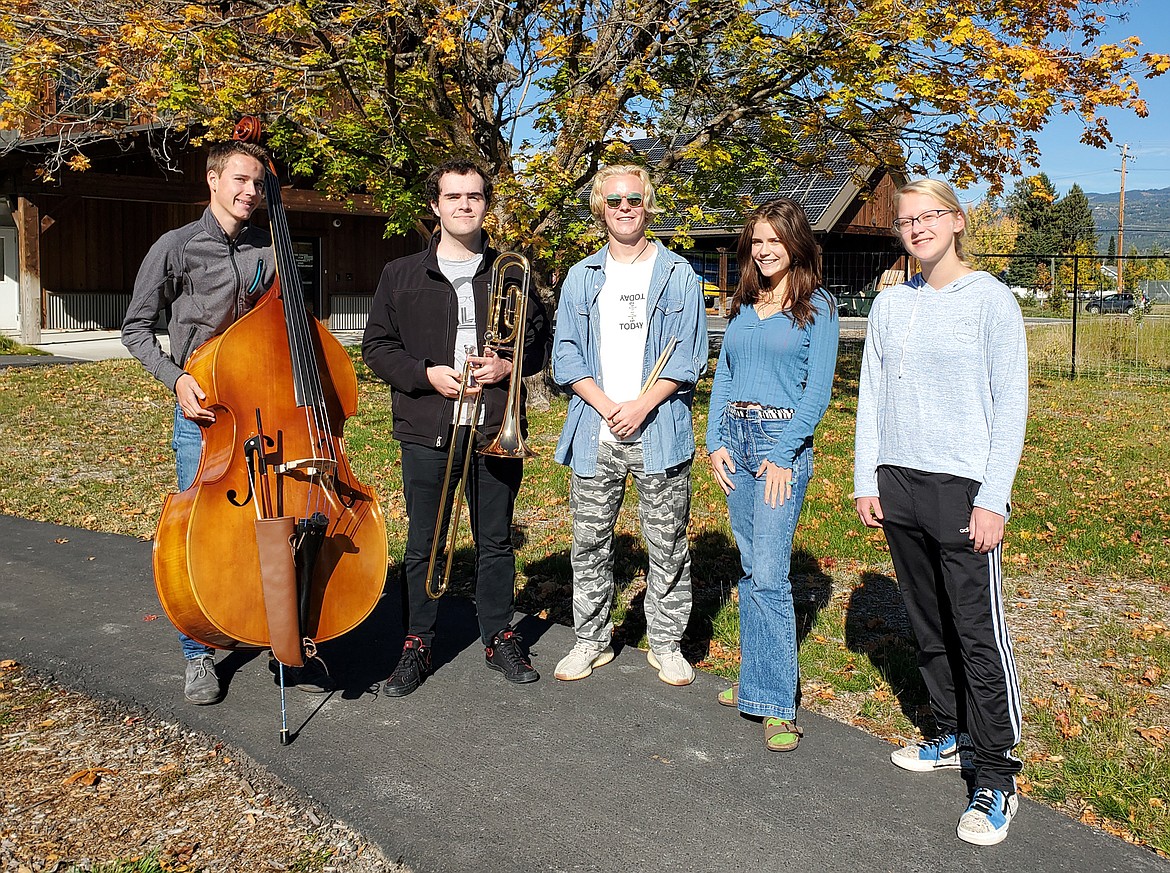 Five Whitefish High School musicians were recently selected for the 2021 Montana All-State Band, Orchestra and Chorus. From left to right is Bowdrie Krack for string bass, Dashiell Schindler for trombone, Niko Hunter for percussion, Gabby Pickert for Soprano II and Lauren Solem for Soprano II. (Courtesy photo)
by
WHITNEY ENGLAND
Whitefish Pilot
|
October 13, 2021 1:00 AM
After a rigorous audition process, five students from Whitefish High School have been selected for the Montana All-state music ensembles in band, choir, and orchestra.
This is one of the best representations that Whitefish has had across all three ensembles in recent years which speaks to the level of talent in the music programs, says Whitefish High band director Matthew King. Also, selections for all-state musicians are made across all school sizes regardless of class, so for the smaller schools, it can be more difficult to get a higher representation in the all-state ensembles.
"It's the highest honor of student musicianship in the state," King expressed.
Whitefish is represented this year by two band students, two choir students and one student in orchestra.
In order to be selected, high school musicians practice diligently to prepare audition recordings for submission near the end of the school year. The students come into the school and spend extra time working with their music teachers to produce an audition consisting of performing complex etudes and musical excerpts for the audition.
"One mistake on one of those excerpts could be the deciding factor between you and another student," King said. "So it's very intense for the students and they showcase real excellence preparing these."
Whitefish junior Bowdrie Krack plays the upright bass and was selected for the all-state orchestra. For choir senior Gabby Pickert and sophomore Lauren Solem, who are both Soprano II, were selected for the all-state chorus. Whitefish senior percussionist Niko Hunter and senior trombonist Dashiell Schindler will represent the Bulldogs in the all-state band ensemble.
These five were selected along with around 150 high school musicians from Montana across all three ensembles. All five are first-time all-state selections as well, though Schindler also earned a spot last spring with the all-state jazz band.
"On the band side, to get two in is really excellent and kind of rare for our program," King said. "So it's definitely a big honor for the students, our program and also our school."
He said Hunter and Schindler have both been in the band program since sixth grade and dedicate a lot of their time to progressing as musicians. To make the all-state band the process is competitive because it's one large ensemble, so King says that there are around seven or eight trombonists selected across the entire state, and also around eight percussionists selected. He added that percussion is especially difficult to be selected because of needing to be highly skilled on several instruments.
"I just saw an amazing level of discipline, my students were in the school every moment they could be those last couple of weeks before the auditions needed to be submitted; just taking advantage of every moment," King said. "It was really inspiring and awesome to see that. You don't receive these honors without real, true full preparation for these kinds of events."
Whitefish choir director Sky Thoreson was also impressed with his students' level of preparation and dedication to auditioning for the All-state Chorus.
"Both of these students are very deserving of this honor — to be selected by a blind committee requires execution of specific musical skills at a high level," Thoreson said. "Both of them have been involved in music for many years leading up to this point, which played a crucial role in their success."
"They put in the work in preparation for submitting an audition and were selected as two of the top vocalists in the state; they represent the Whitefish Choral Program and our goal for growth and excellence," he added.
Whitefish is between official orchestra directors right now, but Krack has demonstrated excellence to be chosen for this honor and will be making the trip to the All-State Music Festival with the choir and band students, King said.
The All-State Music Festival is Oct. 20-22 in Great Falls and also coincides with the state's Music Educators Conference so the music directors will travel there with the students as well. The students will rehearse with the all-state ensembles and have a concert at the end of the festival.
"To have representation at the state level like this is not something we take for granted, and it's not something that happens every year at Whitefish," King expressed. "These students prepare for years, really, for this honor; it's not just preparing one audition, you have to be at a certain level to even be in the ballpark of making ensembles like this."
Recent Headlines
---