Career twist led Muldown principal to role in administration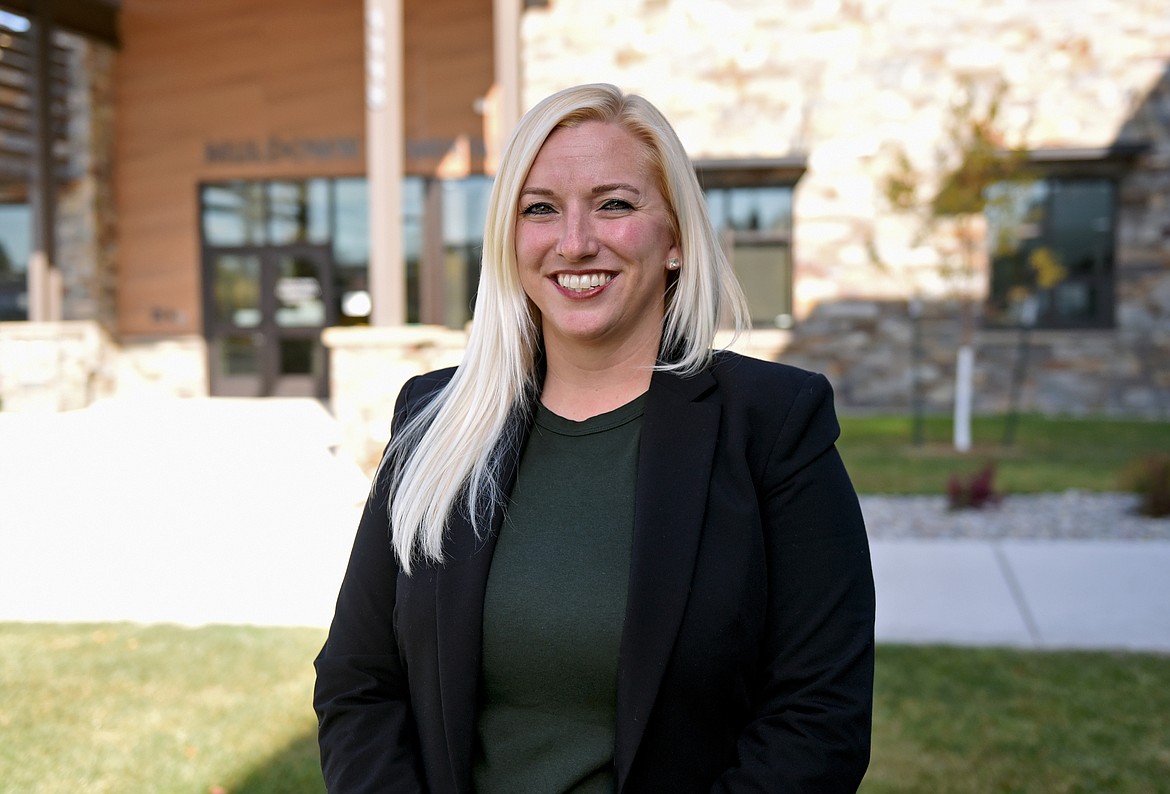 Catey Nasello is the new Muldown Elementary School principal. She was hired for the position last spring and began in August just ahead of the 2021-22 school year. (Whitney England/Whitefish Pilot)
by
WHITNEY ENGLAND
Whitefish Pilot
|
October 13, 2021 1:00 AM
Not long after Catey Nasello began her career as a teacher, a lack of enrollment in the school district where she had been hired left her without a job.
But an administrator seeing her potential found her part-time jobs that eventually led to other opportunities gaining her a vast amount of experience in a short period.
Now Nasello has brought her experience as both an elementary school teacher and administrator to her role as the new principal at Muldown Elementary.
Nasello comes to Whitefish from northern California where she was most recently a preschool through fifth-grade elementary school principal in the Tracy Unified School District. She held the position for two years.
For her entire career, she's worked with mostly elementary and middle school-aged students and has found a passion for helping younger kids.
"My heart is definitely in elementary," she says. "As far as teaching and being an administrator, elementary is a great fit for me."
Nasello knew she wanted to be a teacher for almost as long as she can remember. She says growing up she was blessed with fantastic teachers, but her parents were not as lucky. Nasello saw how much potential her parents had if only they had the right teachers to inspire them to reach for it — she pictured herself being the one to make an impact on kids' lives and knew a career in education was right for her.
"My parents didn't grow up with the best teachers, so really that was my biggest inspiration was reaching students that maybe felt a little bit left behind or just making those connections and reaching every kid in your class," she said.
After graduating from Fresno State, Nasello was hired for an elementary teaching position in the Gilroy Unified School District. At that time layoffs for new teachers were common and, due to a lack of enrollment, her class was combined with another leaving her without a job. That twist of fate ended up being a major career-altering moment.
A principal in the Gilroy district recognizing her talents found her the part-time teaching jobs that would eventually lead to other opportunities districtwide.
For five years she worked on a temporary basis due to the nature of the field in California. She taught in the classroom, but also began training teachers as an instructional coach first in her school before being promoted to training others across the district.
"My principal saw value in me and she kept rehiring me… so that's how I gained a pretty tremendous amount of experience in a very short time," Nasello said.
"That principal was incredible — an instructional leader, really good with professional development, she put together an award-winning school, teachers that were dedicated and capable, she was a huge inspiration to me," Nasello added.
Because of her work districtwide, Nasello realized she could have a larger impact in an administrative role. After earning her master's degree and administrative credentials, she was hired as an assistant principal in the Tracy Unified district and soon fell in love with the role.
"I thought I was going to stay a teacher, but once I got into it, I totally veered in a different way," Nasello recalled. "I never intended to be a principal, but I love it."
She spent two years as the assistant principal and then was promoted to building principal at an elementary school in the Tracy area for two years before leaving to come to Whitefish.
"I left an amazing school, a great administration team, and lots of support as a professional to come here," she said. "I didn't need to leave Tracy (her former district), the bottom line is I wanted to be in Montana."
She has had her heart set on moving to Montana for a while now after traveling to different areas in the state over the past several years. She had applied to different schools in the state recently, but nothing was quite the right fit. The Muldown position was different, and the pieces fell into place, she says.
Nasello loves all things outdoors like hunting, camping and fishing; it was a huge factor in why she was interested in moving to the area. She and her boyfriend, who also moved to Whitefish with her, have enjoyed every moment since relocating.
As far as Muldown, the school has been a perfect fit for her as well. Nasello said she has met with every staff member and is spending a lot of time learning what is going well and what needs improving at Muldown.
"My job here at Muldown is to come in, take a look at what's going on," she says. "How can we align what we're doing here, what the staff has committed to with the previous administration, and align that to our district vision."
As she begins her new position, she is focusing on the tried and true basics of a well-performing school. She emphasized her goal as principal is to prioritize the strategic plan which includes ensuring that students improve academically each year, using data to drive the improvement, and making sure the school is safe, inclusive and welcoming for all students.
"Those seem really basic, but they are so important," Nasello said.
In support of that plan, she hopes to encourage students to find their full potential as 21st-century learners and continue to foster an ideal environment for learning.
Recent Headlines
---