Plan would reconfigure highway through downtown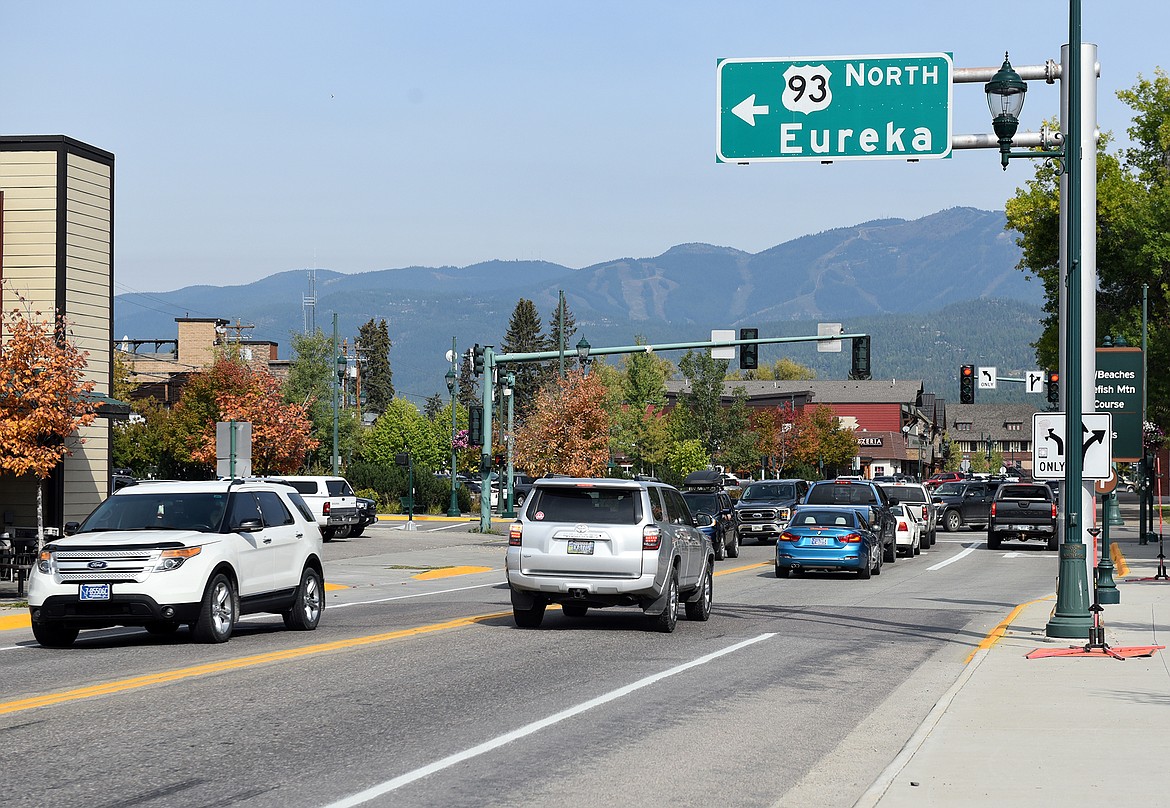 Cars drive along Highway 93 through dowtown Whitefish. (Heidi Desch/Whitefish Pilot)
by
HEIDI DESCH
Whitefish Pilot
|
October 6, 2021 1:00 AM
A potential new design for U.S. Highway 93 would reconfigure the traffic flow through downtown for the highway and also Baker Avenue.
The plan calls for the Spokane Avenue portion of the highway to have two northbound lanes in the downtown area, and Baker Avenue to have two southbound lanes.
The concept is the preferred option brought forward by the Montana Department of Transportation through its Downtown Whitefish Highway Study.
Under the plan, called Concept C, driving lanes for Spokane Avenue from 13th Street to Second Street would include two northbound and one southbound. Second Street would continue to have two driving lanes east and west, and Baker Avenue would have two southbound lanes and one northbound lane from Second to 13th Street.
MDT launched a study of the downtown section of the highway in 2019 at the request of the City of Whitefish. MDT recently unveiled a concept for the highway it says is aimed at meeting its goal of improving traffic flow and safety while taking into account community desires.
Bob Vosen, District Administrator at the Montana Department of Transportation, said Highway 93 serves the state and the country as a major transportation route so it's important for MDT to remain cognizant of the purpose of making sure it functions properly for transportation needs but also find ways to design a roadway system that would keep Whitefish's character in mind.
"The challenge that we have is that it's a national highway through a downtown," he said. "That's not unique to Whitefish, but it's a challenge to make sure that it meets transportation standards, but also takes into account the community's concerns regarding retaining character."
Vosen says the preferred Concept C would add travel lanes to Spokane Avenue, but also use Baker Avenue to help alleviate congestion. He notes that if the option is selected, MDT will have to work with the city to further develop the plan because Baker is owned by the city.
Up to 16,000 vehicles per day can pass through downtown Whitefish on the highway during the peak summer season, and at one downtown intersection during the summer season more than 8,000 pedestrians are also crossing the highway, according to MDT figures. Baker Avenue can see more than 9,000 vehicle trips per day.
In the study area, which includes the highway from the intersection with 13th Street northward along Spokane Avenue to Second Street and west to Baker Avenue, then south on Baker to 13th Street, MDT says 99 crashes occurred between 2014 and 2018.
Some have raised concerns about the preferred concept. Worried that it would mean the loss of parking, sidewalks and mature street trees particularly along Spokane Avenue.
During the open house, folks were asked to write down which elements are most important to them regarding the downtown highway section. Several folks listed preserving trees, bike and pedestrian safety, parking and preserving walkability as top priorities.
Whether sections of the roads would have a sidewalk on one or both sides, a shared-use path, parking or no parking is still to be determined, officials note.
There are several options for how the streets could be designed with the preferred lane configurations, according to Sarah Nicolai, transportation engineer with Robert Peccia and Associates, the engineering firm hired by MDT to create the study.
Nicolai says the curb to curb width of Spokane Avenue is about 38 feet, which provides enough space for three lanes of travel, and the right of way for the highway at 70 feet provides room for other elements to run along the street.
"There's room for trees, bike lanes, a shared-use path," she said. "We want to get the community input for what makes the most sense along there."
Some mature trees along Spokane would likely have to be cut down during reconstruction, but there would be space to plant new trees, she noted.
Concept C provides for traffic flow and also maintaining pedestrian and bicycle routes, she noted.
"By creating three lanes of traffic on both Spokane and Baker it creates a couplet system that equalizes the flow of traffic," she said. "Two lanes on Second Avenue mean that there could still be parking and pedestrian bulb-outs to maintain the road as it is."
Vosen says MDT is required to meet certain standards to convey the amount of increased traffic on the highway including obtaining the necessary federal funding that would come with reconstructing the highway. Neither MDT nor Whitefish has the funds or could reconstruct the road without federal approval, he noted.
"We want to work with leaders to meet the needs of the community," Vosen said. "We want to make sure there's not total loss of community identity."
MDT came up with seven concepts, but only three were advanced for additional consideration. Concept B, calls for the same lane configuration for Spokane and Baker, but would add an additional westbound lane on a portion of Second Street.
Under Concept G, two south bound lanes would be part of Baker Avenue. On Spokane, two northbound lanes would only run a portion of the street from 13th Street to Seventh Street before transitioning to two travel lanes.
Some community members have raised concerns about Concept C, saying Concept G would be a better choice.
Ron Brunk and Rhonda Fitzgerald, who both serve on the steering committee for the plan, say MDT is bringing forward Concept C despite community member's concerns about that option. They say Whitefish needs a transportation solution that allows the highway to coexist with the downtown that depends on its "sense of place" for its economic vitality.
"It damages Whitefish's pedestrian-friendly environment, destroys its small-town character, threatens its economic vitality, and will lead to increased traffic congestion," they said in a recent letter to the editor in the Pilot. "A real solution will require complex and sophisticated expertise which is why we agreed to participate in this process, hoping the MDT would bring forward better solutions than they had in the past."
Next in the process, MDT says public comments will be tallied, the steering committee is expected to meet again and then representatives from MDT, the Federal Highway Administration, the city and county leaders will determine if a viable option has been identified.
"The next step is to determine if we can come up with a viable project," Vosen said. "Then we will proceed to see how we go about designing it and securing funding."
MDT says the study is expected to wrap up by the end of the year.
For more information on the downtown highway plan and to provide comment, visit https://www.mdt.mt.gov/pubinvolve/downtownwhitefish/
---