Menicke's 5 goals send Columbia Falls packing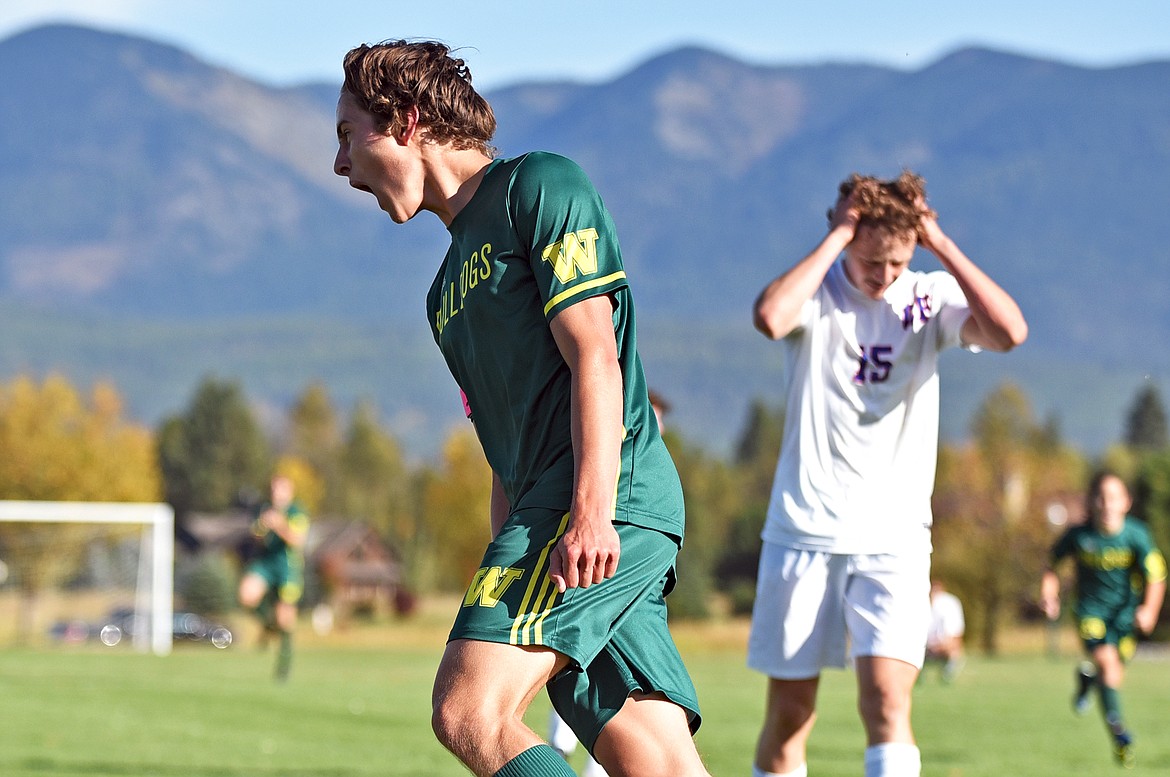 Whitefish senior captain Gabe Menicke celebrates scoring a first-half goal against Columbia Falls on Saturday in Whitefish. Menicke scored all five of the Bulldogs' goals in the game. (Whitney England/Whitefish Pilot)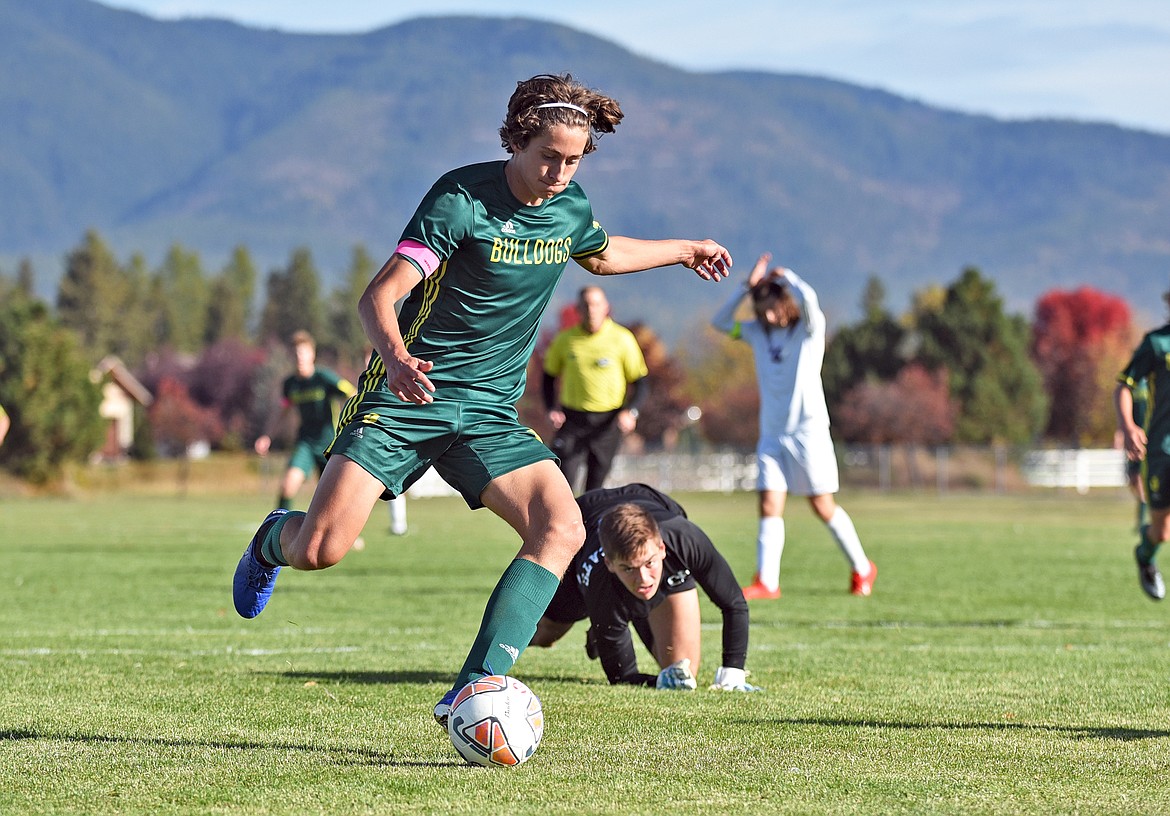 Bulldog Gabe Menicke makes a move to get around Wildcat goalkeeper Bryce Dunham for an open shot against Columbia Falls during a game in Whitefish on Saturday. (Whitney England/Whitefish Pilot)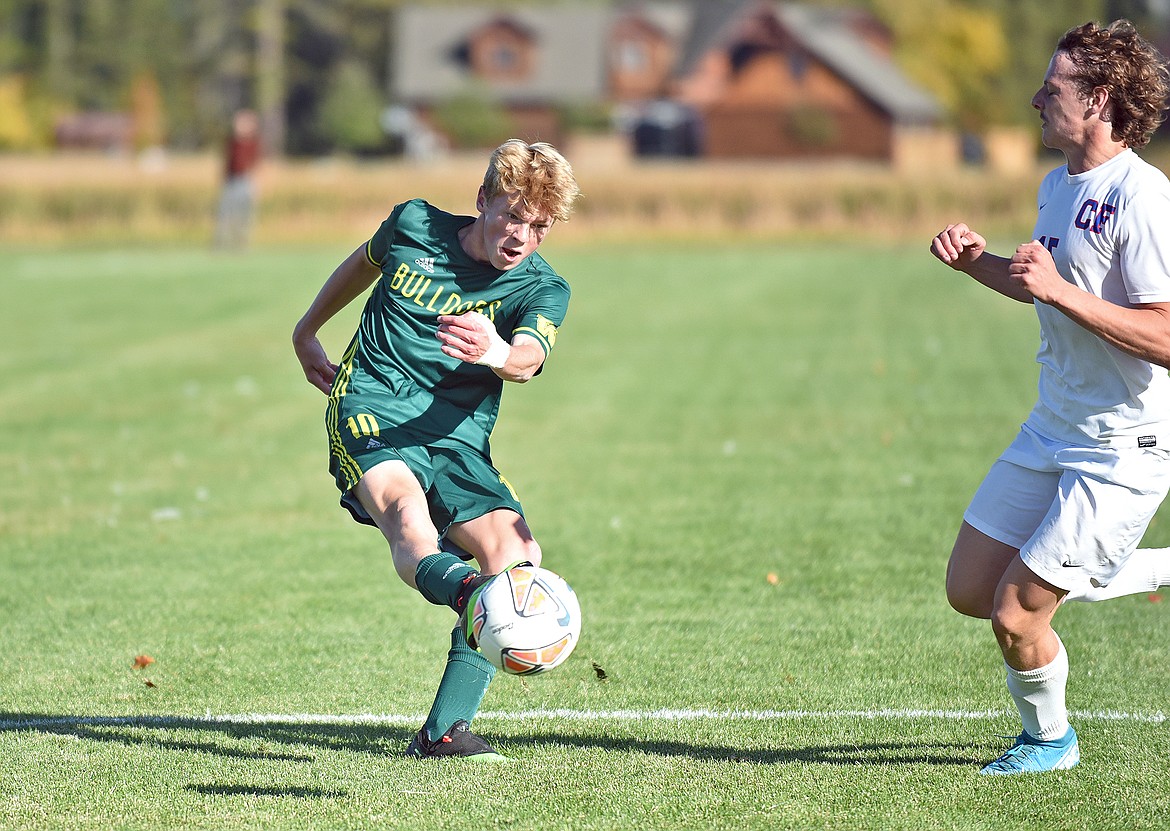 Whitefish Jackson Dorvall takes a shot against Columbia Falls during a game in Whitefish on Saturday.(Whitney England/Whitefish Pilot)
Previous
Next
by
WHITNEY ENGLAND
Whitefish Pilot
|
October 6, 2021 1:00 AM
Whitefish senior Gabe Menicke had a hat trick by the 57th minute in the rivalry game against Columbia Falls on Saturday, but he wasn't done there.
Menicke capitalized on the Columbia Falls defense two more times before the final whistle and helped his Bulldogs to a 5-1 win over their cross-town rival. Menicke now is the top goal scorer in Class A with 21 goals throughout the season as well as nine assists.
The victory improved Whitefish to 10-0 overall, 6-0 in conference play and clinched the Northwest A conference title as well as a guaranteed playoff spot.
Menicke's performance was an impressive one and put on a great show for the large crowd gathered on the sidelines. Menicke has always been a top assist player since freshman year, but has found his finishing touch as a senior. Whitefish head coach John Lacey was glad to see Menicke's hard work throughout all four years of his career with Whitefish showcased with his high-scoring performance.
"Gabe going off for five goals, that's just a special day…" Lacey said. "The goals he scored on Saturday were pretty exceptional, we don't normally get those straightaway, one-to-one goals… Gabe is an extremely talented soccer player, but he's also a great athlete as a state champion from the track and field season."
Columbia Falls' lone goal occurred when Josiah Kilman put one in the back of the net in the 31st minute to cut Whitefish's lead to 2-1 before the half.
"I have to give a lot of credit to their central midfield, they had multiple shots that were just outstanding…" Lacey said.
Columbia Falls had quite a bit of possession time and the adjustments they made from the 4-1 loss to Whitefish just a couple weeks ago showed. The Wildcats had much more of the possession time in this one, but they didn't have an answer for Menicke's consistent scoring ability.
"It's like we got to see two great soccer games but got to see everyone's full kit because the teams both played high quality both games, but in different kinds of games for sure," Lacey said.
Bulldog keepers Will Peppmeier and Ethan Schott combined for nine saves and Wildcat goalie Bryce Dunham had 10.
"It was a really competitive match all the way around," Lacey said. "Certainly CFalls had their run of the play sometimes, they could have scored more than one. We had a great defensive effort from our guys in the back and especially Will Peppmeier made some key saves for us."
Whitefish also played Libby for its homecoming game on Thursday at Whitefish High School Memorial Field. The Dogs jumped out to an early lead, and dominated the game to a 6-0 finish.
Whitefish senior Chase Sabin scored two goals, as did freshman Elijah Adams-Griffin. Menicke and Austin Gunset each scored a goal as well.
"It was super exciting to be in that environment and great to have fans and be a part of the homecoming festivities for the high school," the coach expressed. "We had one of our freshmen score a couple of goals at the end so that's always exciting… looking forward to what they're going to contribute in the years ahead."
Whitefish has won 54 games without a loss dating back to 2017 in the state A final and have won three State A championships in a row.
Whitefish has two games remaining in the regular season and playoffs begin on Oct. 16. Whitefish was set to play Polson on Tuesday after press time and then will host Bigfork at Smith Fields on Thursday at 5 p.m. for senior night.
Col. Falls 1 0 — 1
Whitefish 2 3 — 5
WF — Gabe Menicke (Aaron Dicks)
27:00 WF — Menicke (Chase Sabin)
31:00 CF — Josiah Kilman (Dale Blickhan)
57:00 WF — Menicke (Will Peppmeier)
63:00 WF — Menicke (Sabin)
69:00 WF — Menicke 74:00
Shots — CF 11, WF 14. Goalie saves — CF 10 (Bryce Dunham), WF 9 (Will Peppmeier, Ethan Schott). Fouls — CF 9, WF 13. Cards — CF 1, WF 2.
Whitefish 4 2 — 6
Libby 0 0 — 0
6:00 WF — Chase Sabin (Gabe Menicke)
7:00 WF — Austin Gunset (Menicke)
10:00 WF — Sabin (Menicke)
23:00 WF — Menicke (Townsend Reed)
63:00 WF — Elijah Adams-Griffin (Charlie Hyatt)
73:00 WF — Adams-Griffin (Kane Nissen)
Shots — WF 17, Libby 2. Corners — WF 4, Libby 2. Fouls — WF 8, Libby 3. Saves — WF 2 (Will Peppmeier, Ethan Schott, Ayden Mintz), Libby 11 (David Bailey).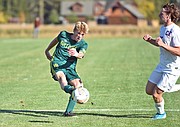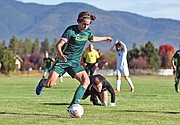 Recent Headlines
---