WHS athletic trainer, 'It was the perfect job'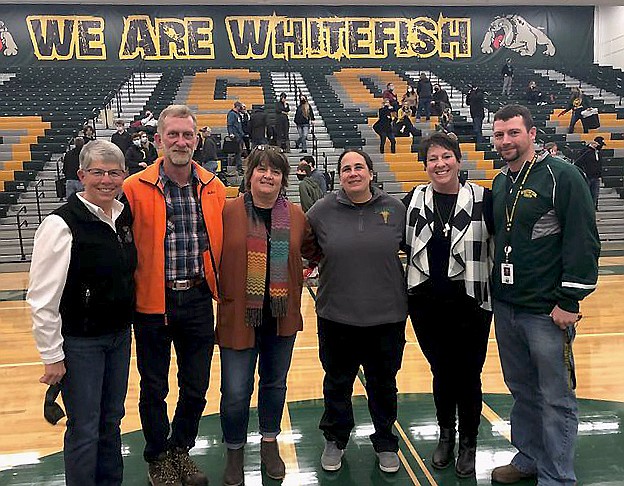 Amanda Estepp is honored for her service as Whitefish High School's athletic trainer at a boys basketball game in February. From left to right is Colleen Sullivan, Aldo Kuntz, Lucy McFadden, Amanda Estepp, Jackie Fuller, and Aric Harris. (Photo courtesy of Kelly Kyle)
by
WHITNEY ENGLAND
Whitefish Pilot
|
March 31, 2021 1:00 AM
Amanda Estepp cared for 16 state championship teams in her time serving as the Whitefish High School athletic trainer.
And those are just some of the big moments, the ones that really stick out in her memory of the 14 years she was in Whitefish. Among them she says the most memorable had to be the Bulldog football team that took the state championship in 2015 by defeating Dillion. She recalls traveling all the way to Miles City on a bus full of teenagers for the semifinal playoff game, then to Dillon the next weekend for the championship.
"It's 16 (championship teams), that's pretty awesome; the one I was the most part of was the football championship in 2015," she said. "Like I'm never going to Miles City again, but I rode the bus because I knew those boys and the only way they were going to be stopped was if they stopped themselves. I wanted to see what they were capable of so I rode the bus to the playoff games with them."
Estepp also recalled being a part of several soccer championship games that were hosted on Whitefish's home field. Witnessing the soccer dynasty that Whitefish has built was a rewarding part of her career as their trainer, she noted.
But through her job that she loved, Estepp was able to be there for many young athletes in the countless smaller moments as well. She formed relationships with the coaches and players, the staff at the school, and the medical community in Whitefish — all of those connections are what will be truly unforgettable for her.
"There was great support from the medical community… They all love the sports in Whitefish; they love being involved," Estepp said, explaining that doctors, physical therapists and community members would donate their time and expertise to assist her as the athletic trainer.
"It was the perfect job," she continued. "You weren't running ragged because you had 1,800 kids running around. You could be one-on-one or even three-on-one depending on the situation, but not 30-on-one."
Earlier this year Estepp made the tough decision to step away from athletic training, leaving her beloved job at Whitefish High. She said the pandemic made her realize she both wanted and needed to be closer to her parents in West Virginia. She also is dealing with an autoimmune disease that makes the physically demanding job as the trainer difficult and with the housing market on the rise now it was a good time to sell her home as well.
"The perfect storm came together…" she said. "I wouldn't want someone who was medically treating me to feel worse than I was feeling, the kids deserved better. So if there was ever the time for me to get out of athletic training, this was the right time to do it."
Estepp grew up in a small town in West Virginia and played sports throughout her childhood and teenage years. In seventh grade she needed to see an athletic trainer for an injury, and that's when her heart became set on that career path.
As an athletic trainer she certainly enjoyed watching the sports as part of her job. She also loved piecing information together and diagnosing the injury that she could then help to mend.
"I liked anatomy and physiology in high school and I kind of am mechanical in thinking, so I can put puzzles and stuff together," Estepp noted. "It's kind of a puzzle sometimes to figure out what the kids are coming to tell you and you're trying to figure it out."
Estepp graduated from West Virginia University with her master's in athletic training and was first hired at a large high school in Mission, Texas in the fall of 1999. The school had over 1,800 students and 900 of them were athletes that she was in charge of treating. The football programs in Texas were basically junior college and overly demanding for a trainer, she added.
She first saw a posting for the athletic trainer position in Whitefish and decided to apply in 2007. North Valley Hospital quickly flew her up to interview and soon after Estepp was on a bus to the state tournament with the volleyball team on her very first day at Whitefish High School.
She welcomed the change of pace that came with her new location.
"Absolutely, I liked (the change)," Estepp said. "I knew all the coaches; and going down to about 40-some football players — perfect."
Estepp also enjoys outdoor activities such as fishing, skiing and she even got certified for scuba diving in McGregor Lake. There were many things she enjoyed about living in Whitefish, but knows the move back closer to home was the right call for her.
The former trainer is hoping to move on from the field as it is becoming too demanding on her while she deals with her illness. She is in the late stages of interviewing to work as a technical aide for Major League Baseball's pilot program testing the ball-strike zone technology. The job would be working with a minor league team out of North Carolina and she looks forward to the opportunity.
But of course, Estepp says she'll miss her job at Whitefish High School and always keep the good times close to heart.
"I'll miss all of it, but really the coaches and the kids," she said. "It was just such a great atmosphere with the school and the people that worked there, the coaches, the community, the support from the hospital — it was a trainer's dream job."
---