Coaches see upcoming track season as blank slate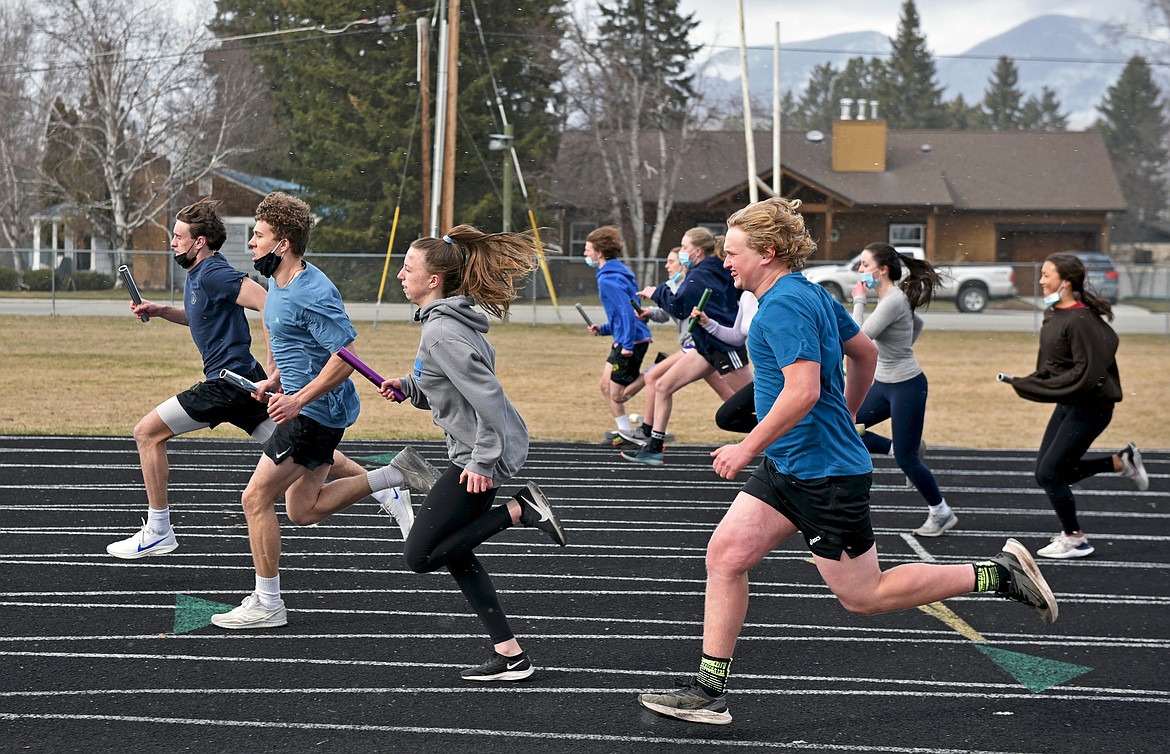 The Whitefish track and field team works on baton handoffs during practice on Monday at WHS. (Whitney England/Whitefish Pilot)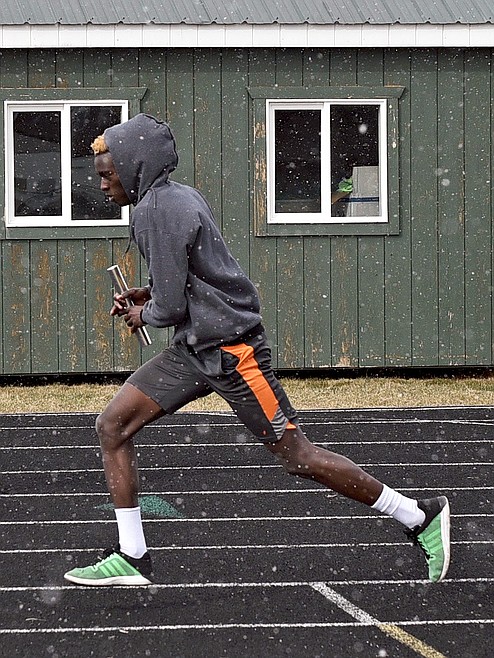 Whitefish senior Marvin Kimera runs during a relay drill at practice on Monday at WHS. (Whitney England/Whitefish Pilot)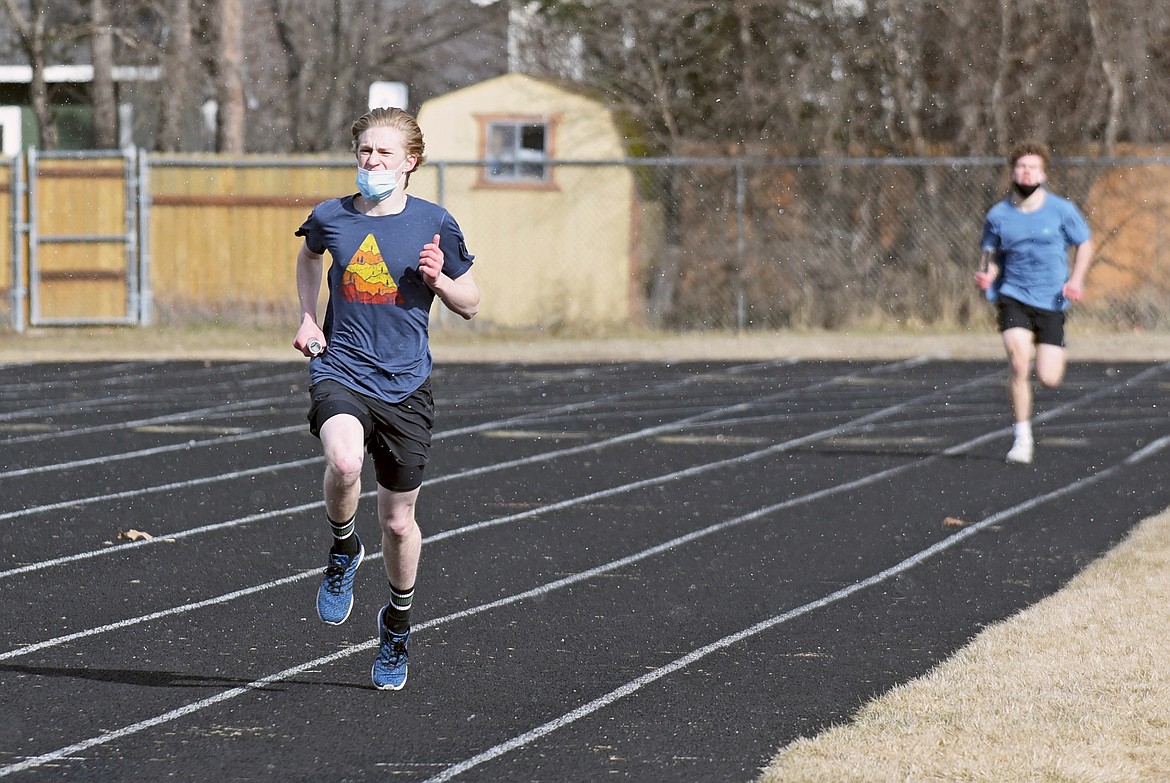 Whitefish's Azure Stolte runs on the track during practice on Monday. (Whitney England/Whitefish Pilot)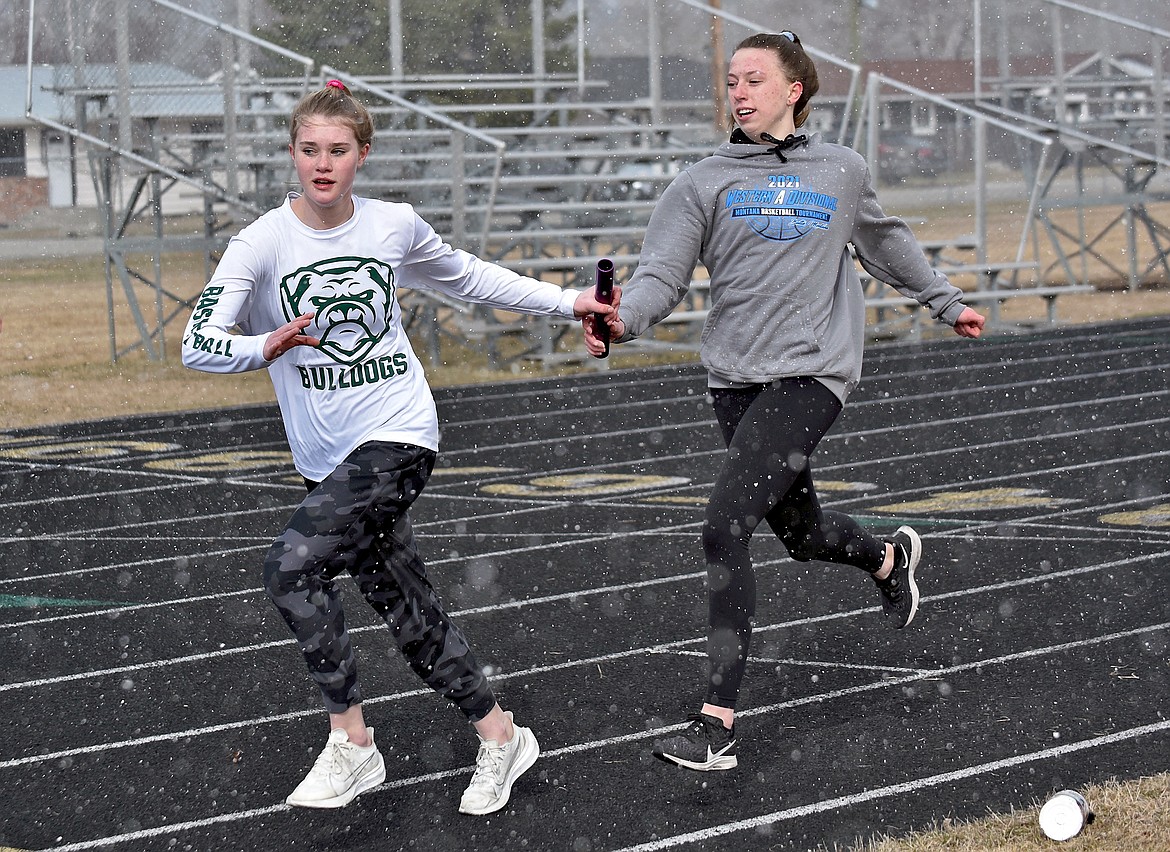 Bulldog runner Bailey Smith accepts the baton handoff from senior captain Mikenna Ells during practice on Monday. (Whitney England/Whitefish Pilot)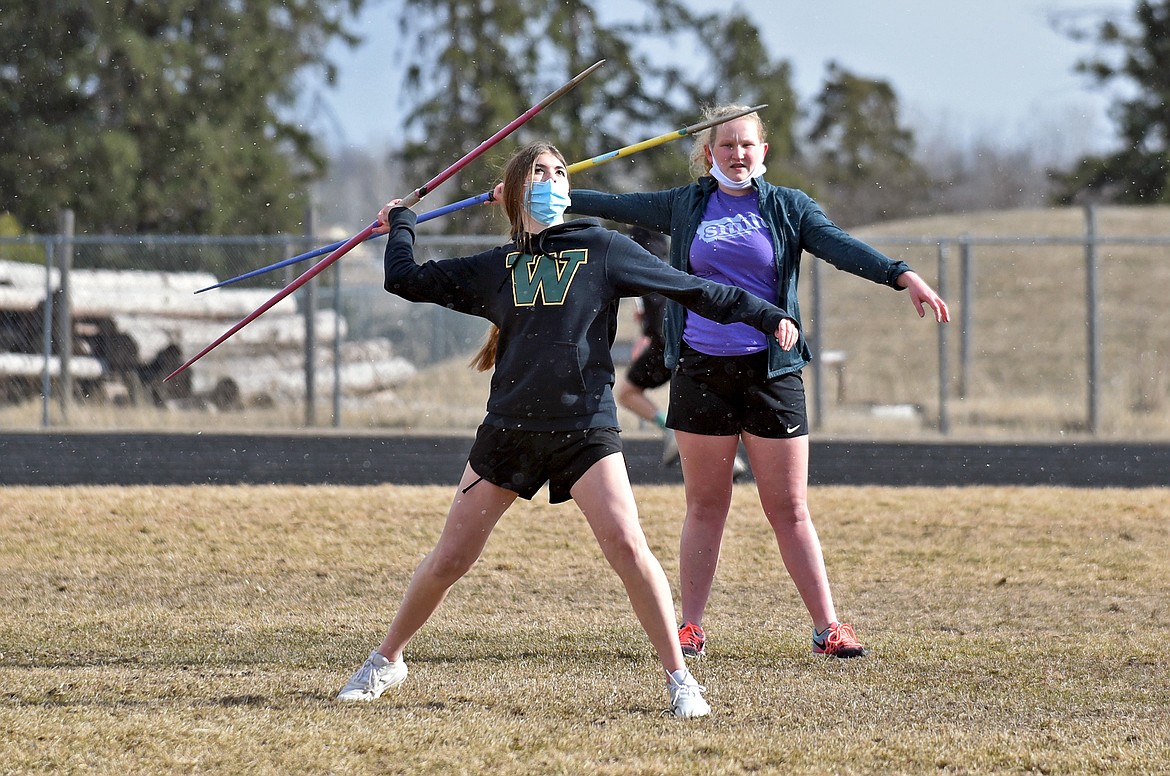 Whitefish's Nayvee Miller (front) and Ainsley Scott work on their javelin technique during practice on Monday at WHS. (Whitney England/Whitefish Pilot)
Previous
Next
by
WHITNEY ENGLAND
Whitefish Pilot
|
March 31, 2021 1:00 AM
The Whitefish track and field team is starting from square one, but sometimes that's a beautiful thing.
As the season gets underway this week, boys head coach Willie Roche and girls head coach Kelliann Blackburn say that this season is free of the usual pressure or expectations from the previous year which has everyone eager to compete. Since spring sports were canceled last year due to the COVID-19 pandemic, the Bulldogs are just glad to have a season.
"I think one of the positive things we can get out of this about missing a whole year is the kids are really hungry," Blackburn said. "Some kids don't do other activities, this is what they do. So they're ready to go, they're fired up."
Roche added that a clean slate is welcomed and it will be interesting to see how the kids perform without the weight from previous results on their backs.
"Sometimes when there's too high of expectations, when they're like oh we were third last year and have a bunch of returners, it can start to stir nerves and they start to put more pressure on themselves," he said. "So I don't think either boys or girls teams this year feel a lot of pressure. It's like, let's just go out there and do our best."
Adding to the fresh start, the program as a whole had 120 kids come out for track and field on the first day of practice this year. That is up from the past few years during which around 100 kids were interested in participating according to the coaches.
It's hard to predict what could happen or who will make it to state considering it's been a whole two years and many kids have graduated or moved on to other things. But, two years ago the Whitefish girls team won the state championship and four girls from that team will return this season.
Mikenna Ells was an individual state champion in the 400 meter race, ran on both first-place relay teams and was third in the 800 meter at the 2019 state tournament. She is back this season as a senior captain for the Lady Bulldogs and also recently verbally committed to run for the University of Montana next year.
Three other returners from the 2019 state championship team include Erin Wilde, Jenny Patton and Tommye Kelly. Blackburn is expecting Wilde to be a stand out in the long jump and high jump as well as run in some events for the Lady Dogs.
"We've got four girls back from the state championship team and a lot of new girls that I'm excited to see what they can do," she said.
On the boys side, Roche said he's unsure who exactly will shine this season but there is plenty of untapped potential on the team.
"We're kind of starting fresh; we graduated a ton of really good kids in 2019," he said. "We were set to probably have a pretty good year last year. It was kind of up in the air, you didn't know if some kids were going to outperform expectations, and you kind of got that feeling about them."
Junior Bodie Smith is likely to have a good showing in the hurdles, sprints and jumps this year, according to Roche. Also senior Marvin Kimera was a wicked-fast sprinter two years ago and has only improved since, so Roche will look for him to compete well this year.
"He's poised to do some damage in the division and in the state," Roche said. "He's got some wings. I think he'll turn some heads this year, last time he ran he was a sophomore and was lightning."
"And we have some new kids too that I think can do some damage in a variety of events," he added.
Additionally, following the 2019 season longtime head track and field coach Derek Schulz retired which promoted Roche and Blackburn as Whitefish's new head coaches. Both were poised to take over the teams last year, but when the season was canceled their full debut at the helm was pushed to this season.
Blackburn teaches English at WHS, while Roche teaches business. Both served as assistant coaches to Schulz in 2019. Blackburn offers plenty of experience as she has been involved with the track program for over 20 years and Roche is just getting started but brings an eagerness to grow a competitive team.
Both coaches agree, their main goal is to get in as many meets as possible and give the student athletes great experiences. They will focus on staying healthy throughout April so the teams can throw down some heat when it really matters — the meets in May leading up to the state tournament.
"We do our best right now, but May matters," Roche said. "Just try to beat your previous time or mark from the last week every single week."
The only limitation lingering from precautions related to COVID is the size of track meets. Although the MHSA decided to allow larger track meets with up to 20 teams, the larger meets will limit each team's entries into individual events.
It's something Blackburn and Roche acknowledge as a slight hindrance on the season, but are committed to making it work. In addition, Whitefish will have less opportunities to run with Class AA teams, which means the kids will have to push themselves even without the added competition.
The season will begin at the Bigfork Invite on Saturday beginning at 10 a.m. Then the team will compete at Legends Stadium on Tuesday against Flathead and Bigfork.
"It's been two years and we're ready," Blackburn said. "The last time the Whitefish girls competed they did come home with a state championship… I think that excitement is trickling down to the younger kids. They want to make some noise, they just want that opportunity."
---