Report examines impact of short-term rentals
by
HEIDI DESCH
Daily Inter Lake
|
March 24, 2021 1:00 AM
Whitefish has the second highest number and Flathead County has the highest number of short-term rentals in the state, according to a report by the University of Montana's Institute for Tourism and Recreation Research.
Also known as vacation rentals, the UM report found that Montana has more than 12,000 active short-term rentals as of September 2020. Short-term rentals are usually private accommodations that may include a house, apartment or room that is booked online.
Flathead has the highest number compared to the other Montana counties at 2,814. Gallatin County had the second highest at 2,524.
In the Whitefish ZIP code, there were 1,093 short-term rentals, which is the second most in the state only behind Bozeman at 12,131 rentals, according to the report. Big Sky and Missoula were right behind Whitefish with each having roughly 1,000 short-term rentals.
In terms of density, Flathead was the fifth highest in the state for short-term rentals per 100 households at 7.3.
Two studies from the UM are behind the report, with the goal to assess the impacts of short-term rentals on communities in Montana. Results suggest that positive impacts included increased financial well-being for short-term rental owners and more vacation rental opportunities for guests, however, in some locations such rentals appear to limit housing availability and contribute to increased rent and housing costs.
The City of Whitefish currently has 160 short-term rentals permitted within city limits.
The city in 2013 began requiring short-term rental properties to obtain a permit to operate and then in 2018 after updating its regulations the city began working to identify those rentals that weren't registered to bring them into compliance.
Short-term rentals are allowed only in certain zoning districts in the city — the WB-3 general business district and the districts designated for resort residential or resort business. Generally speaking, these vacation rentals are allowed in the downtown area, Grouse Mountain and Iron Horse neighborhoods, a few areas along Whitefish Lake and a few neighborhoods off Wisconsin Avenue.
Whitefish Planning and Building Director Dave Taylor said Whitefish regulates where short-term rentals can be located based upon zoning, but many other cities and counties have little regulation regarding vacation rentals.
"We were ahead of the curve on short-term rentals compared to other communities," he said. "We had zoning in place already so they're not just allowed anywhere. Short-term rentals can have a huge impact on the rental market for long-term rentals and when it comes to affordable housing."
The Whitefish Strategic Housing Plan suggesting strategies for creating affordable workforce housing noted that the city should work to bring short-term rentals into compliance with permitting requirements, which is work the city has done since adopting the plan. In addition, the plan also notes that some cities and resort communities around the country have created programs to offer incentives for property owners who convert units into long-term rentals for local households.
The UM studies found that there is a wide variety of short-term regulations and up until now many city and county officials have felt there wasn't enough short-term rentals to warrant developing policies.
The institute report points out that challenges surrounding short-term rentals is the loss of affordable housing, disruptions for neighbors, and loss or change of community identity. However, positive impacts and benefits they can provide Montana are tourism and monetary benefits.
An online survey of travelers found that 40% said they are likely to seek out short-term rentals for their trip and 7% of business travelers said the same. Of survey respondents who have stayed in an STR within Montana, location, use of a kitchen and comfort topped the list.
Reasons for being a short-term rental host are varied, but financial aspects topped the list including making money; helping pay for insurance, taxes and utilities; and using the place as an investment.
"This information is intended to help city and county officials better understand the [short-term rental] market and make informed decisions about [short-term rental] policies," ITRR social scientist Elena Bigart said in a release. "It should also assist [short-term rental] guests and hosts to have better experiences. Our study is one of the first steps to collect information about [short-term rentals] in Montana. Future research efforts are needed to analyze the trends of [short-term rental] usage in the state and evaluate the success of [short-term rental] regulations over time."
For the full report, visit https://scholarworks.umt.edu/itrr_pubs/418/.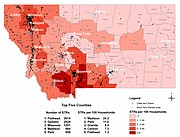 Recent Headlines
---