Nordic skiers compete in Utah and Idaho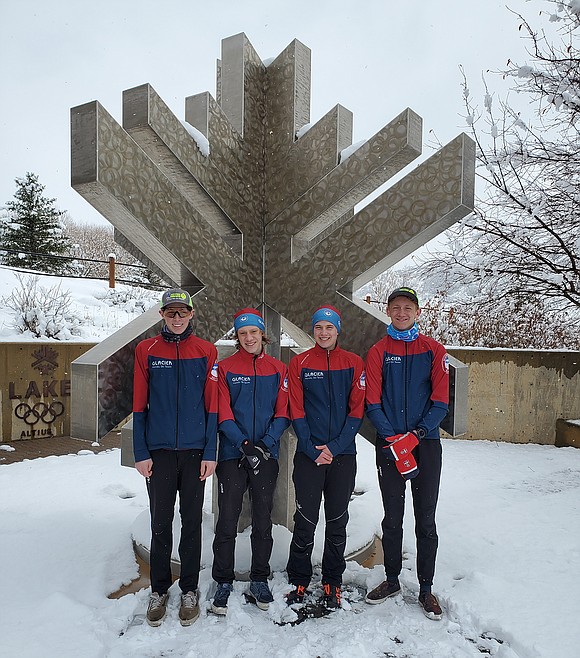 Ski team members competing at Solider Hollow, Utah. (Courtesy photo)
Four Glacier Nordic Ski Team members traveled to Soldier Hollow, Utah, March 11-13, for the Western Region Junior Championships, racing against the top skiers in the Western United States.
The fields were big, with 110 racers in the combined U18 and U20 men's category from throughout the west. The racing had widely variable conditions with manmade warm slushy snow on Thursday, cold klister wax conditions with icy tracks on Friday and new snow during the race on Saturday.

All the skiers had strong races with Jacob Henson earning a fifth-place podium finish in his specialty event — distance skate.

Ruedi Steiner and Henson also traveled to Sun Valley, Idaho, this past weekend for the Tour de Sun Valley, a race with professional, collegiate and the top junior skiers attending.

Western Regional Junior Championships
1.5K Skate Sprint
U18
20 Jacob Henson
40 Nate Ingelfinger
42 Ruedi Steiner
U20
22 Winslow Nichols
10 k Classic
29 Jacob Henson
51 Ruedi Steiner
54 Nate Ingelfinger
U20
22 Winslow Nichols
10K Skate
U18
5 Jacob Henson
40 Nate Ingelfinger
42 Ruedi Steiner
U20
20 Winslow Nichols
Sun Valley Tour de Ski
1.5K Skate Sprint
U18/U20
28 Jacob Henson
34 Ruedi Steiner
10K Classic
20 Jacob Henson
39 Ruedi Steiner
15K Skate
9 Jacob Henson
34 Ruedi Steiner
---