Whitefish Marathon records record number of runners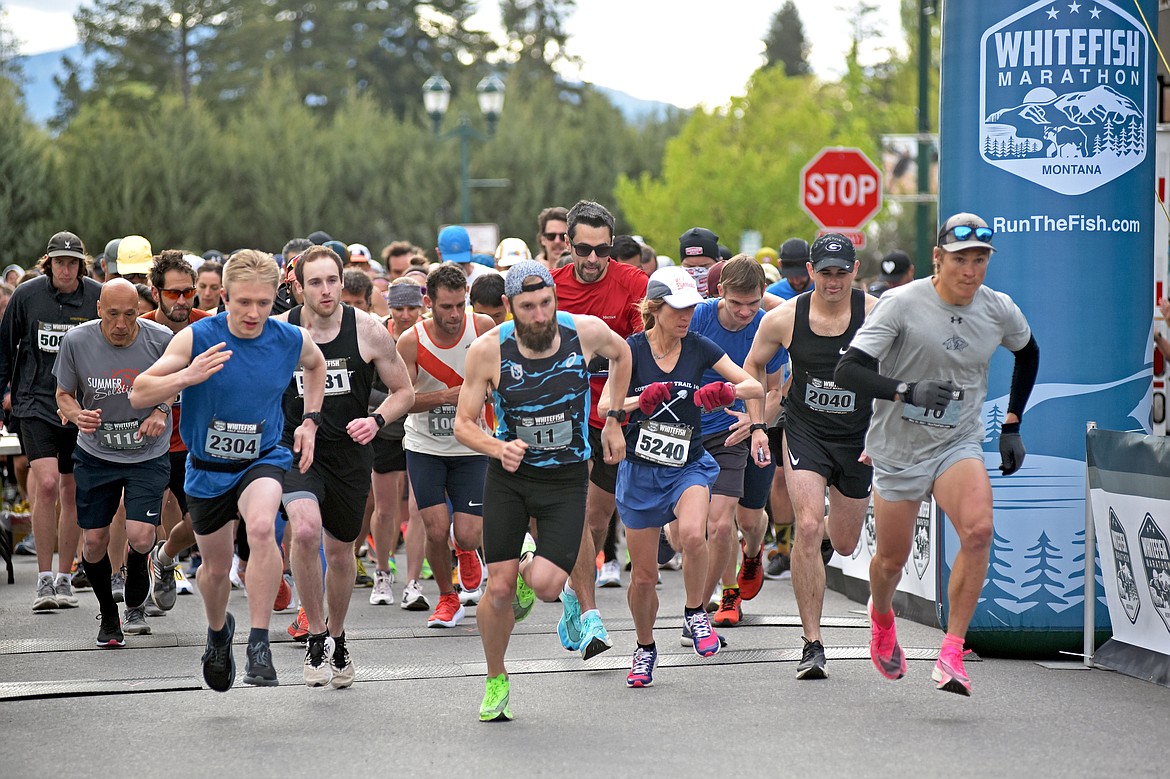 Participants begin running in the annual Whitefish Marathon at 8 a.m. on Saturday in Whitefish. (Whitney England/Whitefish Pilot)
The Whitefish Marathon hit record-breaking attendance when 1,000 runners participated in the event in May here.
It's the first time in the 14-year history of the race that the number of runners has hit that total, according to race organizers. The Whitefish Marathon was on May 22 through the streets of town and on paved paths around the city. The event includes a full marathon, half marathon and 5K race.
"After having to cancel last year's race, we were more ready than ever to get back out there and welcome people to Whitefish," said Art Krueger, executive director of The Wave, the owner of the event. "As the first major event in Whitefish post-pandemic, it was truly just great to see so many people participate, not only from the local community but from all across the country. We didn't anticipate doubling in size but based on the reviews, our team hit it out of the park. Seeing some of our course records fall was just icing on the cake."
Three course records were set at this year's race. In the women's marathon, Kristi Spitzmueller of Minneapolis, Minnesota, earned a time of 3:04:40. In the men's half marathon, Micah Drew of Kalipsell earned a new record with a time of 1:11:22. And Nicole Murray of Missoula set a new record for the women's 5K with a time of 19:35.
The Whitefish Marathon also hosted the RRCA State Championship race for the state, a special designation awarded by the Road Runners Club of America. Overall winners were in the men's marathon Drew Galahan of Harlowtown with a time of 3:02:49 and in the women's marathon was Leith Paganoni of Whitefish with a time of 3:29:02.
The Whitefish Marathon started as a trail marathon in 2008, originally named the Two Bear Marathon. In 2017, the date shifted from September to May, and the course moved to paved streets as a Boston-qualifier event. Proceeds from the event benefit The Wave's scholarship fund.
Next year's Whitefish Marathon is set for Saturday, May 21, 2022. For more information and event registration, visit WhitefishMarathon.com.
---